GeForce RTX 4070 Makes An Early Benchmark Cameo Ahead Of Launch
NVIDIA's highly anticipated
GeForce RTX 4070
turned up in an online benchmarks database earlier today. The pre-release desktop graphics card appears to have been partnered by some other modern and potent components for this run. If the Geekbench OpenCL graphics acceleration result is representative of the RTX 4070's advantage over the
RTX 3070
, then we are looking at a greater than 30% gen-on-gen performance uplift.
The intensity of GeForce RTX 4070 leaks has turned up to 11 as its launch day comes into sight. We have most recently seen some very believable leaks of RTX 4070
pricing
,
memory configuration
, and
power draw
figures – and they have given us little to grumble about. Today's benchmark result comes via the Geekbench 5 database. Geekbench graphics testing results come from measuring OpenCL performance, which isn't typically closely related to gaming performance. However, comparing similar architectures using the benchmark can still reveal underlying trends.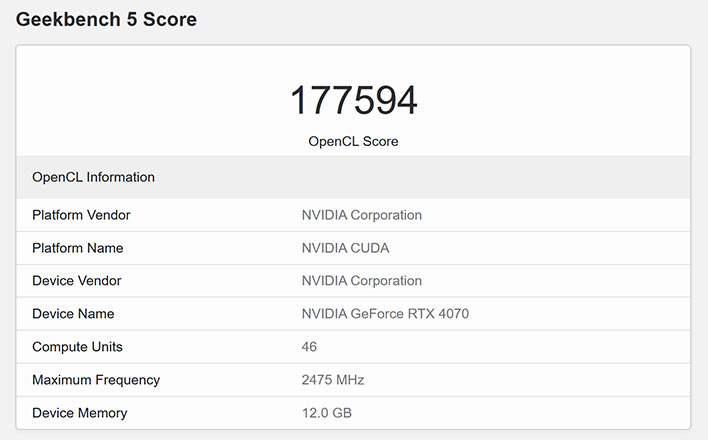 Above you can see the Geekbench result from a PC system featuring an Intel Core i9-12900K (24C / 32T), fitted to an ASUS ROG Strix Z790-E Gaming WiFi motherboard, paired with 32GB of RAM, alongside a purported GeForce RTX 4070. The Geekbench sysinfo section confirms the GPU comes with 46 CUs (for 5,888 CUDA cores) and features 12GB of VRAM. This model's modest CU cut and much reduced power consumption while maintaining 12GB of VRAM will probably help NVIDIA and partners shift quantities of RTX 4070 cards. The touted $200 price differential from the GeForce RTX 4070 Ti, if supply doesn't create an issue, is going to be important too.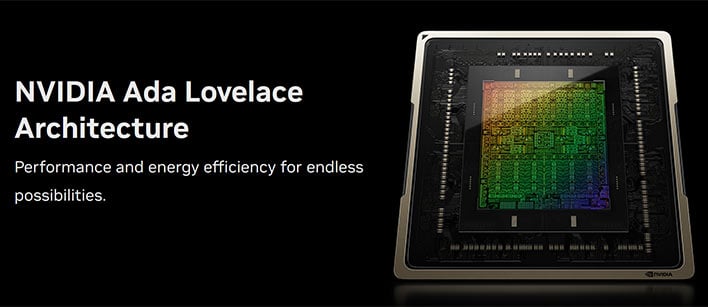 The mid-range Ada Lovelace card's OpenCL score of 177595 is pretty much where you might expect it to be, given that we already have some experience with this GPU architecture. For reference, that means it performs very near to previous gen NVIDIA GPUs like the GeForce RTX 3080. It also sits squarely between the RTX 4090 Laptop and RTX 4080 Laptop GPUs. For an AMD point of reference, the Radeon RX 6950 XT scores a very similar 172270, but Geekbench OpenCL scores are less useful for comparing these very different GPU architectures and trying to extrapolate real-world performance.
It is also interesting to consider the gen-on-gen performance uplift, which we mentioned in the intro. So, we have a 30% uplift with the RTX 4070 vs the RTX 3070, according to this metric and as highlighted by
Benchleaks
on Twitter. On its RTX 40 product pages, NVIDIA claims that the newest gen graphics cards offer around 2x previous gen performance on average – but the green team turns on DLSS 3 to get such impressive results, an AI frame generation feature not available on earlier architectures.
NVIDIA is expected to officially unveil the GeForce RTX 4070 next week.