GeForce RTX 4070 Leak Reveals Not All Models Will Use The 12VHPWR Connector
A new report claims two power connection standards will be available for the upcoming RTX 4070 based on two different power-limit classes. Igor's Lab claims more expensive 225W
variants will reportedly feature the latest 12VHPWR connector, while 200W MSRP RTX 4070 models will be equipped with the older 8-pin power connector. Also, the RTX 4060 Ti and RTX 4060 will feature the 8-pin power connector exclusively, improving GPU compatibility with older power supplies and compact systems.
This decision makes a lot of sense from NVIDIA's perspective. Most of the target audience for NVIDIA's RTX 4070 and 4060 trims will not have a 12VHPWR-supported power supply. Despite widespread adoption among new flagship power supply models, most lower-wattage SKUs have not been updated with the new connector.
Clearance is another issue that is less problematic on the 8-pin power connector. The 12VHPWR plug takes up more vertical height than its 8-pin counterpart (especially NVIDIA's 16-pin adapters). It is also more sensitive to horizontal stress, forcing additional height clearance on users riding on the edge of clearance. On top of this, more powerful GPUs usually feature much taller form factors, which can cause even more clearance issues with compact and normal-sized computer chassis on the market.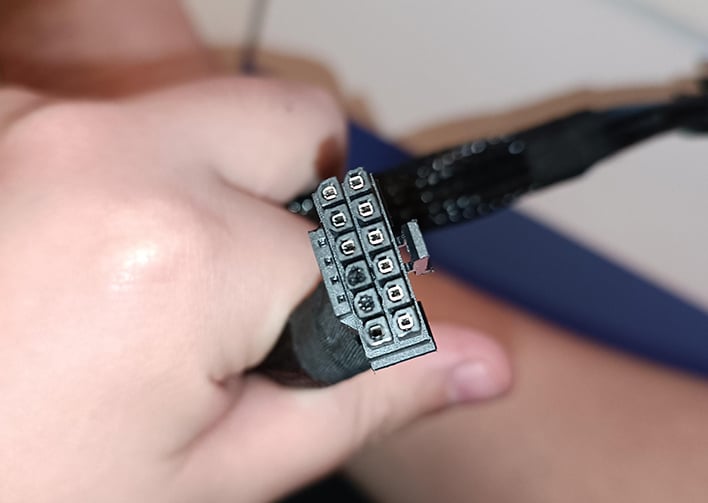 As a result, it will be interesting to see if more customers adopt the 8-pin power connector variants of the RTX 4070, even if they have to sacrifice some additional power headroom. The 12VHPWR connector has taken some flak from customers due to its more sensitive connecting mechanism and supposed bad engineering on the part of NVIDIA's 16-pin adapters.
The RTX 4070 and 4060 series GPUs are upcoming mid-range graphics cards based on the RTX-40 series Ada Lovelace GPU architecture. These GPUs will reportedly feature similar - if not identical, CUDA core specifications to their RTX 30 series predecessors and feature weaker memory bus widths of just 192-bits and 128-bits. Apparently, the goal is to increase power efficiency as much as possible with these NVIDIA GPUs by leveraging the Ada Lovelace architecture as much as possible to increase GPU performance.