This External GPU Dock Packs AMD RDNA 3 Radeon Graphics And Fits In Your Pocket
GPD is refreshing its Win Max 2 gaming console for 2023 with substantially more graphics horsepower compared to its predecessors. The console not only includes new internals -- including beefy RDNA3 integrated graphics -- but comes with an external GPU dock featuring a dedicated Radeon RX 7600M XT GPU with 8GB of GDDR6 memory.
This is the first handheld gaming console from GPD that comes with a
discrete GPU
, thanks to the additional real estate afforded by the external GPU dock. The addition of a discrete GPU will substantially increase the handheld's capabilities well beyond what any of AMD or Intel's latest integrated graphics can offer in terms of gaming performance. The external GPU dock comes in a 255mm x 111mm x 29.8mm form factor and features a plethora of connection ports including three USB Type-A ports, dual DisplayPort 1.4a connectors, HDMI 2.1, an Oculink SFF-8612 connector and a USB4 Type-C port.
According to GPD's own benchmark analysis, its Win Max 2 paired to the 7600M XT GPU dock, was able to match the performance of a desktop RTX 3070 at 1440P on average in 22 titles, including some demanding games such as Microsoft Flight Simulator, and Cyberpunk 2077. The
RX 7600M XT
is a mid-range mobile GPU, featuring AMD's latest
RDNA3
architecture, that's packing 4096 cores, 8GB of GDDR6 memory, a boost clock of 2615MHz, and a power rating of 120W.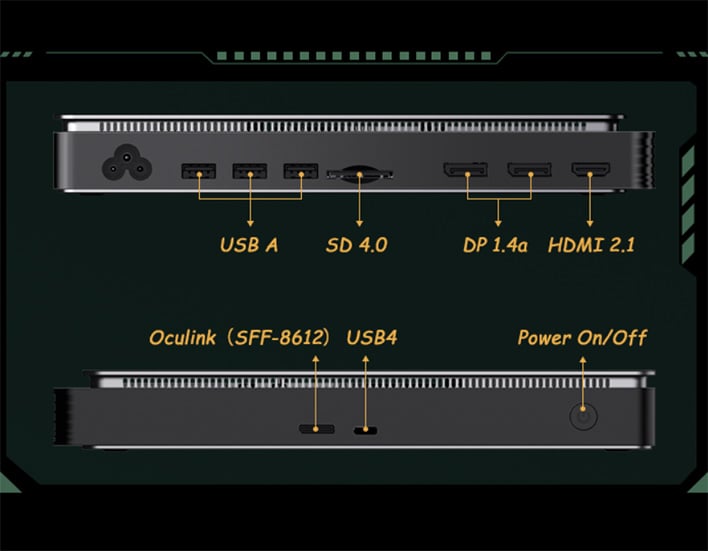 This is a feature that we've only seen on the ASUS
ROG Ally
so far, with all other handhelds relying on integrated graphics for gaming. The Win Max 2 one ups the competition, by featuring two GPUs, giving users more flexibility in how they use the device. The external GPU dock is optimal for use at home, or in a stationary place where you can use the included 240W power brick for prolonged gaming sessions. While the handheld's integrated GPU can be used for prolonged gaming outdoors, it is no slouch, with performance akin to Nvidia's mobile GTX 16 series GPUs (according to GPD's own analysis).
The Win Max 2 itself is a 10.1-inch device, packing AMD's latest Zen 4 mobile CPUs codenamed
Phoenix
. There will be two options to choose from, a higher-end model packing an eight-core Ryzen 7 7840U with AMD's Radeon 780M graphics, and a six-core Ryzen 5 7640U option featuring Radeon 760M graphics. The high-end model will also gain access to 32GB or 64GB of RAM, and a 2TB SSD, while the lower-end option will be equipped with 16GB of RAM and a 1TB SSD.
GPD's new external GPU dock could be a game changer among handheld enthusiasts, and allow the new handheld to not only compete with other devices like the Steam Deck, but also with full-blown gaming laptops as well. If the external dock's performance lives up to its name, it will make the
Win Max 2
a killer portable laptop for gamers.