Amazon Echo Buds Wireless Alexa Earbuds Are $40 Off Right Now With This Hot Deal
Amazon, recently launched Echo Buds aim to fight against the Samsung Galaxy Buds and Apple AirPods for the wireless earbud market, and now they're available for $40 off. Amazon's offering promises premium audio with Bose Active Noise Reduction, something missing on the Galaxy Buds. Echo Buds also support hands-free Alexa and can stream music and play Audible audiobooks, make calls, or get directions by asking.
Echo Buds also support other assistants, including Siri and Google. Power for the buds is up to five hours of playback per charge. They support quick charging, and users can get up to two hours additional playback with a 15-minute charge. The battery case extends playback up to 20 hours of use.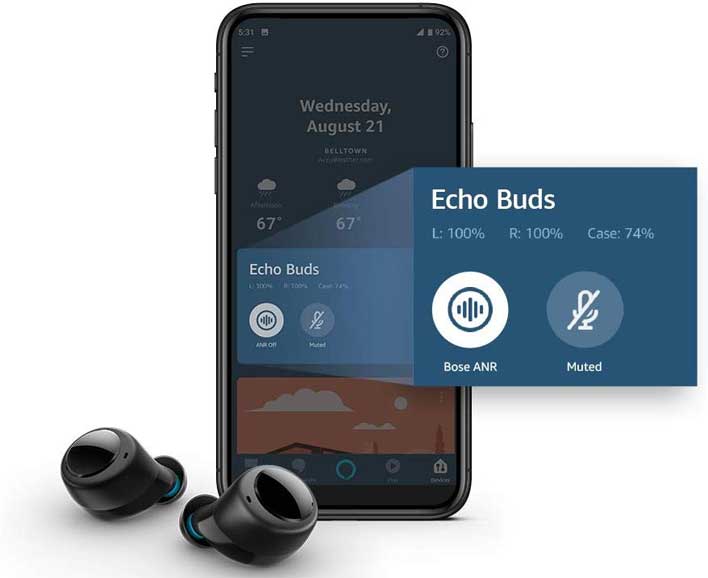 The fit is customizable using three different sizes of ear tips, and sweat resistance makes them exercise ready. Amazon frequently improves the Echo Buds with new skills; some available skills include rideshare hailing, guided workouts, and ordering food, among others. The microphones in the headset can be muted to prevent conversations from being heard and possibly recorded by the digital assistant or listened to by humans.
Amazon's Echo buds are normally $129.99 but are on sale for $40 off, making them $89.99. That is considerably less expensive than competitor's offerings on the market.
The discounted price includes free Prime shipping for subscribers. Amazon is also offering a 3-month Audible trial with the purchase. Noise cancellation is a welcome feature for those who want to cut out background noise while they work. Amazon's Echo Buds launched in September 2019.