Colorful's Colorfire Meow Series Are The Purrrfect PC Gaming Parts For A Kitty-Themed Rig
Long-time Chinese hardware vendor
Colorful is introducing a new collection of products known as the "Colorfire Meow" series. As you could guess from the name, they're cat-themed. Colorful teased these
parts earlier this year
, but the first wave is finally making its way to market.
Actually, simply saying that they're cat-themed PC parts doesn't really sell the idea. Colorfire is Colorful's attempt to build a new
youth lifestyle sub-brand
, and so this Colorfire Meow release represents just a little more than a specific theme or style for some new products. The company says that "PC gaming is a growing culture beyond the machine," and that Colorfire gets its inspiration from "trending styles and concepts,
popular animation
, cute characters, and others."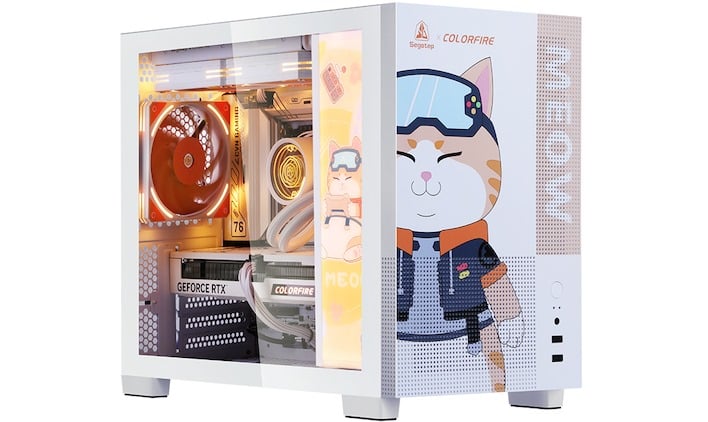 If you're trying to craft a lifestyle brand around cute things, where better to start than with animated cats? Colorfire says that it is featuring two cat characters in its new series: Bobi and A+. Bobi is an orange tabby cat with a light-hearted white-and-orange aesthetic, while A+ is a "dark and mysterious stealthy ninja cat." The products featuring A+ instead have a black and purple aesthetic.
Unfortunately, if you dig the edgy color scheme of the ninja cat, you're going to have to wait, as all of the products that Colorfire is debuting today are based on Bobi instead. You've already seen the pictures, but just to elaborate, there are a pair of graphics cards, a motherboard, and a micro-ATX tower chassis emblazoned with panel art featuring Bobi.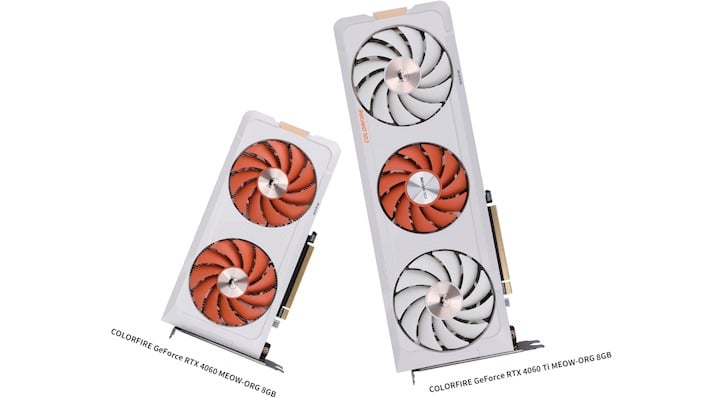 The graphics cards are
a GeForce RTX 4060
and
a GeForce RTX 4060 Ti
. Looking at the specifications, they appear to be fairly standard examples of their model; each takes a single 8-pin PCIe connector, comes with 8GB of GDDR6 memory, and provides you with the usual triple-DisplayPort-plus-one-HDMI output cluster. Clock rates are the same as the NVIDIA reference numbers, so there's really not much to see here besides the cute orange-and-white aesthetic.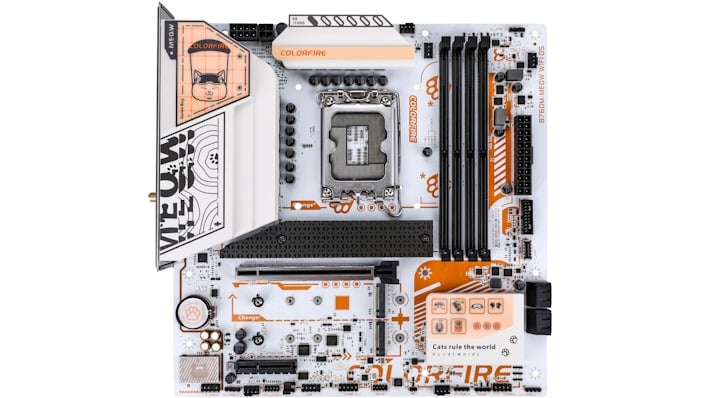 The motherboard and chassis are both more lavishly-decorated. The motherboard is the B760M-MEOW WIFI D5 ORANGE, sporting an Intel B760 chipset and supporting Intel 12th- and 13th-gen processors out of the box. It has four slots for DDR5 memory at up to 7200 MT/s, it has a single PCIe 5.0 x16 slot, and three M.2 SSD slots with PCIe 4.0 x4 connectivity. 2.5GbE and Wi-Fi 6 round out the feature set on this adorable motherboard.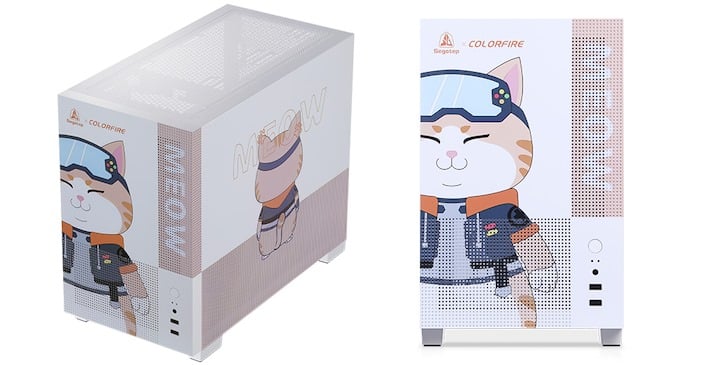 Finally, the chassis is apparently a collaboration with case and power supply vendor Segotep. It's a customized version of the company's extant Memphis micro-ATX case with art of Bobi on three sides and of course, a transparent side panel so you can actually admire your cat-themed PC hardware inside. It has room for three 2.5" SSDs as well as one 3.5" disk, it supports 170mm-high CPU coolers, and up to six 120-mm case fans.
If you're foaming at the mouth for these parts featuring Bobi, you'd better start shopping pre-builts. Colorful says that the Colorfire Orange Meow series will be sold "as pre-built gaming PCs in select regions." The company invites you to contact your local Colorful distributor for more details on pricing and availability. Colorfire also says that, besides the Purple Meow versions of these parts based on kitty ninja A+, it will be launching SSDs, memory, and power supplies in the Meow series "at a later date."