Colorful's GeForce RTX 40 Meow Series GPUs Are Purrfect For Cat Lovers
Colorful has released two very unique graphics cards in the RTX 40 series lineup, with its new lineup of cat-themed COLORFIRE RTX 4060 Ti Orange Shadow Orange 8G and RTX 4070 Orange Shadow Orange 12G graphics cards. These cards take on the aesthetics and color theme of a fictional universe, starring cats and dogs taking an adventure outside of Earth.
The cards themselves sport large beefy triple-fan cooler designs, spanning 331mm in length and a two-slot thickness. The cards feature a white brown and orange color scheme, accompanied by yellow accents on some of the text. The shroud and two outer 90mm fans are painted in a white finish, while the middle 80mm fan is painted bright orange. Logos and text representing cats can be seen on several areas of the card including some of the fan hubs sporting cat logos. Both the
RTX 4070
and
RTX 4060 Ti
unexpectedly feature the exact same cooling solutions and are cooled by a 2*6mm heatpipe design, this means the RTX 4060 Ti card, in general, should have substantially better thermals compared to the RTX 4070, due to the GPU's substantially lower power draw.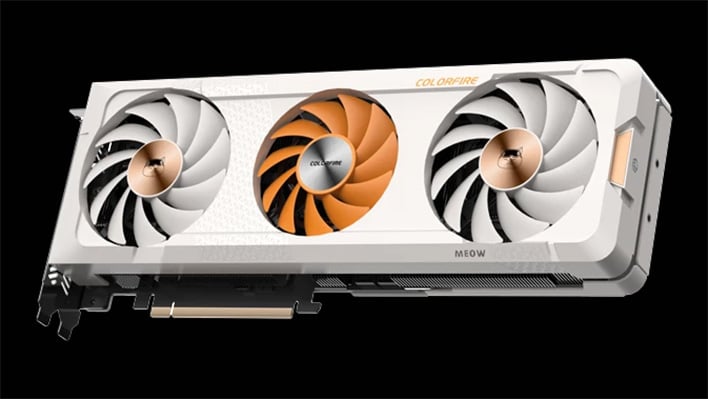 The cards apparently get their Orange Shadow Orange naming scheme from a Si-Fiesque fictional universe Colorful has created for cat-themed products, starting with highly intelligent cats and dogs, which accidentally gained their intelligence from human-built technologies. The story involves a long voyage where cats and dogs accidentally settled down on a human-built space probe, and built a civilization on a barren planet far away from Earth. The orange name comes from one of the orange cats that accidentally became intelligent after touching a human-built device that made it intelligent. Colorful also says the card's inspiration comes from one of the cats in the "Jubao" e-sports game.
The story is a bit wonky, but Colorful's aim is to attract young individuals with these new cards. According to Colorful, it designed its cat-themed cards to be compatible with "various style elements" such as "cute, two-dimensional, and trendy life." Colorful's RTX 4070 and RTX 4060 Ti
cat-themed
graphics cards are already on sale, for approximately $656.44 and $564.66 respectively from Asian retailers, but we are not sure if these cards will make it to the United States or other regions.