ASUS ROG Lays Claim To World's First 32" 4K OLED 240Hz Gaming Monitor
Choosing a gaming monitor is an exercise in compromise. You have your choice of LCD panel types: TN for quick response times but poor viewing angles,
VA for excellent contrast
with bad response times, and IPS for amazing viewing angles yet poor contrast. Then you have you choice of backlight types, which basically comes down to
how much you want to spend
—and we haven't even started talking about resolution or refresh rate yet.
What if there was a monitor with no compromises? That's what ASUS is promising with its new ROG Swift OLED PG32UCDM. This is a 32" gaming monitor in 3840×2160 resolution that refreshes at up to 240 Hz without overclocking. It's also an OLED. That means incredible contrast with perfectly-deep blacks, instant response times under one millisecond, and rich colors thanks to a quantum dot filter.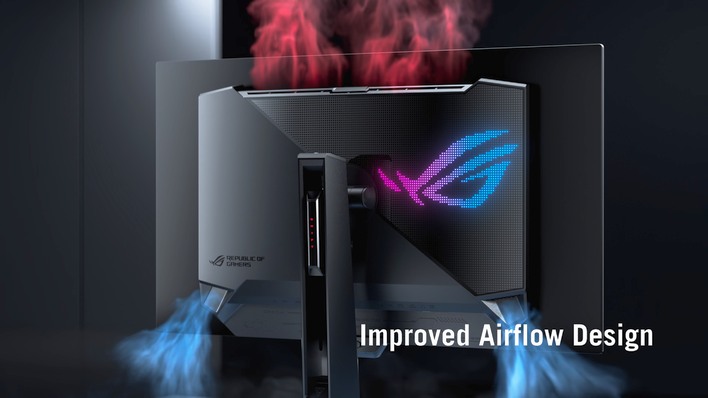 The biggest challenge of using an OLED in a situation like this is actually keeping it cool. Heat is the enemy of OLEDs, and it's overheating that causes burn-in and early death of OLED cells. ASUS says that it uses a graphene film behind the entire panel along with active cooling that intakes from the bottom and exhausts out the top to keep the ROG Swift PG32UCDM running cool despite its ability to hit 1000 nits peak brightness.
In terms of technology, there are really no downsides to this thing. The resolution is the perfect sweet spot—it's like having
four 16" 1080p laptop displays
sewn together, with DPI just low enough that you can read it without scaling, yet plenty high enough to appear razor-sharp. The refresh rate is nearly six times the typical smooth motion threshold of 42 Hz; in combination with the nearly-instant response, it means motion will be crystal-clear.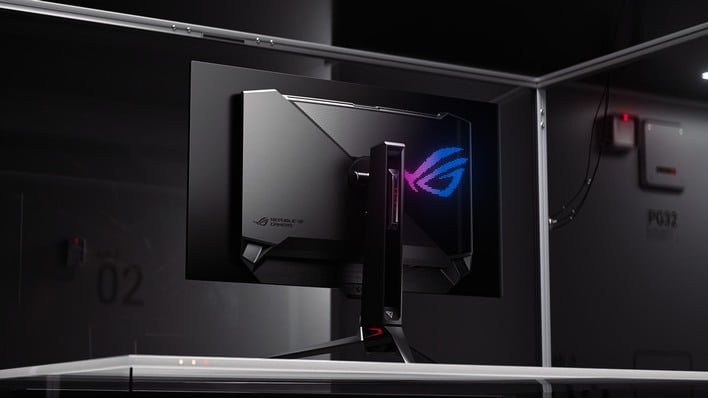 Well, maybe there's one downside. For inputs, you get HDMI 2.1 and USB Type-C, as well as DisplayPort 1.4. To actually drive this thing at 4K, 240 Hz, you're going to have to
use Display Stream Compression
. That's not a huge deal; DSC is almost entirely lossless. Still, likely both NVIDIA and Intel's upcoming graphics processors as well as
AMD's current chips
will support DisplayPort 2.1, which could handle this display without needing compression. It's the single miss on an otherwise flawless product.
That aforementioned USB Type-C port has a few other tricks up its sleeve, too. It can function as a USB hub for the USB Type-A ports on the device, and it even has a "Smart KVM" feature to swap the USB hub connection to another device. There's also picture-in-picture functionality and support for keyboard hotkeys to switch between inputs. Of course, the ROG Swift PG32UCDM also has Variable Refresh Rate support.
ASUS says the ROG Swift PG32UCDM OLED gaming monitor
will be available in early 2024
. No news on pricing, but we expect it to be into "if you have to ask" territory.