ASRock BIOS Update Teases Performance Uplift For Intel's Raptor Lake Refresh CPUs
ASRock has provided some updates regarding Intel's upcoming 14th-Gen Raptor Lake Refresh CPU lineup, including motherboard support for the new chips and new memory performance upgrades on the platform.
The motherboard manufacturer has confirmed that its Intel 600 and 700 series chipset motherboards will support Intel's next-generation Raptor Lake Refresh processors, with the installment of new BIOS updates. This isn't surprising due to the fact ASRock already
"teased"
the existence of these BIOS updates several months ago, but with this new update, ASRock is confirming that these BIOS updates add support for Raptor Lake Refresh CPUs officially.
To make 14th Gen CPU support more clear, ASRock will be providing a "Next Gen CPU Ready" motherboard badge to each of its supported 600 and 700 series motherboards when the update is ready. This will make it easy for ASRock motherboard owners to verify CPU support, and make sure the new firmware is installed before swapping out their older Alder/Raptor Lake CPU with a new 14th Gen part. If this badge also makes its way to motherboard packaging, it will verify that the BIOS update is already installed on boards featuring the badge, allowing users to drop in a 14th Gen chip without worrying about at least initial BIOS updates for compatibility. However, it is not officially confirmed this will be the case, yet.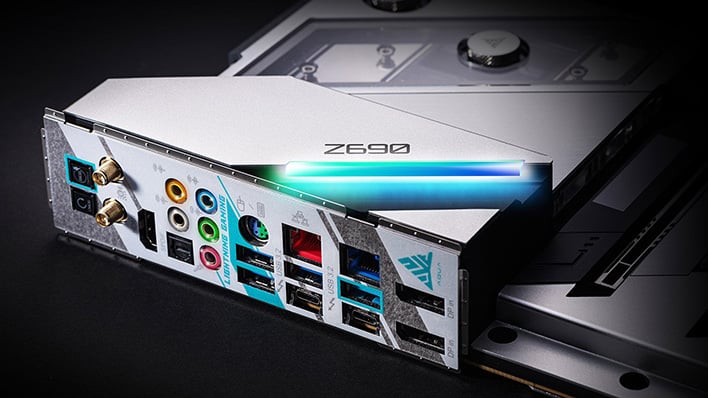 ASRock Z690 Aqua

ASRock did also confirmed that Raptor Lake Refresh will be getting a major spec bump in memory frequency. Intel's current generation Raptor Lake chips top out at DDR5 5600MHz support, but with Raptor Lake Refresh, ASRock confirmed that these new chips will support DDR5 frequencies of up to 6400MHz on non-XMP JEDEC kits. This means that standard DDR5 kits rated for speeds of 6400MHz will now be supported, but does not mean that pre-overclocked XMP kits will be supported. The good news is that Raptor Lake Refresh should be able to handle higher frequency XMP kits anyway, thanks to its additional frequency headroom. Regardless, it will be enough to close the gap on AMD's Ryzen 7000's CPUs, which gained a huge amount of DDR5 frequency headroom recently thanks to a new AMD AGESA
microcode update
.
Raptor Lake Refresh is Intel's next-generation CPU architecture, rumored to be arriving as soon as October of this year. As the codename implies, the new chips will be based on a refresh of Intel's current Raptor Lake architecture, featuring slightly higher boost clocks on all models and slightly different core configurations on some models. Even though this new CPU lineup is merely a refresh,
performance leaks
indicate that the
new chips
will bring serious improvements to multi-threaded performance, particularly with mid-range CPUs like Intel's Core i5-14600KF.