Apple Exec Claims M3 MacBook Pro's 8GB Of RAM Is Like Having 16GB On Windows PCs
On Halloween Eve, Apple's
Scary Fast online event
ushered in the era of the company's third-generation Arm64 processors, dubbed the M3 family. The company did hit a number of landmarks with its custom-built Mac processors, including using 3nm lithography, adding real-time ray tracing hardware to its GPU architecture, and hardware graphics memory allocation technology named Dynamic Caching. It's that last feature, which enabled just-in-time memory management to the company's Unified Memory Architecture, that has the company making some claims that might be a little separated from reality.
Apple's VP of Worldwide Product Marketing Bob Borchers gave an interview to machine learning engineer and content creator Lin YiLYi to discuss the M3's machine learning acceleration chops. Starting right in on the topic of Apple's shared memory architecture, Lin YiLYi said having such a large pool of memory is like a "beautiful breeze" especially with large memory configurations and Apple Silicon's dedicated Neural Engines on the
dual-CPU M2 Ultra
with 128GB of memory. The task of training machine learning models can outstrip the VRAM pool on dedicated graphics cards, especially consumer models, so combining the GPU's memory with the rest of the system is a win. So far that isn't really new information.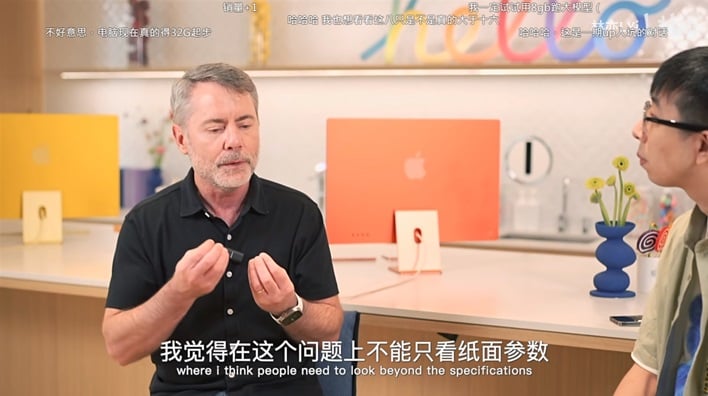 The reality distortion field in full force
About half-way through the interview, Lin YiLYi brings up the new M3 Macs, particularly the 14-inch MacBook Pro, which has seen its entry-level price reduced to $1,599 at the cost of using a base M3 chip with just 8GB of RAM. In his estimation, that particular specification isn't very "pro" and tells Borcher that it's just not meant for a professional use case. However, Borcher says that macOS is efficient in its memory usage, noting that the operating system natively uses memory compression, and the fact it has a unified memory architecture for its CPUs.
"Actually, 8GB in an M3 MacBook Pro is probably analogous to 16GB on other systems. We just happen to be able to use it much more efficiently," Borchers told Lin YiLYi. He challenged users to try an 8GB MacBook Pro to do what it is they do, and then went on to use marketing speak, saying that prospective buyers "need to look beyond the specifications."
While some of what Borchers says is objectively true, we feel the need to point out that macOS isn't the only operating system that supports compressed memory. The feature has been part of Windows since Insider's build 10525 for Windows 10 in August of 2015, rolled out to all systems in 2016. So while at one point that was a valid talking point, it's grown quite stale today. Just about every modern platform uses some kind of memory compression, Bob.
As far as efficient memory use, it's hard to quantify; both macOS and Windows cache as much as they possibly can in RAM and dump that cache when the memory is needed so a machine is as responsive as it can be. The one advantage macOS might have over Windows today is that the M3's integrated GPU only gets the memory it needs when it needs it, but that's not a factor on any "pro" Windows PC with a discrete GPU. What we do know is the
M2 Pro MacBook Pro 14
uses around 6GB at startup with minimal background tasks loading. Bear in mind that's on an 8GB system that would not leave much wiggle room, so fingers crossed on the cache being a big part of it.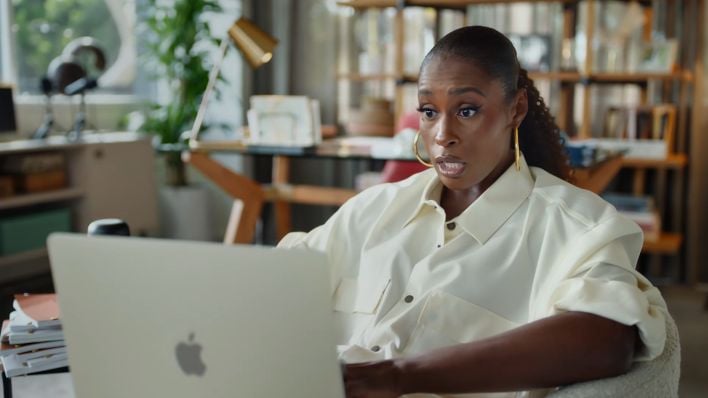 This wouldn't be such an issue if memory upgrades on Macs were priced in a sensible fashion. The additional $200 that Apple charges to take the base M3 MacBook Pro to 16GB is beyond ridiculous. That makes the system just $200 cheaper than the first M3 Pro option which has 18GB of RAM and a much more capable chip than the M3, though it does
seem to struggle
against the M2 Pro in early benchmarks.
It seems pretty obvious to us that Apple doesn't want people to customize M3 Macs with those kinds of upcharge prices. On a personal note, as a developer who uses the Mac platform daily, I'm a little embarrassed for Borchers making those claims. 8GB is absolutely not enough just to build and run iOS apps in Xcode's simulator or keep even moderately-sized web apps building smoothly, for example.
That's not to say that Macs don't provide value; the 14-inch model's XDR display with mini-LED lighting is pretty great, and the battery life puts just about every x86 PC to shame. The question becomes whether that value is worth the asking price, and at $1,599 this entry level machine is a tough sell for pros. This machine is also $300 more expensive than the previous 13-inch model that it replaces, without adding anything but a fancy display, an SD card reader, and the MagSafe charger connector. In our estimation, that's not really enough to justify the price point.
The full
Apple machine learning interview
is available on Lin YiLYi's Bilibili channel in English with Chinese subtitles, and clocks in at a brisk 12 minutes or so.