Apple's M3 Pro Mac Chip Posts Surprisingly Mixed Early Benchmark Results
The M3 Pro-powered Macbook Pro 16-inch benchmark results have surfaced inGeekbench 6 database, and the results have been received somewhat negatively. It's roughly as fast as the M2 Max and only a little faster than the M2 Pro, which is in stark contrast to Apple's "
scary fast
" marketing. Expectations for the brand-new M3 chips are high based on the claims in Apple's presentation and the prior success of the M1 and M2 series, but this early benchmark might be showing more realistic expectations.
The M3 Pro put up a single-core score of 3,035 and a multi-core score of 15,173. For comparison, we tested Geekbench 6 on a Macbook 16 with the M2 Pro and got 2,667 and 14,410 in the single- and multi-core tests, respectively, making the M3 Pro 14% faster in single-core and 5% faster in multi-core. The
M2 Pro
meanwhile boosted multi-core performance by 38% compared to the
M1 Pro
, based on some Geekbench 6 official scores. The conclusion most have come to is that the M3 Pro is disappointing, not scaling well, and just not worth buying, but there's obviously much more to conisder here.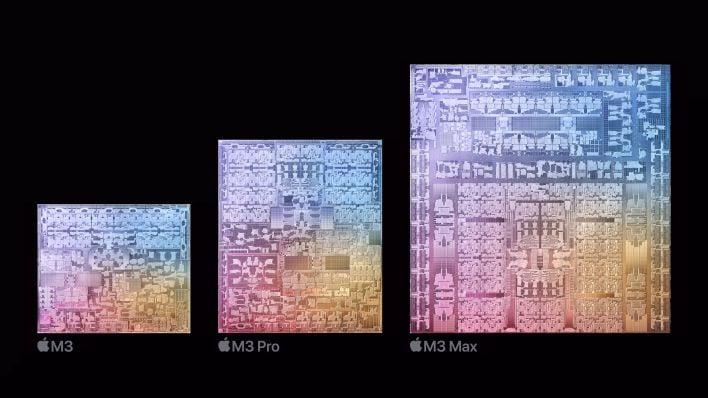 One thing that's flown under the radar is the M3 Pro's single-core performance, and while the M2 Pro improved single-core speed by 12% over the M1 Pro in Geekbench 6, the M3 Pro has a 15% improvement over the M2 Pro. An improvement of 15% is impressive in the wider semiconductor industry. AMD's Ryzen 7 7840U is just about 6% faster than the Ryzen 7 6800U in single-core when both have the same TDP, which is a significantly smaller increase gen-on-gen versus Apple.
Still, that doesn't change the fact that the M3 Pro is exhibiting poorer than expected multi-core performance, but that might be because expectations were too high. The M3 Pro still has 12 cores like the M2 Pro, but it swaps out two performance cores for efficiency cores, which probably limit the performance gains (though it likely means better efficiency). Additionally, TSMC's 3nm node doesn't provide the kind of performance or efficiency boost the older 5nm node did versus its predecessor.
Apple probably shouldn't have hyped fans up with claims of "scary fast" performance considering this
M3 Pro benchmark
result, but from the company's perspective, that's probably what it looks like. Most companies take a year and a half or even two years to launch new chips, but Apple routinely takes a year. In fact, that the M3 Pro was released this year is pretty remarkable since the M2 Pro came out just ten months ago. If Apple keeps up this pace, then a 10% to 20% performance gain every generation will add up very quickly, even if it doesn't sound like very much.