Entire AMD Ryzen 5000 Zen 3 CPU Family Storms Cinebench R20 Database With Eye-Popping Scores
Yowza! AMD made some bold claims during the unveiling of its
Ryzen 5000 series
, which will land on retail shelves next month. According to AMD, its upcoming Zen 3 chips are "the fastest gaming CPUs in the world," a boast that belonged to Intel up to this point. But is Zen 3 all that and a bag of sea salt and vinegar kettle cooked potato chips? Well, some early benchmark results on Cinebench R20 are certainly tasty.
We'll get to the benchmark numbers in a moment, but first let's recap the Ryzen 5000 series lineup. AMD is kicking off the
Zen 3 party
with four chips: Ryzen 9 5950X ($799), Ryzen 9 5900X ($549), Ryzen 7 5800X ($449), and Ryzen 5 5600X ($299, with a Wraith Stealth air cooler included). These range in core and threads counts from 6C/12T on up to 16T/32T.
Here is a look at the specifications...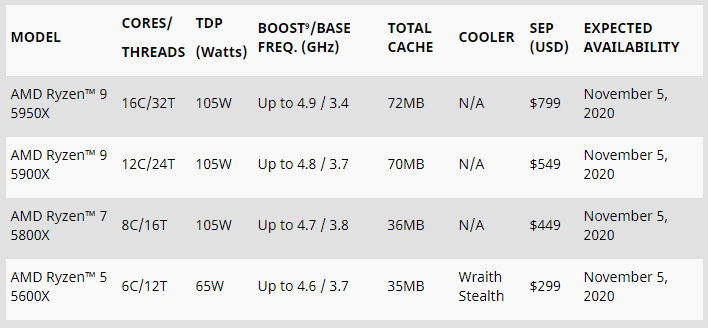 "Featuring a remarkable 19 percent IPC increase over the prior generation in PC workloads, the 'Zen 3' architecture pushes gaming and content creation performance leadership to a new level," AMD says.
AMD further claims that Zen 3 "reduces latency from accelerated core and cache communication and doubles the directly accessible L3 cache per core while delivering up to 2.8X more performance-per-watt," compared to Intel's offerings in the desktop space. Or in plain English, AMD is basically saying, 'Neener-neener boo-boo, we're doing CPUs better than you'.
Time will tell if the boast is accurate. For now, a handy collection of Cinebench R20 scores corralled by
CPU-Monkey
paints an interesting picture, as benchmark scores for the Ryzen 5000 series have started to show up. Here is a look at the
single-core results
...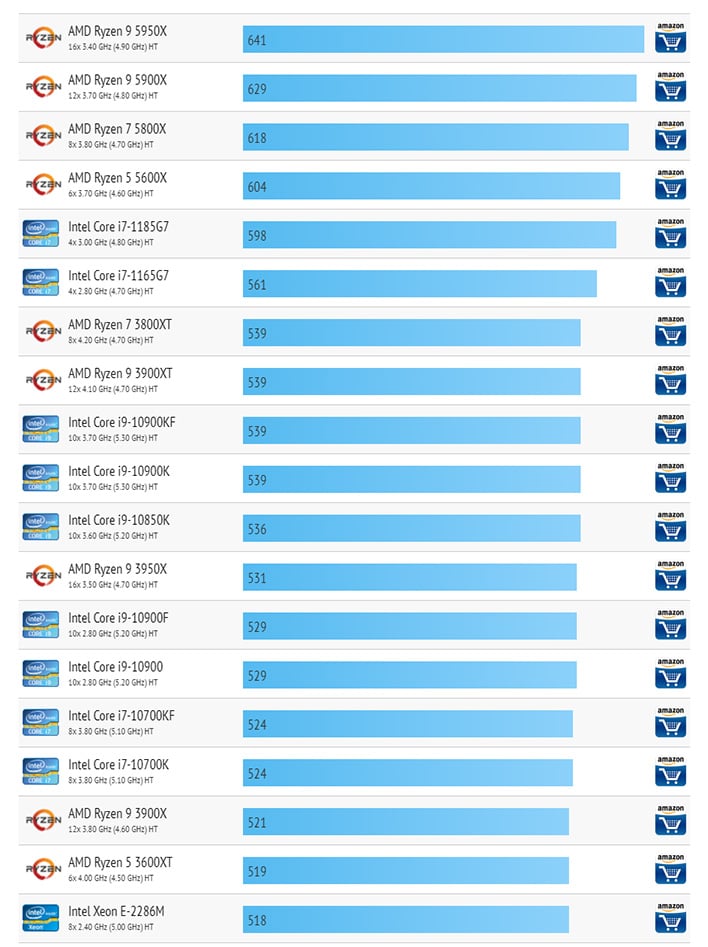 AMD's Ryzen 5000 series processor take the top spots, beating out the previous generation Ryzen 3000 series (Zen 2) and Intel's
Tiger Lake
(mobile) and
Comet Lake-S
(desktop) chips.
The multi-core results tell a similar story, but since the graph is way too long to post, I'll pluck some of the pertinent results and list them here...
Ryzen 9 5950X (16C/32T): 10,360
Core i9-10980XE (18C/36T): 8,848
Ryzen 9 5900X (12C/24T): 8,168
Ryzen 9 3900XT (12C/24T): 7,244

Core i9-10900K (10C/20T): 6,399
Ryzen 7 5800X (8C/16T): 5,724
Core i7-10700K (8C/16T): 5,292
Ryzen 7 3800XT (8C/16T): 5,122
Ryzen 5 5600X (6C/12T): 4,312
Ryzen 5 3600XT (6C/12T): 3,855
These are some strong results. For example, there is a 924 score increase in going from the Ryzen 9 3900XT to the Ryzen 9 5900X, both with 12 cores and 24 threads. Likewise, the 16-core/32-thread Ryzen 9 5950X outguns the 18-core/36-thread Core i9-10980XE by 1,512 points.
Browsing benchmark results from other people's setups does not necessarily tell the whole story, or even an accurate one. We will have our own data to present in due time. Nevertheless, if nothing else, these early scores that have showed up in Cinebench's database add to the hype and excitement surrounding the Ryzen 5000 series.