AMD And ASRock Tease New RDNA 3 Radeon 7000 Series GPUs At Gamescom
In case you somehow hadn't already heard, over in Cologne, Germany, the
biggest in-person gaming event
in the world is going on. It's Gamescom time, and nearly every single vendor who has even the most tenuous connection to gaming is present at the show. That includes hardware companies like ASUS, AMD, and ASRock, the latter of which has something quite fascinating at its booth right now.
Tech blog
Club386
posted a photo of a product wall at ASRock's Gamescom booth, and tucked in between a column of graphics cards and a couple of motherboards are three placeholders that say "AMD", "RDNA 3", and "26. August". It
doesn't take a genius
to figure out that ASRock is planning to launch at least three new RDNA 3-based graphics cards on August 26th.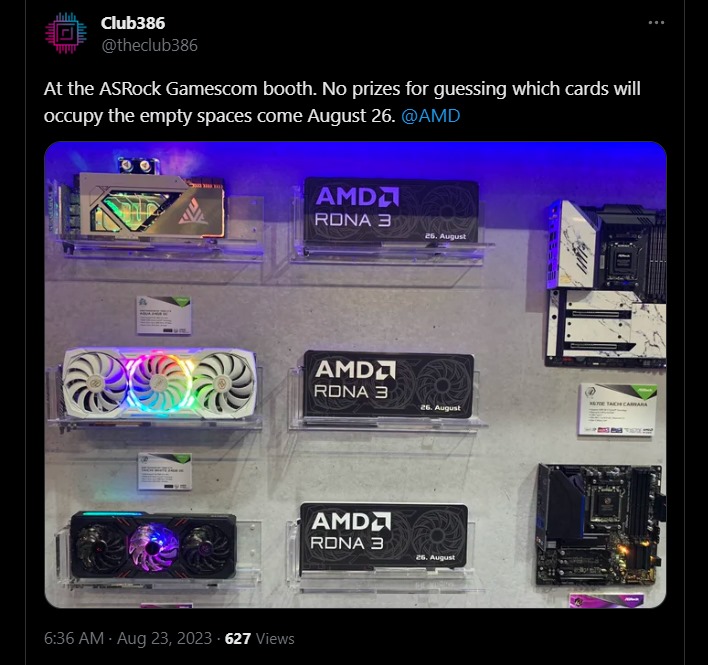 We suppose that it's possible ASRock could simply be launching new models based on AMD's extant graphics cards. That's pretty unlikely considering both that the company already offers a comprehensive lineup of Radeon RX 7000 GPUs based on the already-released Navi 31 and Navi 33 hardware, and also that
AMD itself already said
that it's got big product announcements coming at Gamescom.

We don't have any specific information about upcoming products, so
all of the above and below are speculation
. However, if we take leakers' (as well as
analyst Jon Peddie's
) words at face value, AMD might be launching upper-midrange graphics cards in the $400 to $600 range very soon. August 26th is the second-to-last day of Gamescom, a Saturday, and that arguably makes it the perfect time to launch new gaming GPUs.
Almost three weeks ago, PowerColor
accidentally leaked the existence
of the Radeon RX 7800 XT. Based on that leak, assuming the given specifications were accurate, we'd probably expect this graphics card to be in the ballpark of Navi 21 performance. That means somewhere between the Radeon RX 6800 and Radeon RX 6950 XT. Radeon RX 6800 XT cards
are currently going for $499
; if AMD can launch this thing at $549, it could have a solid product on its hands.