PowerColor's Red Devil Listing Leaks Radeon RX 7800 XT Specs Ahead Of Launch
Rumors can be a lot of fun
when you're not the subject, and extrapolating from incomplete data is
always an entertaining exercise
when we're talking about upcoming hardware. It's ultimately nice to have confirmation from the manufacturer, though. Usually when we're talking about GPUs, that would mean NVIDIA, Intel, or AMD, but in this case, we have early confirmation of the Radeon RX 7800 XT's specifications straight from Powercolor.
Yep, someone at Powercolor is getting a stern talking-to, probably, because the company posted up the product page for the Radeon RX 7800 XT Red Devil for a few minutes early this morning. The page is unfortunately gone now, and sadly, nobody seems to have archived it, but at least
Tom's Hardware
grabbed most of the content of the product page including this screenshot of the specifications: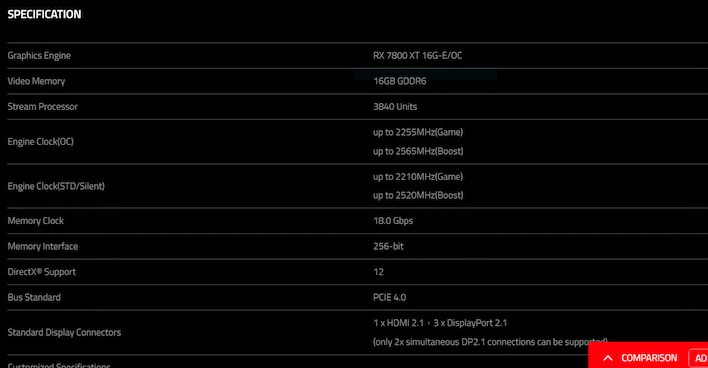 If you've been following leaks and rumors for Radeon cards, there will be absolutely nothing surprising here. It's most likely a full-fat Navi 32 configuration, with a 60-CU GCD surrounded by four 64-bit MCDs. This setup will give the card 64MB of Infinity Cache, which is notably only half the size of the Radeon RX 6800 XT's cache. However, it could also be based on a cut-down Navi 31,
similar to the RX 7900 GRE
.
That's not the only spec where the RX 7800 XT lags the RX 6800 XT. That
previous-generation part
was based on a cut-down Navi 21 chip, and it had 72 CUs at its disposal. That gives it some 20% more shader cores than the RX 7800 XT, but recall that RDNA 3 does have double-wide FP32s that, if an application can be run in dual-issue mode, offer up to twice the throughput per compute unit.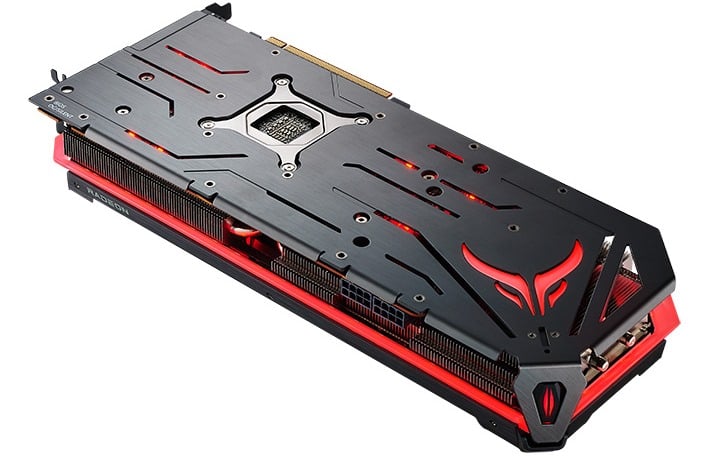 The RX 7800 XT has its own advantages, too—namely, the
other RDNA 3 architectural features
as well as higher clock rates on both the GPU core and the memory. Powercolor lists a maximum boost clock of up to 2565 MHz on the Red Devil model here, while the Game Clock says "up to 2255 MHz." We figure it's probably a safe bet that the card will run at higher clocks than the RX 6800 XT in practice.
On the memory side of things, the RX 7800 XT sees a modest bump over the last generation, from 16 Gbps to 18 Gbps. This is fairly unambitious on AMD's part—regular old GDDR6 without the "X"
can hit 24 Gbps these days
—but 576 GB/sec of memory bandwidth is not bad at all for a part like this, and anyway, it could be that AMD is trying to keep costs down so it can price these cards attractively and save on power consumption.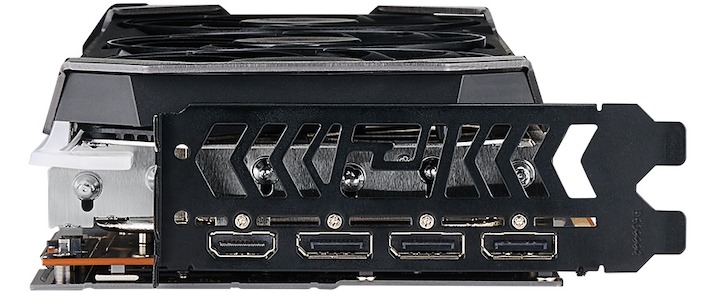 One key detail missing from the specifications on Powercolor's site is the TDP of the GPU. The card takes a pair of 8-pin power connectors, which means it could draw up to 375 watts (including power from the slot.) Given the size of the GPU, the power draw of last-generation, and the underwhelming efficiency improvements in RDNA 3, we'd expect power to be more in the 250-to-300-watt range, although if this GPU is indeed based on Navi 32, AMD could surprise us with lower-than-expected power draw.
So far, we're looking at a card that's likely going to perform pretty similar to the Radeon RX 6800 XT. Those cards go for about $549 brand new, and around $450-500 on Ebay. If AMD launches this card at more than $600, it could have a tough time in the market, but
we'll probably know sooner than later
.