E3 2023 Gaming Expo Is Sadly Cancelled, Will It Ever Return?
What once was gaming's biggest yearly event has been called off once again this year. E3 has been canceled amid waning interest in attending the event among the industry's biggest companies.
As was the case for most events during the recent COVID pandemic, E3 was forced to cancel its coveted event during the years 2020-2022. There were high hopes that the event would return this year, however, companies such as
Microsoft
, Nintendo, and Ubisoft all announced they would not be participating.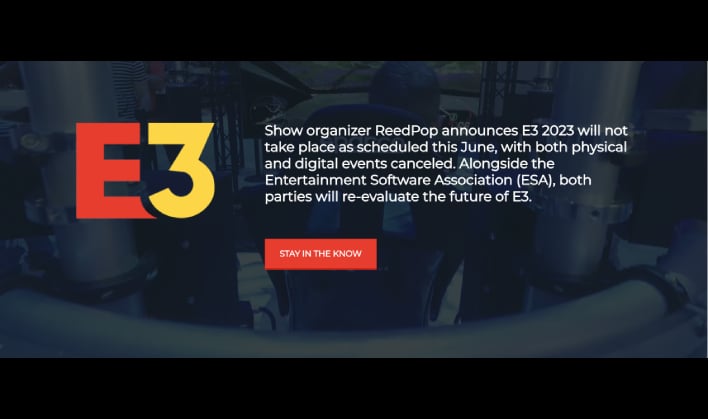 In an email sent to employees concerning E3 2023, organizers stated that the event "simply did not garner the sustained interest necessary to execute it in a way that would showcase the size, strength, and impact of our industry."
Kyle Marsden-Kish, global VP of gaming at ReedPop, remarked in an email sent to
The Verge
that the decision was a difficult one due to "all the effort we and our partners put toward making this event happen." Marsden-Kish added that it was the right thing to do for the industry and for E3.
The list of companies stating they would not be attending the event in any form grew exponentially since January.
Ubisoft
initially stated it would be attending, before later changing course. Sega and Tencent joined the list of non-attendees in March.
When asked by
GamesIndustry.biz
if he felt the event was still wanted by leading companies, ESA president and CEO Stanley Pierre-Louis responded they had tried very hard to shape the event into something companies would want to partake in. He concluded, "We did our best to reshape that but, in the end, companies make individual business and marketing decisions about what works. It's an evolving landscape and we want to ensure we are meeting those needs."
This has left some to ponder whether or not
E3
will ever make a return. In the email to
The Verge
, Marsden-Kish suggested it could make a return in the future, but the seed of doubt has been planted.