3DMark Solar Bay Cross-Platform Ray Tracing Benchmark Arrives For Android And Windows PCs
UL Solutions, the creators behind 3DMark, have launched a new 3DMark ray tracing benchmark called Solar Bay that is designed to stress test and benchmark GPUs. This new benchmark is different from 3DMark's other ray tracing benchmarks, like Port Royal and
Speed Way
in that it supports both Android and Windows PCs. As a result, this makes Solar Bay the first 3DMark ray tracing capable benchmark that is capable of running on mobile hardware and allows users to directly compare benchmark results between mobile and PC platforms.
Solar Bay has two different methods to test device hardware, the first is a "quick-to-run" benchmark that measures the peak performance of a device. This first method is designed to mimic the behavior of mobile games which tend to hit devices with short bursts of activity.
The second is a traditional stress test that runs the application over an extended period of time to measure the performance of a device once the device's cooling solution has been heat soaked. This test is designed to mimic scenarios where gamers might be playing a ray-traced game for a long duration of time. In this mode, the test will loop the Solar Bay benchmark for 20 minutes straight, then reveal a chart showing the device's performance over the course of the run.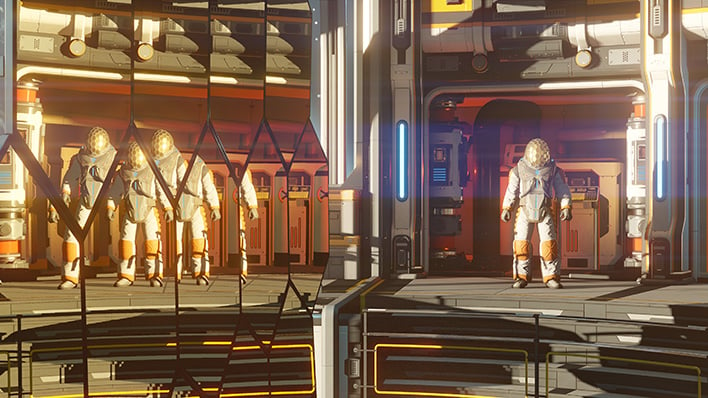 The benchmark itself is a ray tracing-heavy scene that takes place over the course of three stages, with each stage increasing the graphical workload twofold. This means that the benchmark will start out with a lighter workload that is easier to run, but will get progressively more demanding until the benchmark ends. If you're running the standard "quick-to-run" benchmark mode, the benchmark will show four scores on completion, featuring an overall score and three sub-scores representing each stage of the benchmark. Similar to other gaming benchmarks, the higher the frame rate, the higher the score.
While this new benchmark can be used on top-of-the-line gaming PCs, this new ray-traced benchmark is primarily designed for high-end mobile devices. As a result, the benchmark is significantly easier to run compared to 3DMark's more demanding PC-specific ray tracing benchmarks like Port Royal. So, don't expect this benchmarking tool to be great for benchmarking your shiny new $2500 gaming machine. That said, it is still useful for testing lower-end or older hardware.
Having a ray tracing mobile benchmark on a platform as reputable as 3DMark is great to see. Mobile SoCs have just begun featuring ray tracing accelerated hardware in the form of ARM's
Mali-G715 GPU
and the AMD mobile GPU built into the Exynos 2200, to name a few. We should expect to see more and more mobile chipsets sporting ray tracing hardware acceleration in the future, as well as games supporting ray tracing effects. Once ray tracing matures on mobile, 3DMark's new
Solar Bay benchmark
will become more useful, especially for comparing mobile chipset GPUs against each other.