This $25 DDR5 SO-DIMM Adapter Lets You Plug Laptop RAM Into A Desktop Motherboard
There are a lot more DDR5 memory kits to choose from now than when
Alder Lake
first launch, but you'll still pay handsomely for most of the more intriguing options. A quick check on Newegg, for example, shows 32GB DDR5 kits starting at around $310 to over $600—yikes! Should laptop DDR5 memory prove more affordable, though, there's an adapter that might interest you.
We already something similar when an ASUS engineer showed off a
wild DDR4 memory adapter for DDR5
motherboards in December, complete with ROG accents. It was rather larger, though, especially after plugging in a DDR5 memory module. Beyond dealing with the sheer size of the thing, it's not actually available to purchase anywhere. And that's a different use-case anyway.
This adapter don't do anything for your DDR4 RAM. Instead, as spotted by
Akiba PC Hotline
, the "
JET-5669AA
" DIMM adapter that lets you install install DDR5 SO-DIMM memory into a full-size DIMM slot o your DDR5 motherboard (which right is limited to Alder Lake, at least until AMD launches Zen 4 later this year)
It's available at a retailer called M-FACTORS Storage for $25, plus shipping. So for a kit of two DDR5 laptop modules, you're looking at a $50+ solution. That's not cheap, but could be an option if laptop memory ends up being significantly cheaper than desktop RAM.

We can't say how well it works, though. The adapter is actually designed for testing DDR5 SO-DIMM modules and is not really intended for consumers to use as their daily driver. But for anyone who wants to give it a go, it's an option.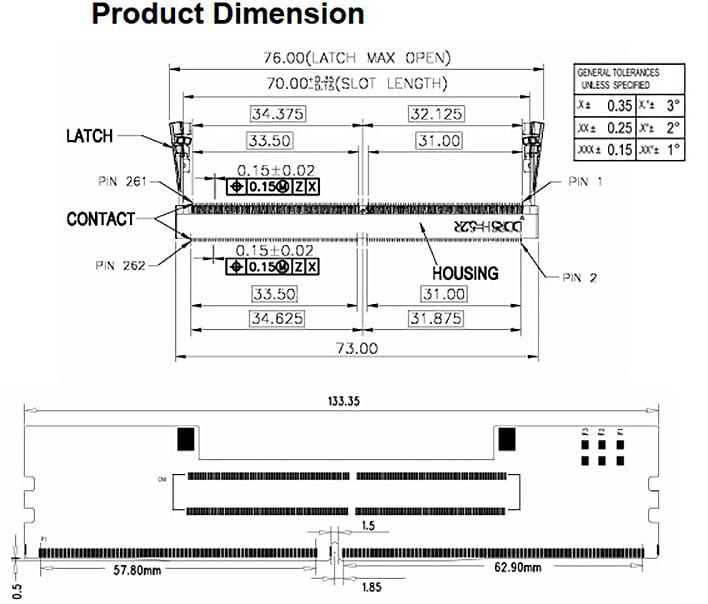 According to the
product description
, it sports a 6-layer PCB design and is compatible with JEDEC's MO-337A SO-DIMM specification. The listing also indicates it supports frequencies above 4800MHz. Interestingly, the lifespan is rated at "over 600 cycles at under normal operations," and it's not real clear what exactly that means.
"To test DDR5 SO-DIMM Memory Module, user first plugs in the JET-5669AA onto the tested system (such as motherboard or DDR5 SO-DIMM Memory module testing equipment), then inserts the DDR5 SO-DIMM Memory Module onto the socket of JET-5669AA before proceeding to run the memory module testing," the description states.

There's really just a narrow use case to even consider something like this in a consumer setting, and is dependent on how the market for laptop DDR5 memory shakes out. We took at peek at Newegg and only found a single option—a Samsung 8GB DDR5-4800 SO-DIMM module from a marketplace seller, priced at $89.99.

The other potential use is if scalpers continue to
hoarding full-size DDR5
memory modules to sell at jacked up prices on eBay. As time goes on, however, we suspect this will be less of a problem.