Google Pixel 7 And Pixel 7 Pro Review: Refined In Every Way
Google Pixel 7 and Pixel 7 Pro Review: Voice, Data And Benchmark Performance
Google has had some struggles with antenna performance on some Pixel phones, but the 7 and 7 Pro have performed very well in our testing. We tested the phones in areas of high congestion, and they had no trouble maintaining a solid connection. Samsung's phones tend to do better in areas of poor coverage than Google's in our experience, but the Pixel 7 and 7 Pro do show improvements versus last year's Pixels. They also support all the latest 5G bands (more than 20 of them) including C-band spectrum and millimeter wave. Although, to get mmWave, you'll have to buy the Pixel 7 Pro or get the cheaper Pixel 7 from AT&T or Verizon—the unlocked Pixel 7 doesn't have it. The phones also support the latest Wi-Fi 6E standard.
Google Pixel 7 and Pixel 7 Pro: Voice And Data
We tested the Pixel 7 and 7 Pro on T-Mobile in the US. Phone calls connected and stayed that way without issue, and those on the other end reported no trouble hearing us. The call audio quality on our end was nothing special, but that could change with future updates. There aren't a ton of new AI tricks in the seventh-gen Pixels, but call audio enhancement is one of them. Google says it's going to roll out the "Clear Calling" feature in an update later this year.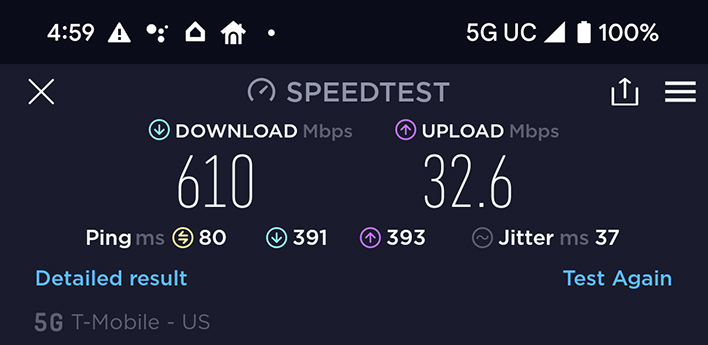 Data speeds were just as high, if not higher, than we've seen with other smartphones on T-Mobile. The test above was run on the carrier's "ultra-capacity" network, which operates in the 2.5GHz spectrum acquired in the Sprint merger. The Pixels regularly hit several hundred megabits down, but upload speeds are much slower. That's common on T-Mobile's 5G network currently and is
not
a problem exclusive to the Pixels.
Google Pixel 7 and Pixel 7 Pro Performance
The Tensor G2 is Google's second-generation custom ARM chip, and it doesn't make any radical departures from the previous gen. There are still eight CPU cores, including two high-power Cortex-X1 cores at 2.85GHz, along with four efficient Cortex-A55s at 1.8GHz. The most notable shift is the use of two Cortex-A78 high-power cores instead of the older A76 design used last year. The GPU and Tensor AI core are also more powerful. Like last year's chip, the Tensor G2 doesn't put up the highest benchmarks, but the phones feel extremely fast and fluid. Even intense games seem to run without issue on the Pixels, so keep that in mind as you peruse the numbers.
Google Pixel 7 and Pixel 7 Pro Geekbench Results
Geekbench is a cross-platform benchmark that simulates real world processing workloads in image processing and particle physics calculation scenarios. We tested all of the smartphones featured here with Geekbench's single and multi-core workloads.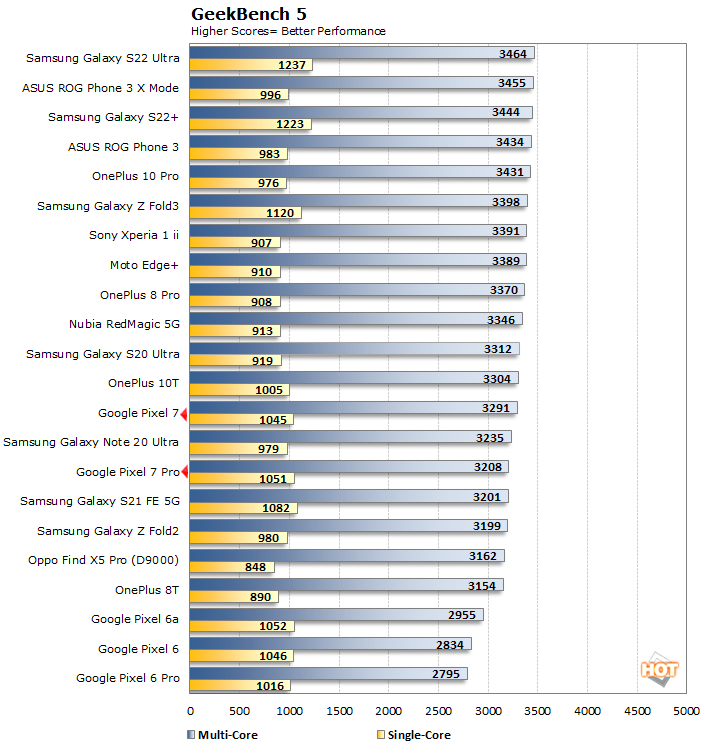 Geekbench is not always a particularly informative benchmark, as it's completely synthetic and OEMs are known to optimize for it. Regardless, Geekbench can be useful as a relative data point. Here, the new Pixels keep up with the competition and best last year's Pixel phones by a comfortable margin.
Google Pixel 7 and 7 Pro PCMark For Android Results
UL's PCMark for Android is an excellent suite of tests if you want to benchmark a wide range of tasks on a handset -- things like image and video editing, as well as lighter-duty, everyday workloads such as email and web browsing. When you see the test running live, it's clear the scripted application tests are carefully selected and tuned to make use of the each mobile platform in a very controlled way.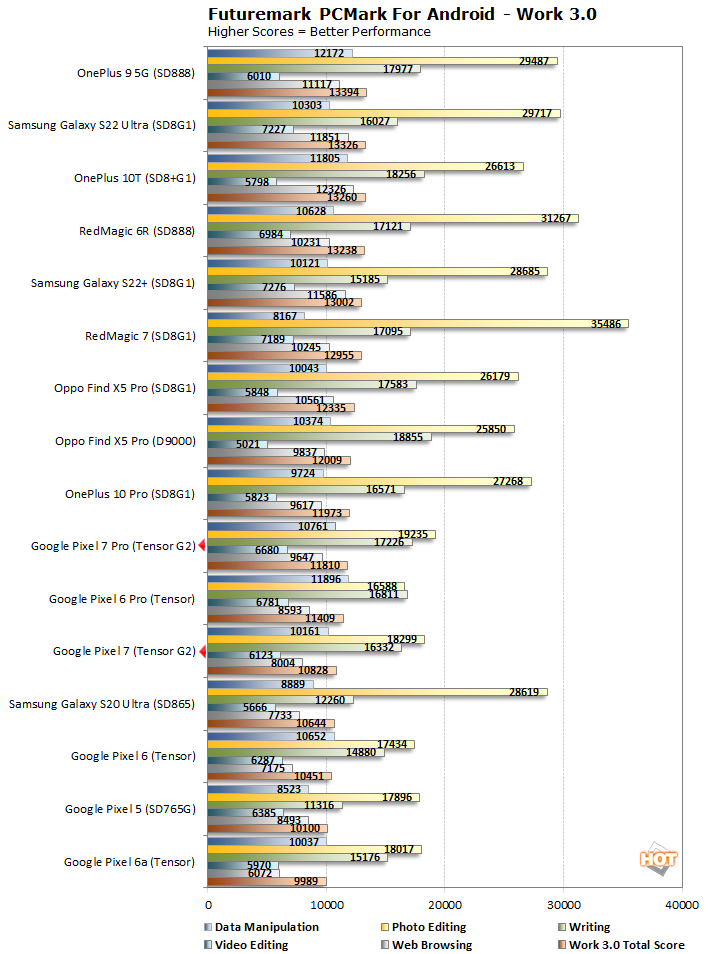 The PCMark test shows the Pixel 7 and 7 Pro running in the middle of the pack, around the same level as last year's Pixels. Devices with the latest Qualcomm chips are still way out in the lead, though.
Google Pixel 7 and Pixel 7 Pro AnTuTu 8 Benchmarks
AnTuTu's latest benchmark returns a number of metrics ranked with somewhat nebulous scores, rather than frame rates or time to complete. Here we're running the latest version of AnTuTu across multiple Android devices. AnTuTu returns four top level performance results which are all included here: CPU, RAM, 3D, UX (or User Experience), along with a total score.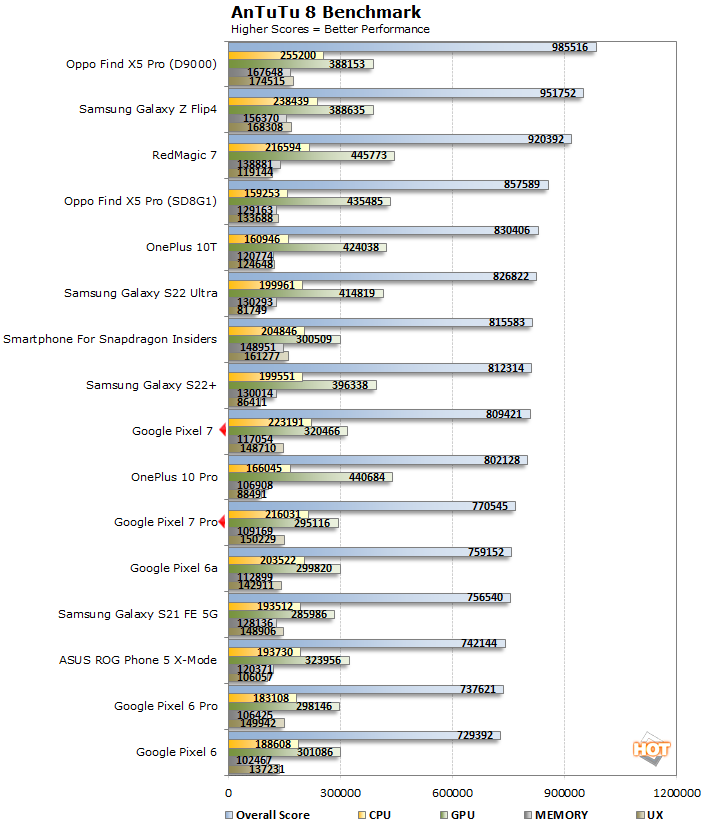 AnTuTu shows the new Pixel 7 and Pixel 7 Pro outperforming last year's models and devices like the Galaxy S21 Fan Edition, but ultimately finishing in the middle of the pack.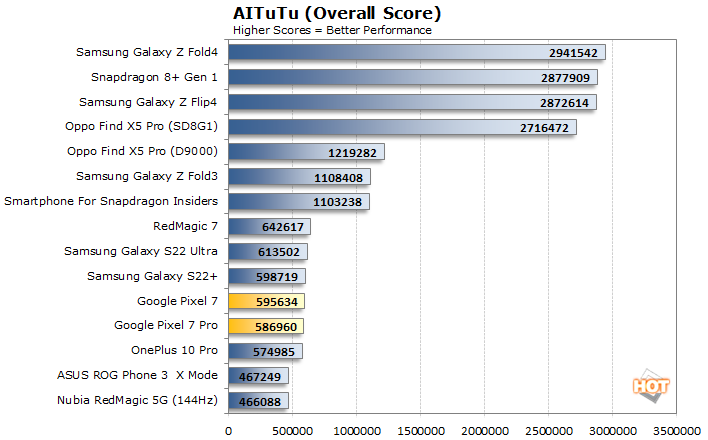 The Tensor chips are supposed to be optimized for AI workloads, but they don't touch the Snapdragon 8+ Gen 1 in the AITuTu test. We saw similarly mediocre performance in last year's Pixels, but we suspect Google is tuning its chips for specific AI tasks. These general AI results don't point to any identifiable issues in daily use.
Google Pixel 7 and Pixel 7 Pro Graphics And Gaming Benchmarks Results
Now, let's take a look at how the new Pixels stack up in GFXBench, which has been one of the standard mobile graphics/gaming performance benchmarks for years. To ensure that display refresh (v-sync) and resolution aren't limiting factors, we're comparing off-screen test results here. GFXBench tests OpenGL ES graphics workloads and we're specifically testing OpenGL ES 2.0 and 3.0.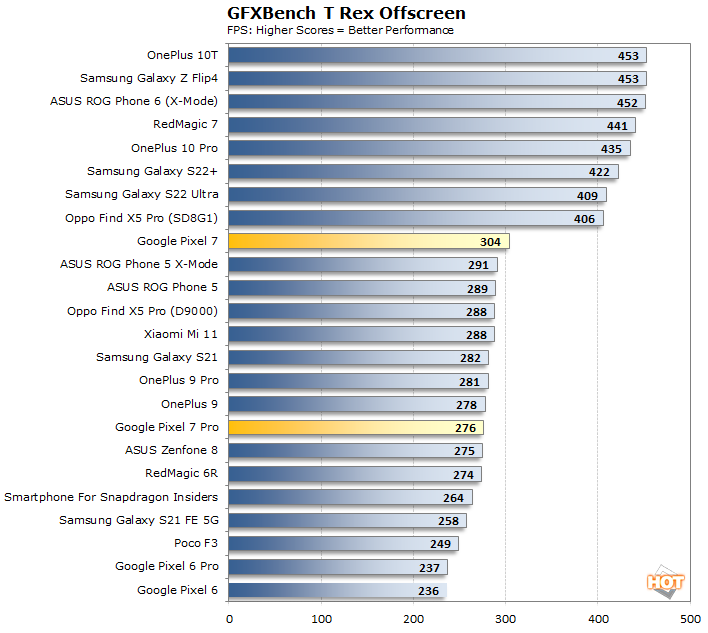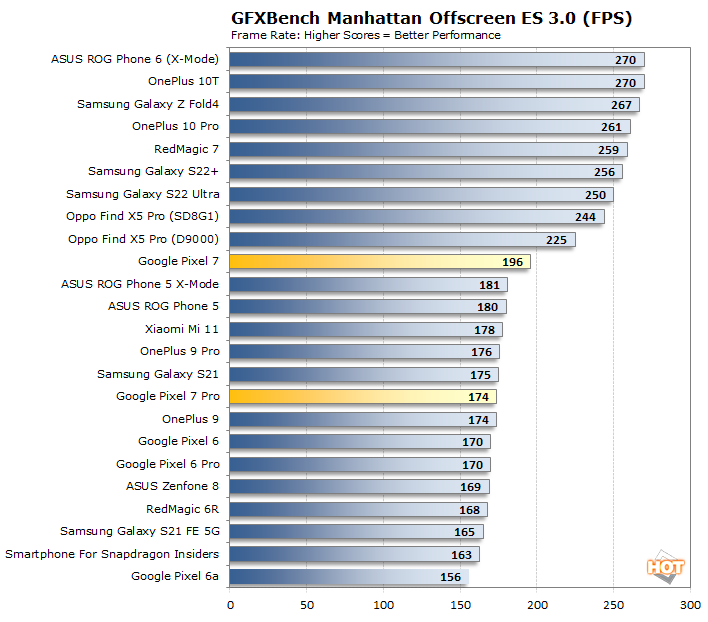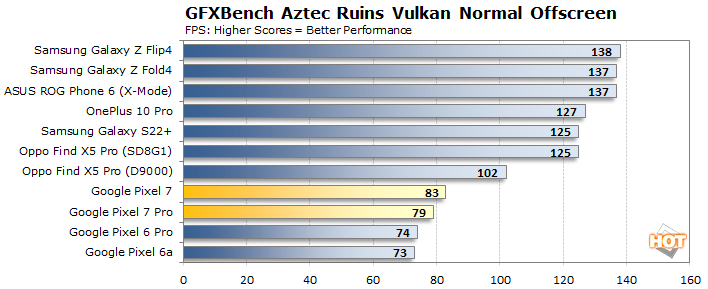 The Pixels' GFXBench numbers won't set the world on fire. Like the Pixel 6 and 6 Pro, the new phones run behind most other flagships in these tests. There's also an unusual gap between the Pixel 7 (higher) and 7 Pro (lower) despite having the same processor and running offscreen tests. However, the numbers are much closer in the Aztec benchmark, which uses the latest Vulkan API.
Google Pixel 7 and Pixel 7 Pro 3DMark Slingshot Tests
UL's 3DMark Sling Shot is a newer benchmark module that's been added to the 3DMark mobile suite. Unlike previous gen 3DMark mobile tests, Sling Shot is a much more advanced OpenGL ES 3.1 and Metal API-based benchmark that employs more advanced rendering techniques, like volumetric lighting, particle illumination, multiple render targets, instanced rendering, uniform buffers and transform feedback. We're running this test in off-screen mode once again to remove display resolution differences from the equation. This allows us to compare cross-platform results more reliably.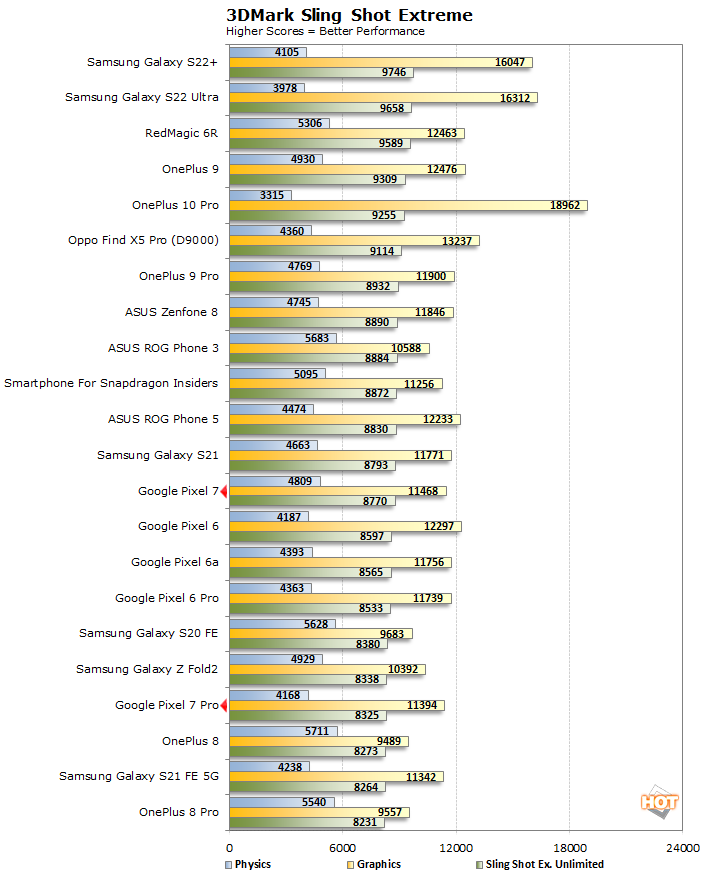 Again, this benchmark shows the cheaper Pixel 7 beating the 7 Pro, and neither one challenges the leading devices that run on Snapdragon chips.
Google Pixel 7 and Pixel 7 Pro 3DMark Wild Life Benchmark Tests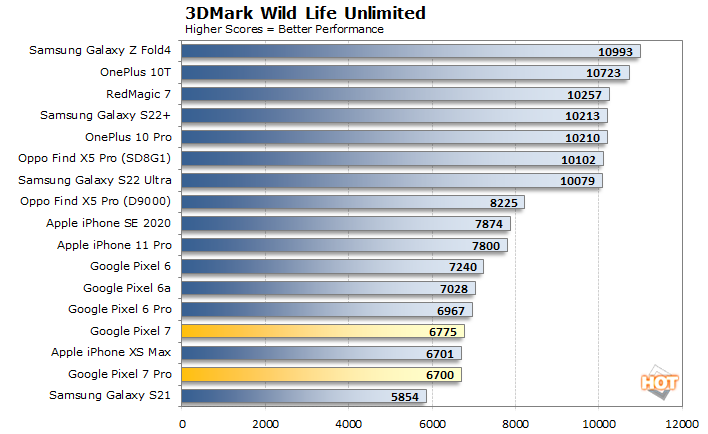 In the latest 3DMark test, the Pixel 7 and 7 Pro have fallen behind the marks from last year's phones. This doesn't seem to relate to any real world deficiencies—the Tensor G2 has a more powerful GPU than last year, but the pre-release software may not be handling some of these intense graphics benchmarks well.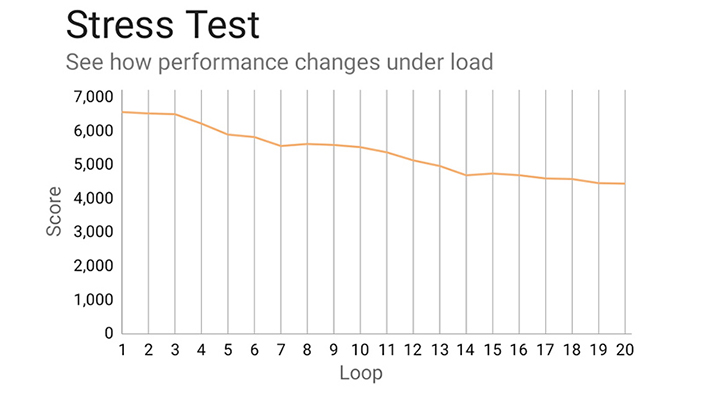 All smartphones throttle somewhat under sustained load, and the Pixels handle it better than most. Performance drops gradually over time, shedding about 20% of the phones' unthrottled speed. This is better than most Snapdragon 8-powered devices, like the
Samsung Galaxy Z Flip4
, which drops 30% almost immediately as the phone warms up, though admittedly this is largely handset cooling solution dependent.
Related content