Acer Swift 3 16 Laptop Review: Affordable And Capable
Acer Swift 3 16" Review: A Performant, Affordable Mainstream Notebook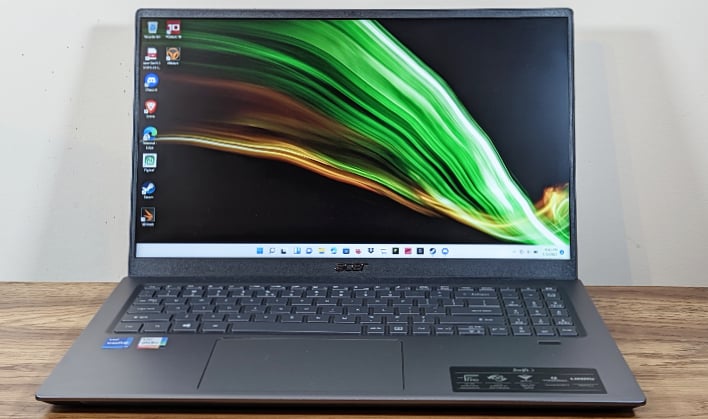 Acer's Swift 3 line is comprised of an array of thin and light notebooks that are designed to meet the tech and budget needs of most mainstream users. There are several models within the
Acer Swift
lineup, with a variety of features and processors to choose from, along with display sizes offered in 13.3-inch, 13.5-inch, 14-inch, 15.6-inch, and a new 16-inch option.
It is that new 16-inch display option that Acer gave us the opportunity to take for a test drive. The Swift 3 (SF316-51) we received comes powered by an 11th Gen Core i7 (
Tiger Lake
) processor with Xe graphics, 16GB of RAM and a 512GB PCIe Gen 3 SSD, though the Intel 11th Gen Core platform does support PCIe Gen 4 drives as well. In terms of Wi-Fi connectivity, the laptop sports an Intel AX210 Wi-Fi 6 (802.11ax) module which can improve network throughput by up to 3X with compatible routers over previous Wi-Fi standards, and also supports Bluetooth 5.1.
The target audience Acer says it is going after with the Swift 3 SF316-51 are professionals, students and anyone that wants exceptional performance for productivity, creation and even a bit of casual gaming (on integrated graphics). With many people still working from home and with students taking classes online, there are plenty of potential users with needs that the new Swift 3 16" may address. So, let's dig in and see what this machine is made of...
Acer Swift 3 16" Specifications
Acer Swift 3 16" Design, Display, Keyboard And Ports
One of the first things you notice when taking the
Swift 3
out of the box is its understated, clean design. The shiny Acer logo is set off against the matte steel gray finish of the laptop. The stylish all metal chassis with aluminum top and bottom covers is solid and feels premium in the hand. Nothing about this laptop feels cheap, and you can tell Acer made efforts to keep this design as premium as possible, even at its mainstream price point.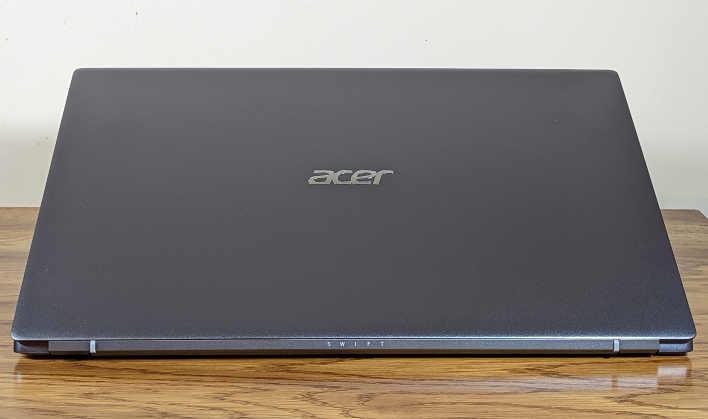 The machine's 16-inch display boasts 300 nits of brightness and offers 100% sRGB color gamut coverage. While its output could be brighter for outdoor use or in very bright lighting conditions, its image quality is excellent. The display supports Acer Color Intelligence and Acer
ExaColor Technology
that delivers good color accuracy and vibrance. Though the Swift 3 16's display may not deliver the pop of some higher brightness or OLED laptop displays on the market, content creation types will appreciate the accuracy this panel delivers. And its viewing angles are solid too, thanks to its IPS panel technology. The 4.4mm bezels surrounding the display are slim enough too, and help optimize this machines overall footprint.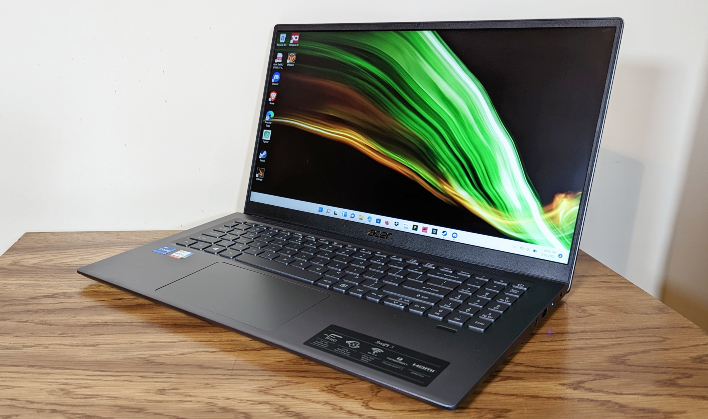 Acer outfitted the Swift 3 a full-sized deck with a dedicated numeric keypad. The keys have an ample 1.3mm travel that fends off accidental keystrokes fairly well and has good tactility. The keyboard is backlit but RGB is not an option here, gamers. With a small learning curve we had a quality, comfortable typing experience on the machine. We should also note the keyboard had limited flex overall.
Acer's Precision Touchpad supports Windows Modern Touchpad gestures, and is fairly large, so you aren't going to run out of real estate easily as you scroll through pages. While using the touchpad we did experience some random tracking issues on occasion. It could have just been due to lack of applying adequate enough pressure at times, but it still had moments where things felt just a bit off. If this turns out to be an issue, it's something that Acer could likely remedy with a firmware or driver update, or perhaps even tweaking mouse sensitivity in Windows could help resolve it as well.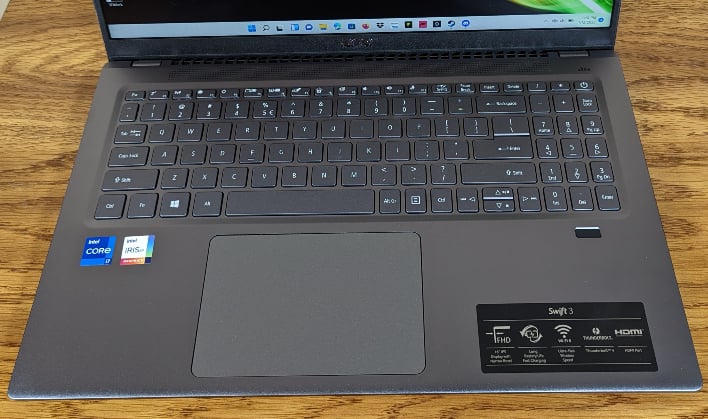 The Acer Swift 3 16 also comes with an embedded fingerprint reader for added security. This gives users the ability to enable
Windows Hello
Fingerprint functionality and bypass having to put in a password each time you want to log on. The feature was easy to set up. However, when we attempted to use it to login there were multiple times it did not recognize our fingerprint and prompted us to put in the password anyway. We did try re-enrolling fingerprints, and while the failed logins were fewer and farther between, we still encountered a few failed attempts. When the fingerprint reader does work correctly, which is the majority of the time, it gets you to the desktop quickly.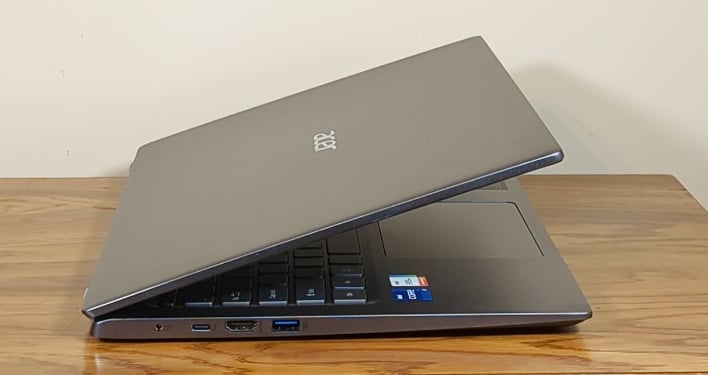 Along the left side of the laptop you will find the DC power jack, as well as USB 3.2 Type-C, HDMI, and USB 3.2 Type-A ports. On the right side you will find another USB Type-A port along with a headphone jack. This should give you plenty of ways to plug in peripherals, external SSDs, or any other accessory you may need. The one feature the Swift 3 16 is lacking, however, is a memory card slot of any sort.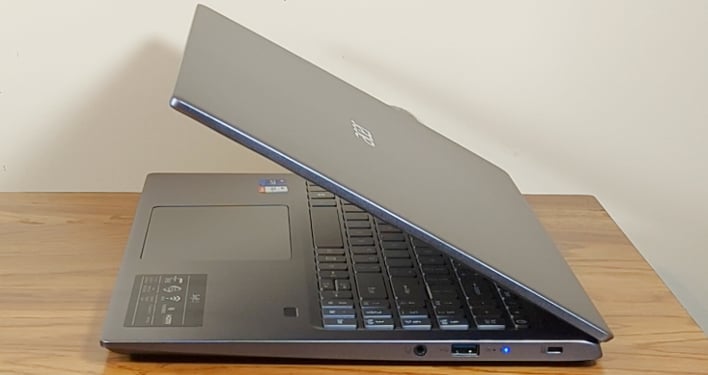 When it comes to audio the Swift 3 has two built-in front-facing stereo speakers. It offers DTS Audio featuring optimized bass response and micro-speaker distortion prevention, as well as Acer TrueHarmony Technology. The sound produced by the speaker system is not too shabby for a laptop. Highs and mids are clear and distortion-free even when turned all the way up. However, bass is slightly muffled and distorted for low-end response at higher volumes. Volume output is decent overall, but some may prefer a bit more oomph, which is par for the course with most light laptops these days.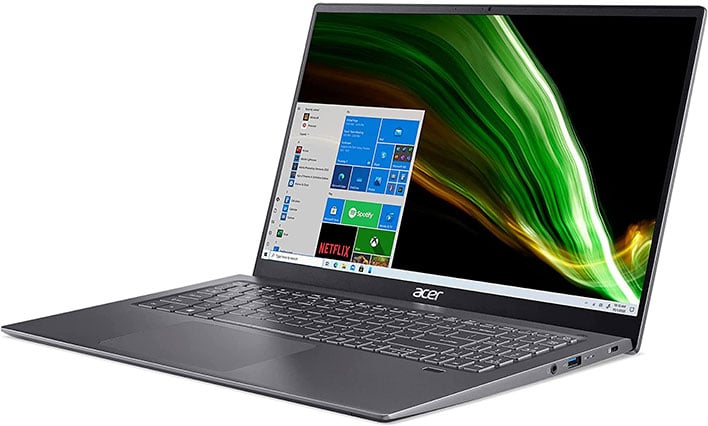 For those occasional video chats and meetings, there is a built-in 720p webcam that supports Super High Dynamic Range imaging (SHDR). Again, however, resolution here is only limited to 720p, so if you need an extra crisp video feed you may want to invest in a standalone 1080p webcam. However, when you need to be heard on one of those video calls you can utilize Acer's
Purified Voice Technology
with its dual built-in microphones and beam forming that focuses on your voice and minimizes background noise. Overall it's a solid audio capture setup, but we wish a 1080p webcam could have been incorporated to accommodate a better video feed for
Zoom
meetings, etc.
Now that we have covered all the basics, lets get into the nitty gritty of how the Acer Swift 3 performs in our benchmark gauntlet...
Related content