The Witcher 3 Update 4.03 Adds XeSS Support, Better Ray Tracing And More
The Witcher 3: Wild Hunt
was originally released in 2015, but developer CD Projekt is
still updating the game
. The title is up to patch version 4.03, and that version is available for PCs as well as PlayStation and Xbox game systems. That includes the last-gen consoles, so PS4 players and Xbox One gamers get to come along for the ride.
We're obviously a bit PC-focused here, so let's talk about the PC-specific patch notes. The new patch adds support for
Intel's XeSS upscaling
, which is the blue team's competitor for NVIDIA's DLSS and AMD's FSR. It's vendor-agnostic, but it definitely works best on Intel's own Arc GPUs. Good news for any Arc owners out there looking to play
The Witcher 3
.
The update also brings a bevy of bugfixes for the enhanced game's ray-traced visuals. Did you know
The Witcher 3 got enhanced
with improved texture and model quality alongside rich ray-traced lighting effects? Well, it did, but the
performance impact was enormous
when the original ray-traced update came out. This being the third update since ray-tracing was introduced, it continues to refine and improve performance for those effects.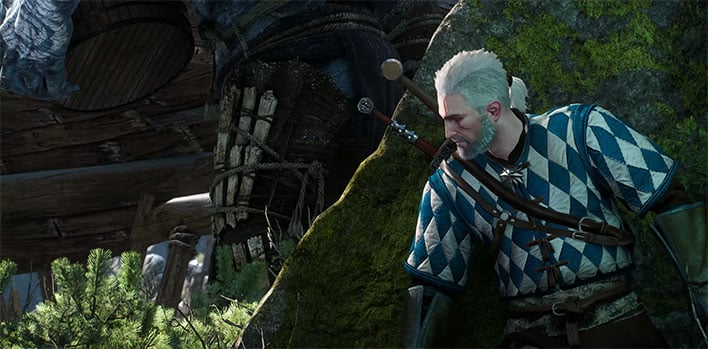 There are also some bug fixes for the ray-traced effects. RT shadows on vegetation should no longer pop into being as Geralt moves around. Testers and reviewers like us should stop running into black shadows after repeatedly toggling the ray-traced effects. Spiderwebs should stop rainbowing with camera movement, and a few other weird visual artifacts caused by ray-tracing have been resolved too.
Unsurprisingly, The Witcher 3 has a fairly-large modding community, and anytime such a game gets an update, it's likely that the developer will integrate popular user mods. That's happened here, where CDPR has bundled in a mod called "Next Gen Script Fixes" that is precisely what it sounds like: a batch of bugfixes for scripts and visual errors introduced in the 4.0 patch.

Arguably the biggest changes in this patch are to the gameplay, though. There's a new option—also inspired by a user mod—to auto-apply oils in combat. This change has been controversial even though it's opt-in, because
some players feel
it reduces the player knowledge required and shoves the needle away from "role-playing game" and more toward "hack & slash". Plus, in what is surely to be another controversial change, they've removed the ability for Geralt to eat food underwater—a very important decision to make eight years later.
We've covered the majority of it, but if you'd like to see the patch notes in the cool
Witcher
font, you can
head over to the official site
for the game and check them out there.