Windows 12 Plans Reveal A Bold Redesign, Tighter Security And AI-Powered Features
New reports suggest that Microsoft's making a new version of Windows, creatively called Windows 12. It could be coming in under a year from now, featuring several new standout features that should separate it from Windows 11. Some of these new features will reportedly include a new UI re-design that will copy UI elements from MacOS and AI enhancements. A new version of Windows is also reportedly in development called CorePC which aims to be a better streamlined and more secure version of Windows 10X.
These reports corroborate an earlier article from Windows Central, detailing an incident when Microsoft accidentally shared its new UI-design with the public at the Ignite 2022 conference.

The new UI-redesign is codenamed Next Valley. This redesign transfers the widgets tab and the notification areas currently found on the Windows 11 taskbar, to the top left and right of the screen in their own dedicated areas. The
taskbar
is also transitioned into a hovering taskbar with the desktop background spilling over the left, right, and bottom edges of the taskbar. The search icon/bar has also been moved to the top middle, freeing up space on the taskbar for more icons.
We don't know for a fact if this new UI redesign will appear in Windows 12, but the leak confirms that Microsoft is working on a UI overhaul for Windows. If we don't see it in Windows 12, we should it in a future build of Windows 11. Some of the UI design changes can already be seen in the latest development builds of Windows 11. Dev build 25300 has added strings that enable users to hide the taskbar clock, hide the time and date in the system tray, and hide time and date information in the corner of the taskbar. If Windows 12 is coming, it is estimated to arrive by
2024.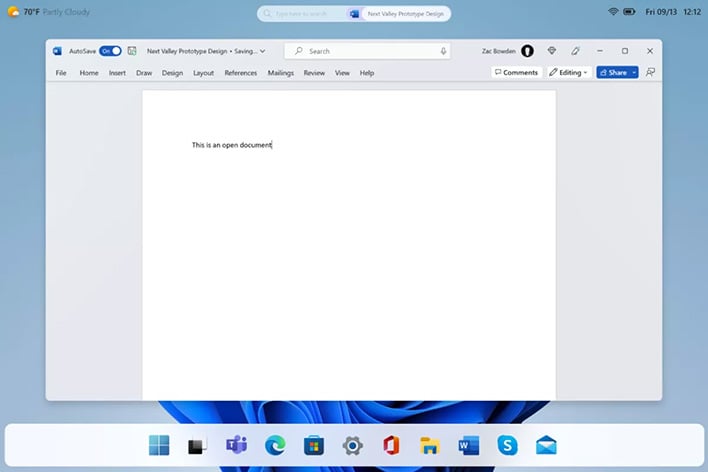 Microsoft is also reportedly building a new lightweight version of Windows called
CorePC
alongside this Windows 12 development. This project is unlike anything Microsoft has built before and is the spiritual successor to all of Microsoft's previous lightweight OS', including Windows 10X/Core OS, and the infamous Windows RT operating system.
Basically, what Microsoft is doing with CorePC is creating a new version of Windows that can be fully customized to meet the demands of different system applications or form factors. CorePC at its heart features a fully-enabled desktop Windows experience but core features of the operating system can be disabled if they aren't necessary. For instance, if an education platform was looking into a fleet of Windows-based machines, it could disable legacy Win32 app support to tighten security on those devices. Optionally, some of these laptops could re-enable this feature if needed.
While CorePC technically has the full desktop Windows experience, it will not be a direct copy of vanilla Windows 10 or Windows 11. Microsoft is building this version in a more modernized application that will behave similarly to iPadOS or Android mobile operating systems. The biggest change is the transition to a strategy called "state separation", where the OS, system files, and user data are all split is split into multiple partitions. This will enable faster updates and enable more reliable system reset functionality for CorePC. Security will also be increased since parts of the OS will live under read-only partitions.
It is reported that CorePC will be Microsoft's true Chromebook competitor, and will have similar performance on lower-end education PCs. It is also reported to be 60 to 75% smaller than Windows 11 SE. Another interesting tidbit about CorePC is that Microsoft is supposedly working on a silicon-optimized version that will focus on AI capabilities similar to that of Apple with its own CPUs.
While Windows 12 (with its
overhauled UI
) and CorePC are not technically related, we could see features overlap between each other, especially when it comes to AI features. Microsoft is very focused on modernizing the Windows user experience right now.