WhatsApp Unveils Chat Lock Feature To Bring Enhanced Security To Your Private Messages
Meta (Facebook) is introducing a new security feature to its
WhatsApp
chat service that allows users to lock messages behind an additional layer of security, even while the app is open. Meta designed this feature for situations where a phone might be used by multiple people (say taking photos at a party), and the device owner doesn't want certain messages to be visible from prying eyes.
The new locking feature is called Chat Lock, and it essentially functions as a secure folder housed inside Whatsapp. When a user locks a thread with Chat Lock, that thread is taken out of the inbox and put inside a secure folder that is protected with a password and/or biometric signature, preventing anyone without the right credentials from seeing threads housed inside this folder. Locking threads also hides the message contents and the sender's identity when a notification is received.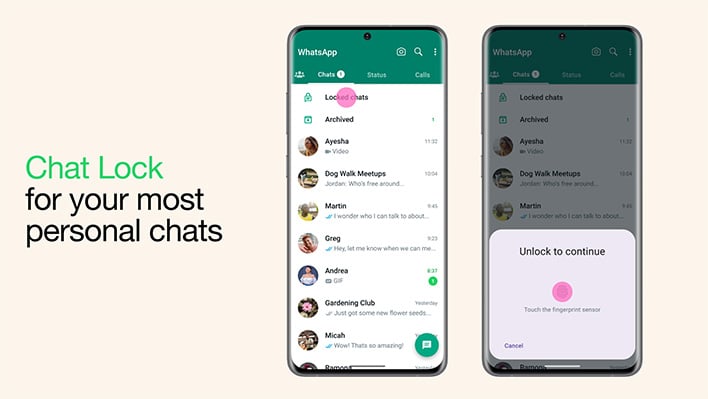 This feature will be very useful for the billions (yes billions) of users WhatsApp has right now, and the many people who use the platform for work or personal use. Whatsapp currently has 2 billion active users and is wildly popular in other countries, including Europe, Africa, and South America. The vast majority of users overseas use WhatsApp as a full replacement for SMS texting, due to its secure end-to-end encryption capabilities. It's still not as popular as SMS texting in the United States, but there is still a large portion of the population that uses it for the same reason.
Poor security
with SMS texting is one of the biggest reasons for WhatsApp's popularity (aswell as competing apps like
Telegram
and Signal), and it will probably continue to gain traction thanks to Meta's constant
feature updates
to the platform, including features like Chat Lock.
Chat Lock is rolling out to WhatsApp users at this very moment, so this feature should already be available to most WhatsApp users that have updated their devices. If you don't have this feature, make sure the app is up-to-date in the Google Play Store. Meta says this is the first implementation of
Chat Lock
and it will be receiving new capabilities in the upcoming months, including custom passwords for individual threads and chat locking for companion devices.