AMD Ryzen Threadripper Pro 7995WX Benchmark Leak Reveals 96 Cores And 5.1GHz Clock
A Geekbench 5 benchmark listing has appeared, revealing the existence of a new Zen 4 Storm Peak Ryzen Threadripper Pro CPU known as the 7995WX. The specs do not disappoint, apparently this new chip will have a whopping 96 Zen 4 cores and a blisteringly high 5.1GHz single core turbo frequency. The benchmarking results are equally as impressive, with the 7995WX pumping out a multi-core result far beyond what AMD's current Ryzen Threadripper Pro 5995WX can achieve.
Storm Peak is the codename for AMD's upcoming Ryzen Threadripper 7000 series CPU platform, that is expected to arrive in September. We don't have official specs on these chips just yet, but
previous leaks and rumors
estimate the Threadripper 7000 parts will feature AMD's latest Zen 4 CPU cores and DDR5 memory support — which is a feature lacking on AMD's current Threadripper architecture. Past rumors have also suspected that AMD could make a comeback to the HEDT market with Threadripper 7000, instead of staying in the workstation market solely, but there is no concrete evidence to support the claim just yet.
If the Geekbench 5 report is in-fact real, and not an AMD EPYC Genoa CPU camouflaging itself as a Threadripper part, it confirms that AMD is finally stepping beyond 64-cores for its flagship SKU for the first time ever with a core count of 96. The first two generations of Threadripper chips peaked at 32-cores while the latest two generations of Threadripper lineups have stretched to 64-cores. The 7995WX's 50% higher core count will give the chip substantially superior multi-threaded performance on top of the impressive performance improvements the Zen 4 architecture will bring by itself — as we have seen with AMD's Ryzen 7000 series desktop CPUs.
[GB5 CPU] Unknown CPU
CPU: AMD Ryzen Threadripper PRO 7995WX (96C 192T)
Min/Max/Avg: 5138/5141/5140 MHz
CPUID: A10F81 (AuthenticAMD)
Single: 2095
Multi: 81408https://t.co/6S30vDrJUp

— Benchleaks (@BenchLeaks) August 16, 2023
For reference, the 7995WX's reported core count of 96 matches the same core count as AMD's EPYC Genoa 9654/9654P and Genoa-X 9684X with 3D-VCache technology. This makes sense, due to the fact AMD's Threadripper parts are always based off of AMD's server architecture. But, the chip's 96 cores is still lower than AMD's core-count king, the
EPYC 9754
with 128 CPU cores in total. This is because the 9754 packs AMD's highly dense Zen 4c cores which are less performant but substantially smaller compared to a standard Zen 4 core. If you were wondering, no these Zen 4c cores are not expected to appear in Ryzen 7000 Threadripper CPUs, so don't expect a 128-core count Threadripper anytime soon.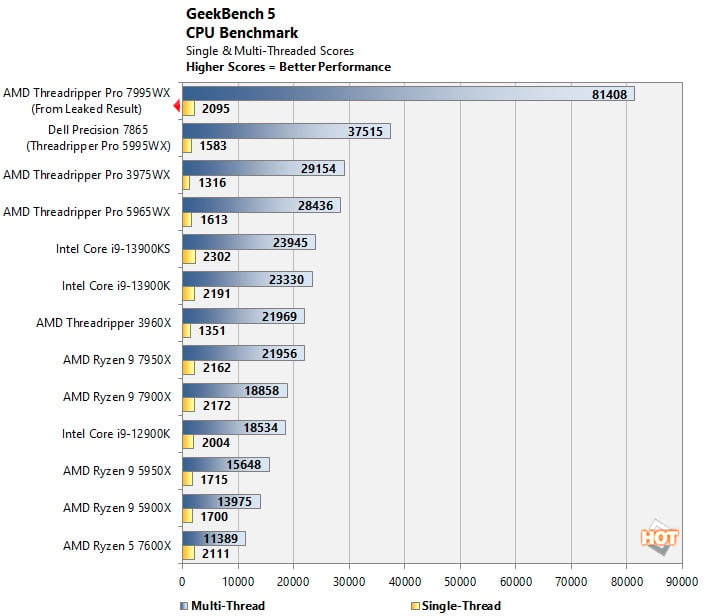 In Geekbench 5, the Ryzen Threadripper Pro 7995WX output a score of 81408 points in the multi-core test, and 2095 in the single-core test. Compared to the
Dell Precision 7865
's Threadripper Pro 5995WX we reviewed, the 7995WX is 2.2x faster in multi-threaded performance and 1.3x faster in single core performance. The 5995WX topped out at 4.5GHz compared to 5.1GHz on the 7995WX, helping out that single-threaded performance.
Again, if Geekbench 5's
benchmarking numbers
are legitimate, the Threadripper Pro 7995WX will be a colossal upgrade over the 5995WX, thanks to the Zen 4 IPC uplifts and additional cores. If AMD is planning on selling the 7995WX anywhere near the same price as its predecessor, you can expect this CPU to fly off of store shelves as has been the case with AMD's
current Threadripper chips
.