Taycan For A Ride? Porsche Taycan Turbo S Ranks As Least Efficient EV Per EPA
The hits just keep coming for the
Porsche Taycan
, which was unveiled as the newest and most credible threat to the Tesla Model S. When the EV was unveiled in late 2019, Porsche promised a driving range approaching 300 miles while delivering performance that would put in supercar territory.
While the latter performance metric was met, Porsche has failed on the efficiency/driving range front. We learned in December that the Taycan Turbo was rated by the EPA to travel just 201 miles per charge. The numbers are now in for the even more powerful Taycan Turbo S, and that vehicle is EPA rated for just 192 miles per charge with an efficiency rating of 68 MPGe. For comparison, the Taycan Turbo scores a slightly higher rating of 69 MPGe.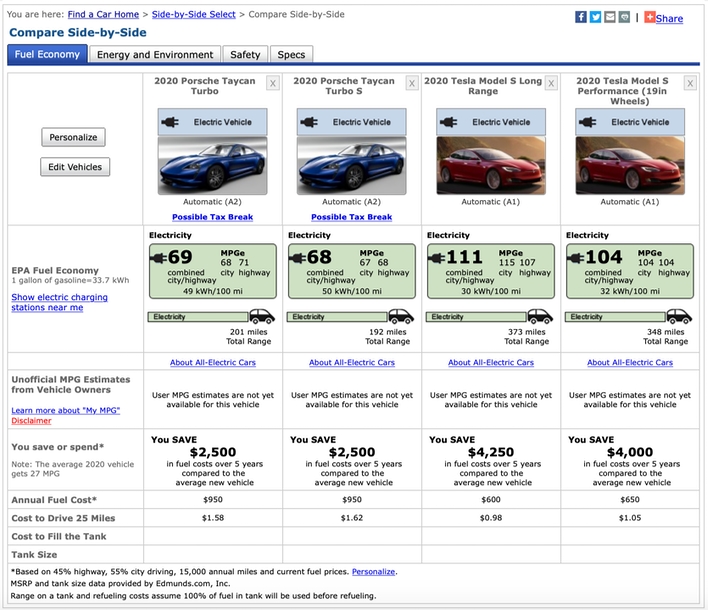 With respect to electric vehicles currently available for sale in the United States, the Taycan Turbo and Taycan Turbo S rank at the bottom for efficiency. In fact, those numbers put Porsche's EVs far below the benchmark Model S in both range and efficiency. The Model S Long Range can travel up to 373 miles per charge, nearly twice that of the Taycan Turbo S. Even the Tesla Model S Performance is no slouch chalking up a driving range of 348 miles.
Both the Taycan Turbo and Taycan Turbo S come with a 93 WHr battery pack. In "Turbo S" guise, the Taycan produces a monstrous 750 horsepower and can sprint from 0 to 60 mph in just 2.6 seconds. The more sedate Taycan Turbo has "just" 670 horsepower on tap and can hit 60 mph in 3 seconds. Both vehicles feature all-wheel-drive and can hit a top speed of 161 mph (we'd assume that's motor/battery limited instead of aerodynamically limited).
The Porsche Taycan Turbo and Turbo S are priced at $150,900 and $185,000 respectively.