Starfield Is Getting DLSS, FOV Slider And These Other Missing PC Features
Shortly before the launch of
Starfield
, Bethesda and AMD
announced a strategic partnership
that caused concern among the GeForce-owning PC gaming community. That's because it coincided with an independent report that remarked on the trend of AMD-sponsored PC games skipping support for NVIDIA's DLSS technology. Come the release of
Starfield
, and the game indeed
lacked DLSS support
, but AMD says that it had nothing to do with that.
We're somewhat-inclined to believe AMD on this point, because the PC release of
Starfield
was actually
missing quite a few features
that PC gamers consider to be pretty basic at this point. That includes things like HDR calibration, an FOV slider, and even simple brightness and contrast controls. The game also shipped without support for ultrawide monitors beyond 21:9, as well as, of course, the aforementioned NVIDIA DLSS.

Well, all of the above are
apparently coming to Starfield
in future updates. Don't be confused; Bethesda's first patch is a "small hotfix" that is aimed directly at some "few top issues" the developers have discovered with the game—some stability issues and a few progression-stopper bugs. These other changes are coming in later updates that will be delivered at "a regular interval" apparently.
Along with the new features, Bethesda also says that it is working on its "built-in mod support" that will work "across all platforms." It says that "full support" will show up early next year, but that it is aware of the ongoing PC modding efforts. Actually, the company is specifically requesting feedback from the modding community on how it can improve the game's mod support in the meantime.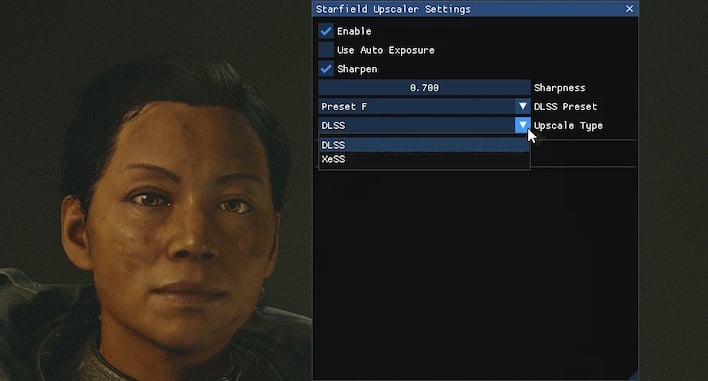 On the topic of mods, there were in fact already community mods to replace the game's built-in FidelityFX Super Resolution 2 upscaling with DLSS, but it looks like you won't have to mess with any of that soon. While FSR2 upscaling is better than most methods, DLSS offers superior temporal stability. It can't help much with the loss of distant detail caused by reduced render resolution, but it's a lot nicer to look at in motion.
No word on whether
Starfield
will just be getting DLSS Super Resolution or whether it will also gain DLSS Frame Generation support, but we suspect the latter is likely. If modders can get it working within days of release, it can't be that difficult to implement. There's also no word on Intel's XeSS, but that one's been modded-in, too. If you're playing
Starfield
on Arc,
make sure to go grab that
along with the
latest driver updates
.