Intel Releases An Eyebrow-Raising Arc GPU Driver With These Fixes For Starfield
Intel continues to make headway on improving performance and fixing various bugs in
Starfield
for players who are running the game on an Arc graphics card. The latest salve comes in the form of an eyebrow-raising Arc GPU driver release. We mean that quite literally—according to the release notes, Intel's 31.0.101.4676 driver fixes an issue that was causing eyebrows to go missing on
Starfield
characters.
That wasn't a game-stopping bug by any means, but certainly a quirky one (and not to be confused with lightly colored eyebrows). It's also not the only bug fix in Intel's latest Arc GPU driver. The release notes further state the aforementioned driver improves stability in different areas of Starfield, and addresses an issue that was resulting in glass surfaces and objects being rendered in correctly.
One thing to bear in mind is that as of this writing, the 31.0.101.4676 driver is not WHQL certified. Intel says not to fret, though—the company says its non-WHQL drivers are thoroughly tested and are of the same functional quality as its WHQL drivers, they just "have not completed the full Windows Hardware Lab Kit testing prior to release. This is known as an attest-signed driver."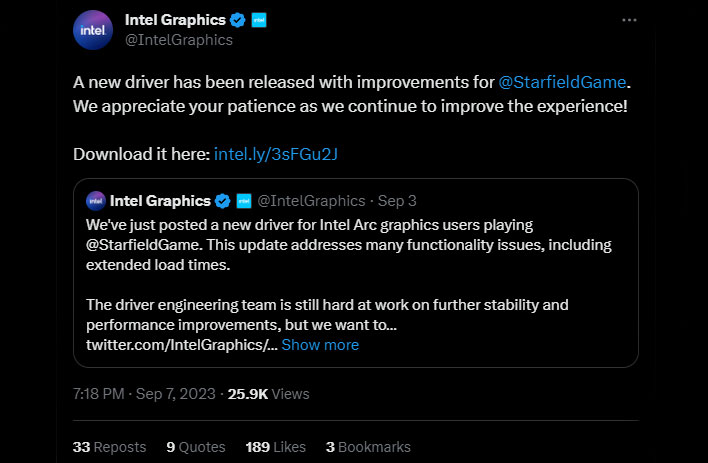 If you're attempting to play
Starfield
on an Arc GPU, you'll want to grab this driver release for the best overall experience. The same purportedly applies to future releases as Intel scrambles to improve performannce and crush more bugs. Last week, Intel said it was
aware of issues
with the game on its Arc hardware and was working to smooth things out, and reiterated that point a few days ago when it pushed out its 31.0.101.4672 driver update.
At the time, Intel also recommended that Arc GPU owners use the High Preset or below in Starfield to improve stability. No such disclaimer is attached to the 31.0.101.4676 driver release. That said, there are a bunch of known issues outlined in the release notes, several of which (though not all) apply to Starfield. Here's the full list...
Starfield (DX12) may experience sporadic instability in some areas of the game.
Starfield (DX12) may exhibit corruption when using Dynamic Resolution Scaling. A workaround is to change the Render Resolution Scale slider value.
Starfield (DX12) may exhibit low texture details on certain objects in the game.

Starfield (DX12) may exhibit texture flickering on light sources during gameplay.
Fortnite (DX12) may exhibit flickering corruptions during gameplay.
Uncharted: Legacy of Thieves Collection* (DX12) may exhibit texture corruption on characters.
Halo Infinite (DX12) campaign may experience an application crash on some system configurations
Dead by Daylight (DX11) may experience an application crash during gameplay.
Topaz Video AI may experience errors when using some models for video enhancement.
Adobe After Effects may experience an application crash during render operations.
Device fan may ramp up frequently on certain Intel Arc Graphics products.
In related news, an Intel Arc GPU owner recently
posted a transcript
of their interaction with a customer support representative at Bethesda. The support agent told the user that their Arc A770 GPU "does not meet the minimum requirements of an AMD Radeon RX 5700 or NVIDIA GeForce [GTX] 1070 Ti," and could therefore only offer limited troubleshooting tips.
There's likely some disconnect between the agent's boilerplate support script the actual situation. The Arc A770 is generally faster than both of those cards, Additionally, Intel's continued focus on
Starfield
-specific fixes in its recent driver releases, including the
31.0.101.4676 driver
outlined here, tell a very different story.