Sony PS5 And Microsoft Xbox Project Scarlett Rumored To Use Samsung NVMe SSDs
It's no secret that the next-generation consoles from Microsoft and Sony will both use a solid-state drive (SSD) in an effort to improve overall system performance and game loading times. However, up until this point, we had no idea who would be supplying this speedy storage subsystem for the
Xbox Project Scarlett
and the
PlayStation 5
.
However, according to a presentation at the Samsung SSD forum last week in Tokyo, we're learning that Samsung is likely the vendor that has been selected. During a presentation on SSDs, Samsung presented a slide dedicated to gaming SSDs for consoles. The performance for the so-called "Optimized NVMe" SSD show it providing a substantial decrease in system boot and game launch time compared to a SATA HDD, or even a SATA SSD. In fact, Samsung is showing its new SSD cutting boot and game launch times by roughly 50 percent compared to a SATA SSD.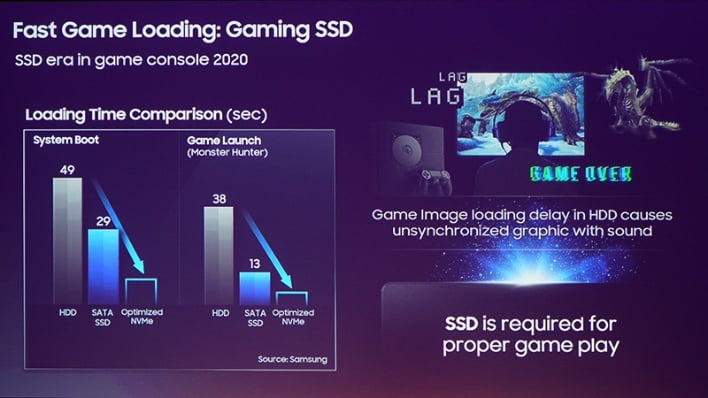 Samsung isn't specific about what interface it's using for the SSD -- PCIe 3.0 or PCIe 4.0 -- but given past statements from Sony that it's SSD would be faster than anything we've seen on the market to-date, we're assuming it will be PCIe 4.0-based. The fact that both the Xbox Project Scarlett and PlayStation 5 will be using an AMD Ryzen 3000-based platform -- which supports PCIe 4.0 -- leads credence to this idea.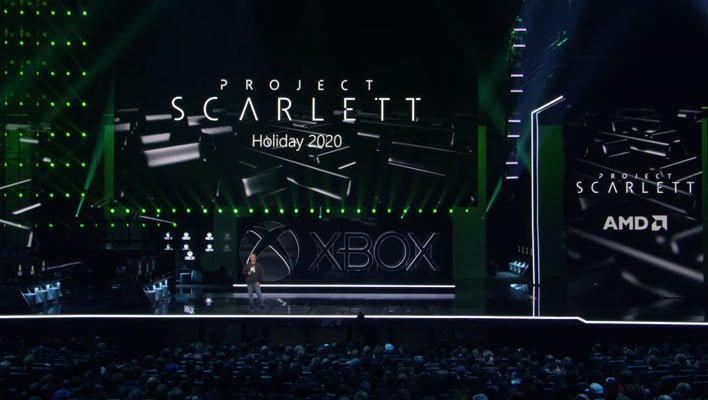 With that being said, Samsung says that this new "SSD era" will take place in 2020, which of course is when the next-generation consoles will launch. Both the Xbox Project Scarlett and PlayStation 5 are pegged for a "Holiday 2020" launch, but recent rumors have suggested that the latter's launch date has been pinpointed to November 20th with a launch price of $499.