Snapdragon 8 Gen 3 Could Bring High Speed Cortex-X4 For A Big Android Performance Lift
It remains to be seen if
Qualcomm
will end up releasing a Snapdragon 8+ Gen 2 refresh, but either way there is already chatter (unofficial) pointing to a true next-gen release, that being the Snapdragon 8 Gen 3. According to what's being said, the upcoming system-on-chip (SoC) will offer a bigger generational jump in performance than last round.
That would be an impressive achievement, considering the
Snapdragon 8 Gen 2
debuted to a sizable performance boost and a major lift in AI processing compared to the Snapdragon 8 Gen 1. For example, our own testing showed a Snapdragon 8 Gen 2 reference platform besting the Snapdragon 8 Gen 1 by 11.4 percent in Geekbench 5's single-core test (1,486 vs 1,334) and nearly 24 percent in the multi-core test (5,225 vs 4,216).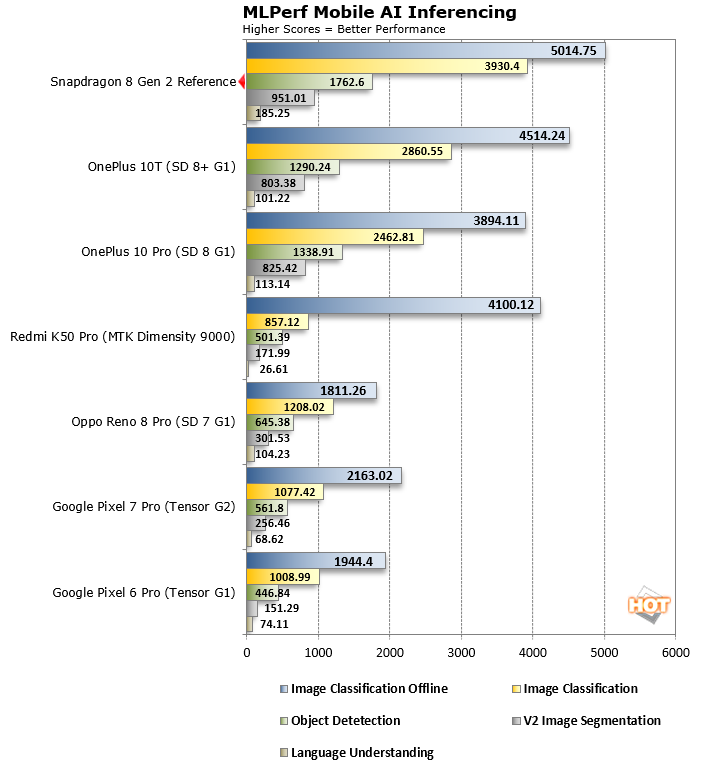 We also saw the Snapdragon 8 Gen 2 outpace the
Snapdragon 8 Gen 1
by up to a whopping 83 percent in MLPerf's mobile AI inferencing benchmarks (specificially the language understanding test), as shown in our graph above.
Over on Twitter, RGcloudS claims to have the inside scoop on the Snapdragon 8 Gen 3, which they say will feature a higher clock frequency than Apple's Bionic 17 silicon. That would set the stage for an interesting showdown between next-gen Android flagships and
Apple's iPhone 15 Pro
models when they arrive later this year.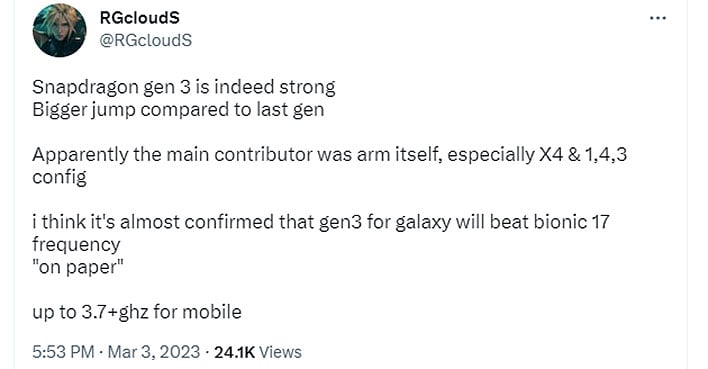 "Snapdragon 8 Gen 3 is indeed strong. Bigger jump compared to last gen," RGcloudS states on Twitter. "Apparently the main contributor was Arm itself, especially X4 & 1,4,3 config. I think it's almost confirmed that Gen 3 for Galaxy will beat Bionic 17 frequency 'on paper' [with] up to 3.7GHz+ for mobile."
The leaker is referencing Arm's high-speed Cortex-X4 CPU core. If the information is accurate, the Snapdragon 8 Gen 3 will feature a single high-performance Cortex-X4 core clocked at 3.7GHz or even higher, along with four performance cores and three efficiency cores.
That's a 15.6 percent jump in clock speed for the main core compared to the Snapdragon 8 Gen 2. So on clock frequency alone, we'd be looking at a decent performance uptick in workloads where raw speed matters. Of coure ,there will be other architectural upgrades and optimizations that could bump the actual performance uplift even further. Or as RGcloudS puts it in a follow-up tweet, a "massive boost" in performance.
It will be interesting to see if the claims come to fruition, along with what impact the higher clock(s) might have on power consumption, heat/throttling, and battery life. Time will tell.