Qualcomm Unveils iSIM For Snapdragon 8 Gen 2: Here's Why It Matters For Android Phones
Qualcomm
just announced the next step in the evolution of SIM technology for Android mobile devices, the integrated SIM, at Mobile World Congress 2023. The iSIM is intended to complement existing SIM card and embedded SIM (eSIM) options, while improving on design, efficiency, and space constraints.
The Subscriber Identity Module, or SIM, is used by mobile network operators to identify devices and the respective subscriber within a network. Most of us tend to associate SIM with the SIM card, but this is merely a hardware vessel to store what is effectively a software standard.
Beyond formfactor shrinks to the SIM card itself,
the eSIM
has been a natural evolution by allowing the SIM information to be stored on a dedicated chip soldered directly to the circuit board. These eSIMs have become popular because they can often be provisioned over-the-air (OTA) to switch between carriers, but the eUICC technology that makes that possible can technically be included in traditional SIM cards, too.
The eSIM is great
for device manufacturers, too. Not only is it smaller than a SIM card and corresponding slot, but it can also be placed anywhere on the PCB, not just around the edges. Nevertheless, it still requires some space and design consideration, and therefore can be improved upon.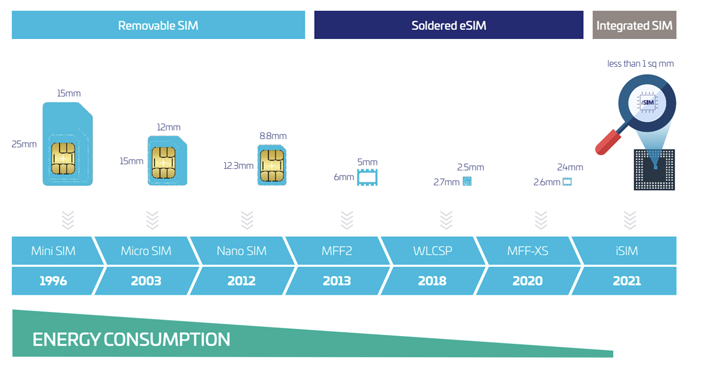 Enter Qualcomm's iSIM. As the name implies, the iSIM is integrated directly into the device's SoC and occupies less than 1 square millimeter. iSIM has the same security and tamper-resistance benefits of eSIM, being non-removable, whereas traditional SIM cards can be
removed, lost, or stolen
.
While iSIM technology be implemented on its own to reduce design complexity and cost, it can also function alongside eSIM or traditional SIM cards in a device. This can provide consumers with more options to get connected anywhere they travel.
Qualcomm's iSIM solution, developed with conjunction with Thales, is already integrated into the Snapdragon 8 Gen 2 mobile platform and is fully compliant with the
GSMA Remote SIM
Provisioning standard. Qualcomm expects market share to grow to 300 million by 2027, citing research by Kaleido Intelligence, which would represent about 19% of all eSIM shipments.
Guillaume Lafaix, vice president of embedded products at
Thales Mobile and Connectivity Solutions
, said, "The world's first security certification of an iSIM by the GSMA follows several years of intense development work by Qualcomm Technologies and Thales. Alongside the increasingly popular eSIM, the Thales 5G iSIM gives device makers and mobile operators even greater freedom to offer their customers effortless over-the-air connectivity, and more exciting and accessible product designs."