SK Hynix Is First To Validate 1anm DDR5 For Intel's Sapphire Rapids Server CPUs
Hot on the heels of Intel formally unveiling its
4th Gen Xeon Scalable processors
(otherwise known as Sapphire Rapids), SK hynix is pounding its chest over having obtained the industry's first validation for '1anm' DDR5 DRAM on Intel's latest server platform. From SK hynix's vantage point, this is a "monumental" moment, and one that happened rather quickly.
"The validation of the 1anm DDR5 compatibility by Intel for its newest processor that supports DDR5 for the first time is monumental," SK hynix said. "We will seek a fast turnaround in the semiconductor memory industry by actively responding to the growing server market through DDR5, which is already in mass production."
It can be a bit confusing keeping track of the many different nodes and related nomenclature. In this case, 1anm (or 1a-nanometer) refers to SK hynix's fourth generation 10nm DRAM, foliowing 1x, 1y, and 1z. Like Micron's 1-alpha DRAM, SK hynix's 1a DDR5 product is built using an extreme ultraviolet (EUV) lithography, which is essentially a photo process where circuit patterns are drawn on the wafer surfaces.

SK hynix is pitching big performance and power efficiency gains with its 1anm DDR5 DRAM, to the tune of a 20 percent reduction in power consumption compared to DDR4, while delivering a 70 percent boost (or even higher) performance boost.
"Intel has been working diligently with SK hynix, JEDEC and the industry to bring DDR5 to life from initial inception to the scalable, reliable memory subsystem at the heart of our latest processor technology," said Dr. Dimitrios Ziakas, Vice President of Memory and I/O Technologies at Intel. "The 4th Gen Intel Xeon Scalable processor takes advantage of DDR5 enhanced memory features to deliver the bandwidth, performance, and scaling capacity needed by our data center customers across a vast array of workloads and applications."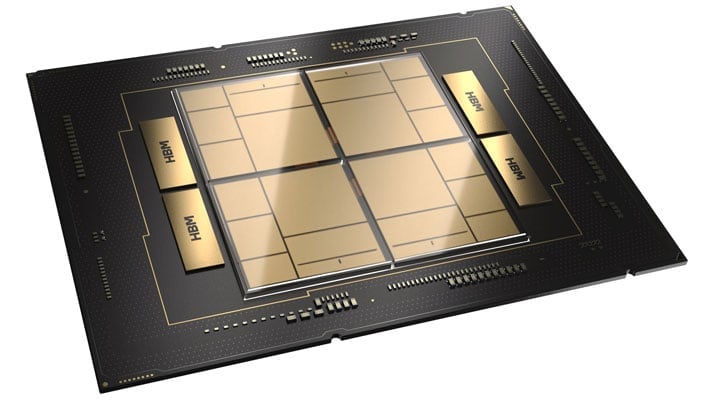 In case you missed our earlier coverage, Intel is pitching its Sapphire Rapids server platform as being its richest yet, with newly integrated IP accelerators, increased I/O bandwidth (thanks to PCIe 5) support for Compute Express Link 1.1, more memory bandwidth with DDR5, and other upgrades.
As it specifically applies to the memory subsystem, Sapphire Rapids supports 8-channel DDR5 (per CPU) at up to 4,800MT/s. That's less than the 12 channels of DDR5 memory support on AMD's 4th Gen EPYC Genoa platform, though Intel's potential ace card is its Max (9000) series lineup with 64GB of on-package
HBME2e
to feed high data throughput workloads (HPC and AI, for example).
SK hynix also said it worked with Intel on publishing a DDR5 white paper outlining the benefits of its
1anm DRAM
, and expects server customers to use it as a reference guide.