SK Hynix Starts Shipping Turbo-Charged LPDDR5T Memory To Speed Up Next-Gen Phones
SK hynix announced today that it has begun supplying 16-gigabyte (GB) packages of its Low Power Double Data Rate 5 Turbo (LPDDR5T) memory to global smartphone makers, after having
announced development
of the turbo-charged chips back in January of this year. Though 10 months have elapsed since then, SK hynix still can (and does) boast having the "fastest mobile DRAM available today."
How fast, exactly? It's fast enough that SK hynix saw fit to attach a "Turbo" designation to its flagship mobile DRAM. But as for the actual speed, its 16GB LPDDR5T solution operates at a blistering 9.6 gigabits per second (9.6Gbps).
"LPDDR5T is the optimal memory to maximize the performance of smartphones, with the highest speed ever achieved. The company also emphasized that it would continue to expand the application range of this product and lead the generation shift in the mobile DRAM sector," SK hynix states.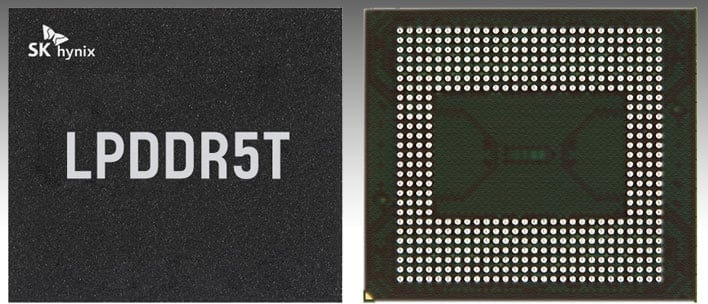 Here's another figure—SK hynix says its LPDDR5T can process 77GB of data per second, which is fast enough to shuttle 15 Full HD 1080p movies in a single second. That's obviously very fast, though SK hynix is no longer in sole possession of the mobile DRAM speed crown.
Just a few weeks ago, Micron announced it had
begun sampling
its LPDDR5X for Qualcomm's
Snapdragon 8 Gen 3
platform. Likewise, Micron's mobile memory flexes a 9.6Gbps data rate, which it says helps unlock a new generation of AI-based applications and capabilities.
Indeed, mobile platforms are becoming more advanced as the industry pushes generative AI and other more demanding workloads into the mainstream. And while Micron is touting optimization for Qualcomm's latest flagship platform, SK hynix says its 9.6Gbps LPDDR5T will debut on smartphones flaunting MediaTek's
Dimensity 9300
on next-gen Android devices. Interestingly, the Dimensity 9300 goes all-in with so-called 'Big' cores rather than utilizing lower-power efficiency cores for lighter weight workloads.
"Smartphones are becoming essential devices for implementing On-Device AI3 technology as the AI era kicks into full swing," said Myoungsoo Park, Vice President and Head of DRAM Marketing at SK hynix. "There is a growing demand for high-performing, high-capacity mobile DRAMs in the market."
SK hynix says it completed the performance verification process for use with the Dimensity 9300 back in August. With smartphones built around MediaTek's newest chipset slated to arrive by the end of this year, that means we'll likely see SK hynix's turbo-charged
LPDDR5T memory
by then as well.