MediaTek's Dimensity 9300 Goes All-In With Big Cores For Next-Gen Android Phones
The trend in modern hybrid microarchitecture design is to pair high performance cores for heavy lifting, with lower power cores for lighter duty workloads. Going this route allows chip makers and designers to balance performance with power efficiency, and it's worked well in various ARM-based designs as well as Intel's Alder Lake and
Raptor Lake silicon
. Then there's MediaTek with its fancy new Dimensity 9300 SoC that's sheds conventional design and goes all-in with big, beefy cores.
The "All Big Core" design is an interesting and bold choice for sure. It's also comparatively unique, which MediaTek hopes will give it an edge while going up against stalwarts like Qualcomm and Apple. And of course the Dimensity 9300 brings some AI chops to the flagship fight as well.

"The Dimensity 9300 is MediaTek's most powerful flagship chip yet, bringing a huge boost in raw computing power to flagship smartphones with our groundbreaking All Big Core design," said Joe Chen, President at MediaTek. "This unique architecture, combined with our upgraded on-chip AI Processing Unit, will usher in a new era of generative AI applications as developers push the limits with edge AI and hybrid AI computing capabilities."
So what exactly are we looking at here? The Dimensity 9300 sports a 4+4 design (sort of) consisting of a single Cortex-X4 clocked at 3.25GHz, three more Cortex-X4 cores clocked at 2.85GHz, and a four Cortex-A720 cores running at 2GHz. For comparison, the
Dimensity 9200
features a single Cortex-X3 core at 3.05GHz, three Cortex-A715 cores running at 2.85GHz, and four Cortex-A510 cores clocked at 1.8GHz. There's also the
Dimensity 9200+
with boosted clock speeds across all cores (3.35GHz, 3GHz, and 2GHz).
If you're keeping count, that amounts to four Cortex-X4 cores and four Cortex-A720 cores on MediaTek's latest silicon. Arm describes its Cortex-A720 as a "premium-efficiency Armv9.2 CPU," which is more of a midrange core in the grand scheme of things. But what it's not, is what would normally comprise a "LITTLE" core in Arm's big.LITTLE design (which is essentially Arm's marketing term for combining performance and power efficient cores).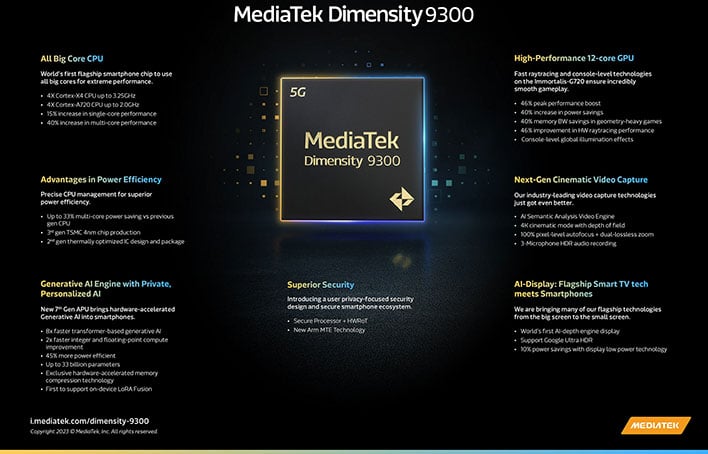 According to MediaTek, the Dimensity 9300's All Big Core configuration nets a 15% increase in single-core performance and a sizable 40% boost in multi-core workloads. Part of that also comes from 18MB of L3+SLC cache, which is 29% bigger than the previous generation.
What about power efficiency, you ask? MediaTek is claiming up to a 33% multi-core power savings versus its last-gen chipset. This comes by way of using TSMC's third-generation 4-nanometer chip technology and MediaTek's second-generation thermal optimized package design. The company also says it applied its "industry-leading expertise to precisely control the CPU's performance and power curve for superior power efficiency."
Beyond the CPU config, the Dimensity 9300 is purportedly the first to support LPDDR5T memory at 9,600Mbps, which qualifies as the world's fastest smartphone memory. And for graphics, it's packing
Arm's Immortalis-G720
, a 12-core GPU with ray tracing support.
The other big upgrade is a new 7th generation APU 790 AI processor for hardware-accelerated generative AI chores. MediaTek says it delivers an eight-fold gain in transformer-based generative AI, as well as twice the integer and floating-point compute performance, while reducing power consumption by 45%.
"As part of MediaTek's rich AI ecosystem, the Dimensity 9300 will support cutting-edge mainstream large language models including Meta Llama 2, Baichuan 2, Baidu AI LLM, and more. This helps developers quickly and efficiently deploy multi-modal generative AI applications to provide users with generative AI experiences such as text, images, and music," MediaTek states.
Other notable bits include faster display speeds (support for WQHD at 180G and 4K ukp to 120Hz), 5G connectivity, support for
Wi-Fi 7
speeds up to 6.5Gbps, and a low-power AI-ISP and always-on HDR for recording at up to 4K resolution at 60 frames per second.
MediaTek says the first smartphones to flex its
Dimensity 9300 SoC
will arrive by the end of this year. It will be interesting to see how they performance next to existing and upcoming flagship phones like Apple's iPhone 15 Pro Max and Samsung's Galaxy S24 Ultra.