Seagate's Storage Roadmap Teases 30TB Drives Coming Soon And 50TB By 2026
Seagate has just released its Q2 2023 financials, and it shared a selection of slides about its storage technology plans among the materials
published
for investors. In particular, we were interested to note that the iconic storage firm is still busy developing its
hard disk drive
(HDD) technologies and a new roadmap suggests it will launch 30TB+ HDDs sometime this year, with capacities reaching as high as 50TB+ by 2026. We are, of course, exclusively talking exclusively about Seagate's 3.5-inch HDDs here.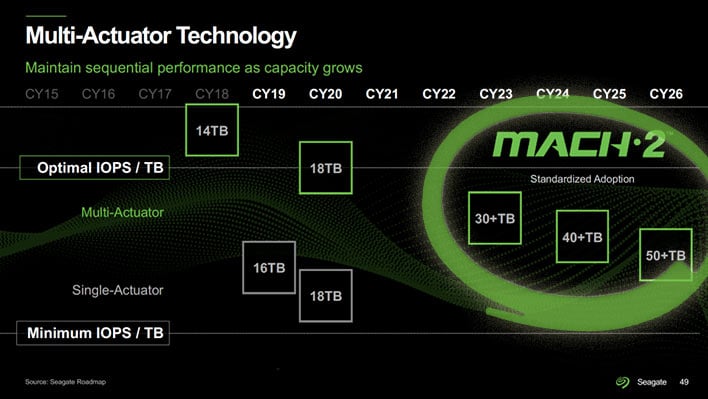 The slide above shows the rather swift progress that Seagate hopes to make over the next three years. Within the next few months Seagate will release 22 and 24TB HDDs, with the headlining 30TB drives penciled in for a mid-year launch. The key difference in the 20TB+ and 30TB+ offerings is that the lower capacity drives due shortly will be based on Seagate's PMR (conventional or perpendicular magnetic recording) MACH-2 technology, but the larger capacity drives due from the June quarter are based on HAMR (heat assisted magnetic recording) MACH-2 technology.
MACH-2
is Seagate's brand name for its multi-actuator technology, which provides a
big boost
to throughput.
Seagate has been talking about HAMR drives since way back in 2002, so we hope we are at last approaching prime time for this technology. During the post-results investor call, Seagate CEO Dave Mosley said he was very excited about HAMR progress. He pointed towards the summer as the expected release for the first 30TB HAMR drives.

"The speed of the initial HAMR volume ramp will depend on a number of factors, including product yields and customer qualification time lines," explained Mosley. Interestingly, Mosley said that the current tech downturn means that factory utilization is lower, and R&D teams have been able to "accelerate cycles of learning around HAMR productization."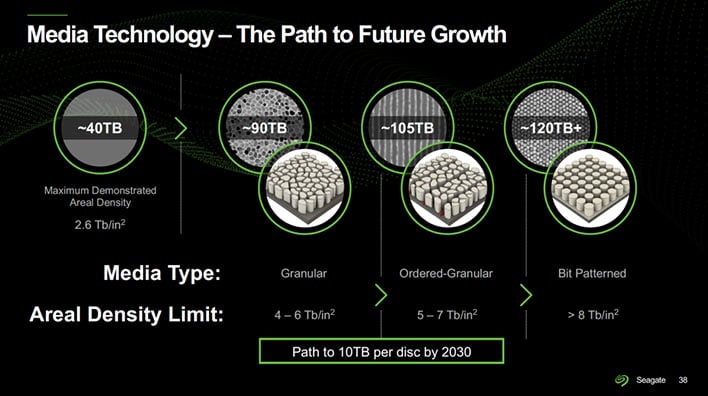 Seagate shared a second slide which is worthy of attention that shows some underlying advances in material science which will help progress these increasingly capacious hard disks. A state of the art 3.5-inch HDD may cram up to 10 drive platters within its casing. Thus, the impending 22 and 24TB drives will pack in up to 2.4TB on each component platter. The use of newer, more refined crystalline structure media and HAMR is going to mean these HDDs will reach capacities of about 50TB by 2026, and 100TB+ by 2030, reckons Seagate.
While consumers are increasingly going all-
SSD
, with the
blessing of Microsoft
, these very high capacity HDDs will find favor among hyperscale data centers and other spaces where sheer volume per dollar trumps outright performance.