Samsung Is Mass Producing 12nm DDR5 Memory Chips And Why It's A Big Deal
It didn't take long for Samsung to go from announcing the development of the industry's first 16-gigabit (Gb) DDR5 memory chips built on a 12-nanometer class manufacturing process, which it achieved in December, to now mass producing the advanced DRAM parts. In doing so, Samsung puts us one big step closer to
faster and cheaper RAM
kits flooding the market.
Indeed, we've already seen
DDR5 pricing fall precipitously
from sky-high territory since 2021. Some DDR5 memory kits that sold for well north of $300 when Alder Lake came out a year and a half ago have since dropped to below $100. That's be expected with new technology (call it the early adopter tax, if you will), but it doesn't happen all on its own. It takes continued developments and refinements in manufacturing and supply logistics.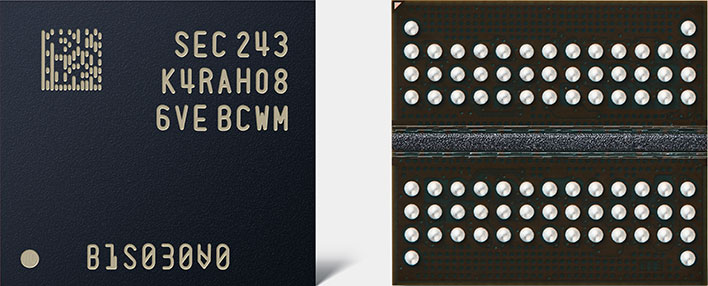 This is where Samsung's 12nm-class DRAM comes into play. Samsung says it's leveraging a new high-K material to help increase cell capacitance, which in turn "results in a significant electric potential difference in the data signals." This makes it easier to accurately distinguish between them, Samsung says.
The bigger side effects are a claimed power consumption reduction of up to 23 percent while simultaneously enhancing wafer productivity by up to 20 percent. That latter stat means Samsung can extract 20 percent more DRAM chips from each wafer.
"Using differentiated process technology, Samsung's industry-leading 12nm-class DDR5 DRAM delivers outstanding performance and power efficiency," said Jooyoung Lee, EVP of DRAM Product & Technology at Samsung Electronics. "Our latest DRAM reflects our continued commitment to leading the DRAM market, not only with high-performance and high-capacity products that meet computing market demand for large-scale processing, but also by commercializing next-generation solutions that support greater productivity."
As to how much performance, Samsung's 12nm DRAM chips support speeds of up to 7.2 gigabits per second (Gbps). Or as Samsung puts it, speeds that can process a pair of 30 gigabyte(GB) Ultra HD movies in roughly a second.
One thing that's interesting to note is that Samsung previously said it collaborated with AMD on the development of its 16Gb DDR5 DRAM, and specifically for the
Zen architecture
. Samsung reiterated AMD's involvement, saying today that it completed evaluation compatibility with AMD last December as it now
begins mass producing
the chips.