Samsung Confirms A Fix Is Incoming To Solve 990 Pro SSD Storage Woes
If you own a
Samsung 990 Pro SSD
, be on the lookout for a firmware update. Even if you're not experiencing any issues at the moment, you should apply the future firmware update when available anyway, as Samsung has confirmed there is an issue with the drive that can cause "anomalies" with drive health monitoring tools, including its own Magician software.
We wrote about this issue a couple of weeks ago and to recap, some 990 Pro SSD owners reported seeing a quirky issue in which their drives were
rapidly declining in health
. For those affected, SMART data tracking, Samsung's Magician utility, and third-party tools would all show the drive's health status deteriorating much faster than expected.
Robbie Khan at Neowin brought the issue to widespread attention, noting in an article that his drive dropped from 99 percent to 98 percent within a single day, then to 95 percent just a couple days later even though nothing had been written to the drive.
Other reports were more dire. One user said their 990 Pro SSD was "36 percent worn out after writing less than 2TB of data" (meaning the drive health was reported as 64 percent). That's definitely not normal. Fortunately, however, Samsung believes it has discovered the root cause and is working on fix.
"Hello everyone, we have received feedback from our technicians on this: Samsung is currently reviewing customer inquiries about anomalies related to the SMART Percentage Used (on Samsung Magician) and/or Health Status (on Crystal Disk Info) of the Samsung SSD 990 PRO. We were able to recreate the error under certain conditions of use. To fix the problem, Samsung is expected to release a firmware update in February," a moderator on Samsung's community forum in Europe wrote.
There are three weeks remaining in February, and hopefully the
promised firmware update
will materialize sooner rather than later. Either way, 990 Pro SSD owners should keep checking throughout the month until it arrives. Just be sure to back up your important data, just in case something goes wrong (ounce of prevention and all that).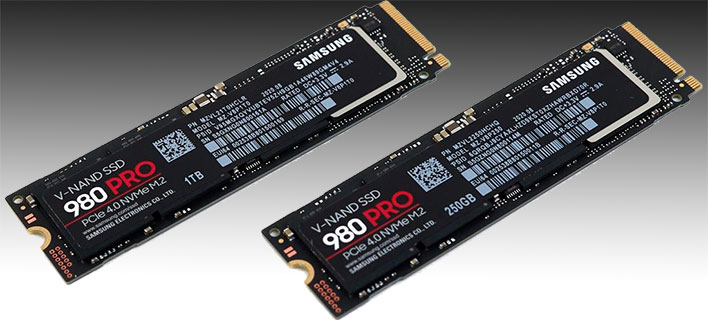 Samsung recently rolled out a firmware update to its 980 Pro SSD line and is working on a fix for its 990 Pro models
Incidentally, there have also been reports of issues with the previous generation
980 Pro SSD family
. System builder Puget Systems wrote a
blog post
on the matter a few days ago, saying it observed "abnormally high failure rates in the field" on the 2TB model, and that it "worked with Samsung on this for several months." Puget ultimately decided to switch their 1TB and 2TB NVMe SSDs over to Sabrent, at least for the time being.
That said, Samsung has released a "critical" firmware update for the 980 Pro. If you own that model, you should check for and apply the latest firmware as well, with the same advice of backing up your important data beforehand.