Some Samsung 990 Pro SSD Users Report An Alarming Drop In Drive Endurance
In our
Samsung 990 Pro SSD
review, we called it a super-fast storage drive for gamers based on our collection of benchmarks and performance we observed. Samsung also has a reputation for churning out highly reliable SSDs. Even so, bad batches are always a possibility, and that could be at the heart of a potential endurance issue observed recently by some users.
To quickly recap the specs, Samsung's 990 Pro SSDs are built with the company's own triple-level cell (TLC) V-NAND flash memory chips paired to an in-house controller. Both the 2TB and 1TB models are rated to deliver up to 7,450MB/s of sequential read performance, which is very near the upper limits of PCie 4.0 x4, and 6,900MB/s of sequential write performance.
As for the advertised endurance rating, the
2TB model
is good for 1,200 TBW (terabytes written) while the 1TB model is good for 600 TBW. Both also sport a mean time before failure (MTBF) rating of 1.5 million hours. In theory, either drive should last a very long time before giving up the ghost.
That being the case, Robbie Khan at Neowin was surprised when his 2TB 990 Pro SSD started rapidly declining in health, as indicated by SMART data tracking from Samsung's own Magician utility, as well as third-party tools. According to Khan, the drive dropped from 99 percent to 98 percent within a day, then to 95 percent a couple days later despite not having written much of anything to the drive. It then continued to declined, which prompted the site to issue an RMA request.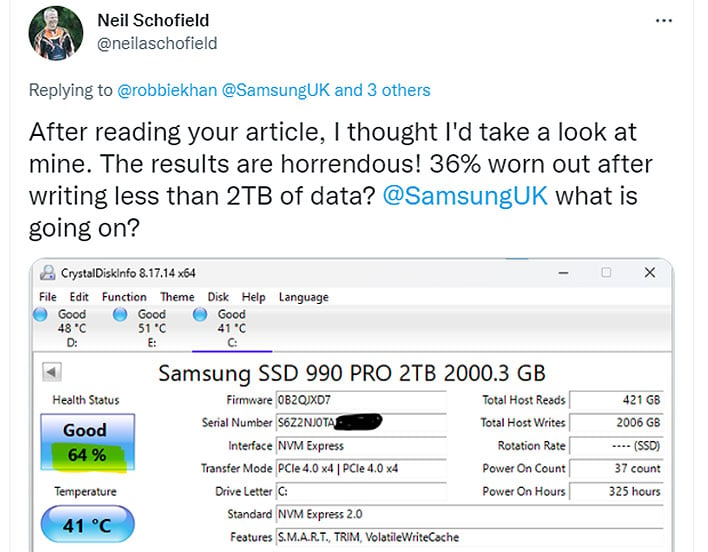 Looking around the web, Khan found there were similar reports by other 990 Pro SSD owners. One owner noted on Twitter that after reading Khan's article, they checked their own drive and discovered the health rating had dropped to a "horrendous" 64 percent (or 36 percent worn out) "after writing less than 2TB of data."
There are more examples around the web. For example, a user on
Reddit
claims their 990 Pro SSD has been dropping by about 1 percent every week since installing it in December of last year. But what's really troubling is that getting an RMA processed is not always easy.
Khan posted an email from Samsung's support team stating they returned his original drive to him "because according to the test ran on your drive, there was no defect found." He responded to Samsung asking for written confirmation that this kind of drop in reported drive health is normal, but didn't hear back. At least not initially.
After
posting an article
on the topic, Samsung reached out and offered to replace the drive. That's great for Khan, but others have reported running into the same RMA roadblock, and it's not clear why. Whether that changes now that this has garnered some attention remains to be seen, but at least now affected owners have some additional information to pass along to Samsung to help their case.