Samsung Unveils A Beastly 57" Odyssey Mini LED G9 Gaming Monitor With Killer 8K Specs
Samsung is kicking off CES week with a literally
big
announcement, unveiling what it boasts is the world's first single monitor with a dual ultra-high definition resolution display. That would the brand-spanking-new Odyssey Neo G95NC, a
mini LED
monitor that spans 57 inches (you might need a bigger desk for this thing!) and rocks an 8K resolution (7680x2160) with a 32:9 aspect ratio.
This is Samsung's largest gaming monitor yet. It eclipses the company's
55-inch Odyssey Ark
and several past releases of its Odyssey Neo G9 series, the most recent (before today) being a 49-inch monitor with mini LED backlighting just like this one.
As we've covered before, the big advantage of mini LED over traditional LED or OLED is that it typically gets much brighter. When combined with full-array local dimming (FALD), mini LED technology also does a much better job than traditional LED backlighting at keeping the halo effect (otherwise known a blooming) at bay, though it doesn't quite match OLED in that regard (or with respect to contrast ratio and OLED's deep blacks).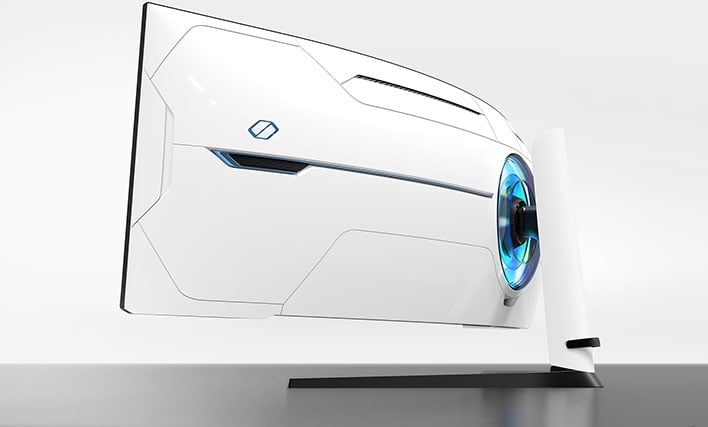 Samsung is keeping some of the details under lock and key at the moment, such as exactly how bright this beastly display gets and how many local dimming zones it has to work with. However, it did reveal that it sports a 240Hz native refresh rate.
The caveat is that gaming at 8K is still out of reach for most people, let alone taking full advantage of a 240Hz refresh rate at that resolution. It's not impossible though—a
GeForce RTX 4090
can play some games reasonably well at 8K, especially with
DLSS 3
.
There's also the future-proofing angle, so much as such a thing is possible. It's fair to say that many people keep their monitors for a long time, and displays like this one set them up for future GPU releases (bring on the
GeForce RTX 8090 Ti
!). Related, Samsung is quick to point out that this is also the world's first monitor with
DisplayPort 2.1
support.
"The new DP2.1 allows lossless industry-standard Display Stream Compression (DSC) to transmit information without distortion," Samsung says.
So there you have it. As for pricing and availability, Samsung is quiet on both accounts. As a point of reference, the 55-inch Odyssey Ark debuted for $3,499.99 and can now be found for
$2,799.99 on Amazon
.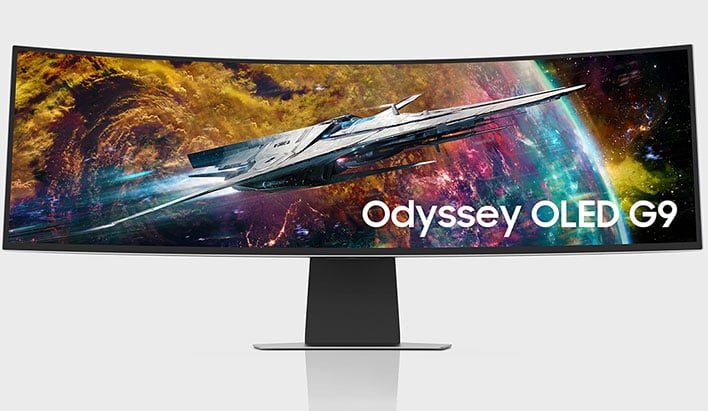 Samsung also updated the 49-inch version of its Odyssey G9 lineup with the Odyssey OLED G95SC. As the model name and above image give away, this one pivots to OLED instead of mini LED, with the promise of "bright er whites, deeper blacks, and near infinite color contrast" aided by quantum dot technology.
"The OLED screen illuminates each pixel separately and does not rely on a backlight, allowing a 1,000,000:1 dynamic contrast ratio while delivering true RGB and true black without color filters," Samsung points out.
That's how OLED works in a nutshell and as opposed to being unique traits of the Odyssey OLED G9. The questions are, how bright does this get and how does it compare to the 57-inch Odyssey Neo G9, answers for which will have to wait for another day.
In the meantime, Samsung is touting the same 240Hz refresh rate on this one, along with a nominal 0.1ms response time at a less demanding (compared to 8K) dual quad-HD resolution (5120x1440), also with a 32:9 aspect ratio.
There's no word on price or availability on this one either.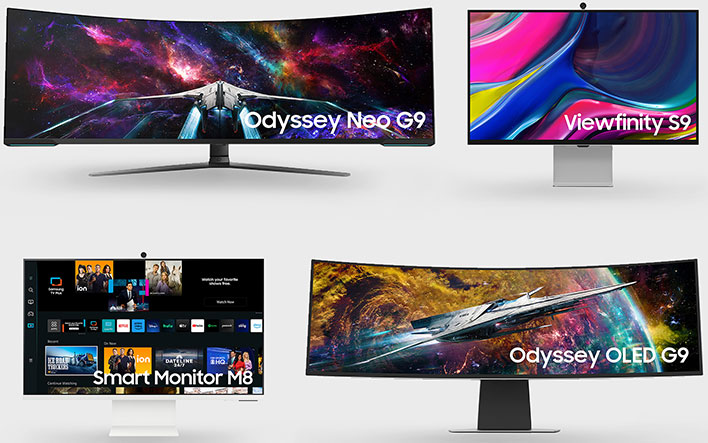 Finally, Samsung
unveiled a couple of monitors
for the content creators and general purpose crowds. The first is the ViewFinity S9 (model S90PC), which is a 27-inch display with a 5K resolution (5120x2880). Samsung's main selling point on this one is the color accuracy—Samsung claims 99 percent coverage of the DCI-P3 color space along with a built-in color calibration engine. It also boasts USB-C and Thunderbolt 4 connectivity.
The other addition is a 27-inch version of Samsung's Smart Monitor M8 series (model M80C). Like its bigger 32-inch sibling, the 27-inch model features a 4K resolution and the ability to connect compatible smart devices though the built-in SmartThings hub (including lights, cameras, doorbells, locks, thermostats, and so forth).