Russian Space Agency Boss Threatens To Abandon ISS Over Mounting Sanctions
Russia
is once again threatening to halt cooperation with the West on the International Space Station (ISS) program. The head of Russia's Roscosmos, Dmitry Rogozin, took to Twitter late last week denouncing the sanctions that have been imposed on Russia since its invasion of Ukraine.
About two weeks ago, three Russian cosmonauts appeared in a livestream after boarding
ISS
in space suits that donned the colors of the Ukrainian flag. The occurrence was widely viewed to oppose Russia's invasion of Ukraine. As geopolitical tensions have been extremely strained on Earth since the invasion, NASA and the rest of the space community have been trying to avoid any unease when it comes to the ongoing relations of ISS.
However, it seems that the ability to keep ISS out of the line of fire may be becoming more difficult. Dmitry Rogozin has taken a page out of Ukraine President Volodymyr Zelenskyy's playbook and taken to Twitter to denounce the sanctions that have been implemented on Russia since its invasion of Ukraine. He began by stating that while the purpose of the sanctions was clear, they would not be effective.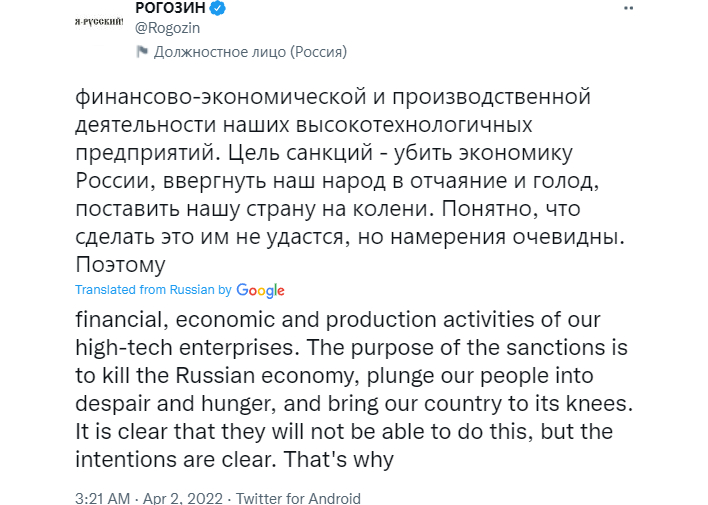 In a follow-up tweet, the head of Roscosmos stated that the only way to restore "normal relations between partners in the International Space Station and other joint projects is possible only with the complete and unconditional lifting of illegal sanctions."
This is not the first time that Rogozin has made comments regarding ISS since the war in Ukraine began. For example, he commented on the day of the Russian invasion that newly imposed sanctions could "destroy" the ISS partnership. However, a response to a March 30th letter from NASA Administrator Bill Nelson seemed to indicate things were fine when it came to cooperation between the U.S. and Russia.
"The U.S. continues to support international government space cooperation, especially those activities associated with operating the ISS with Russia, Canada, Europe, and Japan," Rogozin commented. "New and existing U.S. export control measures continue to allow cooperation between the U.S. and Russia to ensure continued safe operations of the ISS."
It is unclear if
Rogozin's most recent rant on Twitter
will amount to an actual halting of cooperation of ISS. As the conflict between Russia and Ukraine continues, there are certain to more sanctions imposed. Hopefully the operation of ISS can be kept out of the fray back here on Earth and the international community can continue to play nicely in space.