GeForce RTX 5090's 512-Bit Bus Rumor Busted? Here's The Latest On Next-Gen GPU's VRAM
It's already been more than a year since the GeForce RTX 4090 hit store shelves. Truly, tempus does indeed fugit. Hardware enthusiasts are looking ahead
to the next generation
, and rumors have come a-plenty, but one of the most reliable NVIDIA leakers seems to have made a major screw-up with his GeForce RTX 5090 predictions.

As we previously reported, kopite7kimi originally announced that "the gaming flagship of Ada-next will have a 512-bit memory interface." This was surprising for lots of reasons that we
covered in our original reporting
, so head over there if you're not sure why that's a big deal. The short version is that it's 33% wider than even the RTX 4090's memory bus, and equal to the widest memory bus NVIDIA has ever shipped on a GeForce GPU.

However, the leaker is now admitting that he "probably" made a mistake. In a new tweet, he says that he "mistakenly applied the ratio of Ada Lovelace's L2 and MC to Blackwell." In other words, at some point he leaked the L2 cache specification for a top-end Blackwell-architecture part, did math using the same ratio as you would use for Ada Lovelace GPUs, and came out with a 512-bit memory bus. Now, it's looking more like Blackwell will keep the pace with a 384-bit memory bus and instead come with an even larger local cache than AD102's 96MB.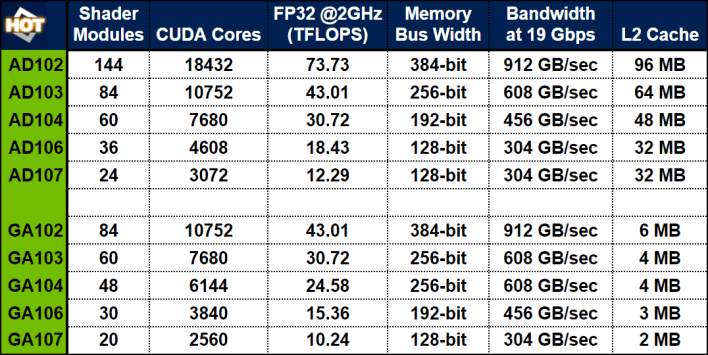 In replies to his original tweet, he confirms that it's more likely that NVIDIA's GB202 GPU will be using GDDR7 memory on a 384-bit bus. We first heard the idea that GDDR7 memory would make its debut aboard a GeForce GPU
much earlier this year
, but it would have been a fair guess either way.
Samsung, Hynix,
and
Micron have all promised
to have 32-Gbps GDDR7 memory available early next year.
If you're curious about that "GB202" model number, we
explained it back in August
. The short version of that story is that we expect the first-generation Blackwell architecture to be focused on compute and AI processors for the HPC and hyperscale market, while a consumer-oriented revision or refresh of Blackwell will come along later. We likely won't see those GPUs until late next year or even into 2025, so that's probably part of the reason we're about to see a GeForce RTX 4000-series refresh.