NVIDIA's GeForce RTX 50 Series GPUs May Tap GDDR7 Memory For A Huge Bandwidth Boost
A report emanating from a Chinese tech news source asserts that the next generation of NVIDIA GeForce graphics cards are "expected" to come packing GDDR7 memory. It is also claimed that the next-gen NVIDIA lineup, unsurprisingly referenced as the RTX 50 series by the source, will be the first graphics cards featuring this speedy new graphics memory.
Current generation consumer graphics cards use
GDDR6 or GDDR6X
to satisfy video memory requirements. Thirst for faster and better-quality graphics at increased resolutions means that the bandwidth enabled by this memory technology is starting to reach its limits. The situation isn't helped by graphics card designers cutting down memory bus widths from generation to generation, to reduce build costs.
GDDR6 arrived in 2018, with the promise to double the performance of the established GDDR5 standard VRAM. Indeed, GDDR6 debuted at 14Gb/s, and advances / refinements are currently seeing it pushing
as high as 24Gb/s
. Meanwhile, the promise of GDDR7 is another 'doubling' in bandwidth. In fact, it is touted to debut at 36Gb/s (double 18Gb/s, if math is hard).
Adding some context to these speeds, a 36Gb/s GDDR7 graphics card with a 384-bit bus would provide 1.70TB/s of bandwidth. The current gen
GeForce RTX 4090
has 21Gb/s GDDR6X on a 384-bit bus to provide 1.05TB/s of bandwidth. Next gen graphics cards with their GDDR7 VRAM attached to a 256-bit bus would achieve something like 1.15TB/s bandwidth. Going more mainstream, approximately 575GB/s bandwidth would be available on designs with 128-bit memory buses.
The
MyDrivers report
on the RTX 50 series using GDDR7 highlights that there is no associated JEDEC standard published as yet. GDDR7 is still officially under development, but
Samsung announced
work on it late last year, and Cadence has recently announced the first
GDDR7 validation
solution for the industry.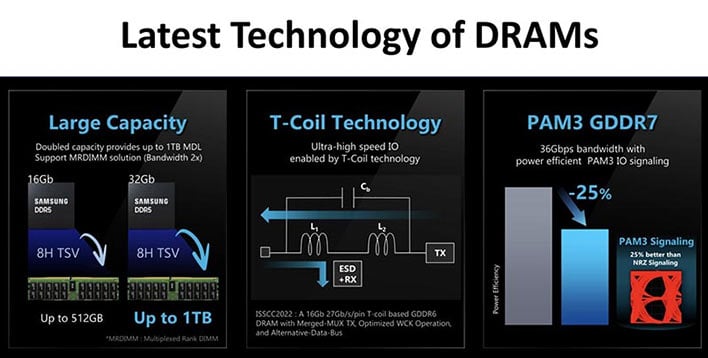 There is still time for GDDR7 to get its finishing touches, we aren't expecting the GeForce RTX 50 series to debut until H2 2024, and AMD graphics cards based on the
RDNA 4 architecture
are expected in a similar timeframe. If you follow that link, you will see that AMD is also reportedly hopping on the GDDR7 bandwagon.