AMD Radeon And Intel Arc GPU Owners Get Relief From Latest Last Of Us Part I Patch
If you haven't heard, Naughty Dog's deeply-adored
The Last of Us Part 1
is available on PC now. It
had a rocky launch
—what AAA PC game hasn't, this year—but the developer has been earnestly patching it up and the majority of the issues should be resolved now.
That includes crash bugs affecting
Intel Arc GPUs
, which were unable to even launch the game despite being more than powerful enough to play it. The latest patch also resolves irritating crashes on Radeon cards that were more and more likely to creep up the longer you played. Anecdotal evidence suggests that these bugs were most common on RDNA 3-based Radeon GPUs, including the Radeon RX 7900 series as well as the
just-released RX 7600
.
Patch version 1.0.5.1 for the PC port was
just released yesterday
, so if you put this game down due to its buggy state but still want to play it, now could be the time. Along with the fixes for non-NVIDIA graphics cards, the update apparently includes "general stability improvements," too. Along with the previous 1.0.5.0 update, which had
massive improvements
to the game when run on mid-range GPUs, this should probably resolve most problems people were having with the port.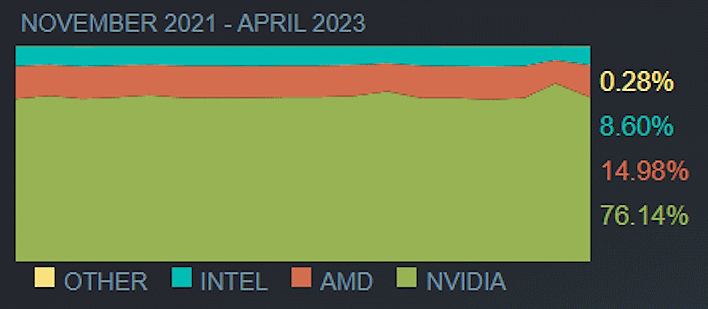 According to the latest
Steam hardware survey data
, NVIDIA controls more than 75% of the PC GPU market. That's not just "PCs with discrete graphics cards," mind you, but rather, it means that more than 75% of PCs that have Steam installed have an NVIDIA GPU as their primary or most powerful graphics card. With that in mind, it would be easy to forgive developers that elected to focus on Team Green's graphics cards for early optimizations and fixes. Indeed,
The Last of Us Part 1
generally ran acceptably on newer NVIDIA cards, and the majority of the folks having major issues had older or non-NVIDIA GPUs.
Thankfully, everyone should be able to enjoy this title now—at least, if you like the game, which most people seem to. Joel and Ellie's adventure through post-apocalyptic America was one of the most widely-praised PS3 games of all time, with the original PlayStation 3 version maintaining a 95 Metascore and a comically-high 9.2 user score. PC gamers waiting to see what all the fuss is about can rest assured of a stable experience if they
pick it up now on Steam
.