OnePlus 12 Filing Reveals Impressive Battery And Charging Specs Ahead Of Launch
OnePlus is mere weeks out from the launch of its first foldable, the
OnePlus Open
, but the company has more up its proverbial sleeve. The flagship OnePlus 12 is still expected to appear this year, and leaks are already painting a picture of a powerful Android smartphone. After learning a bit about the device's camera, we've now also gotten a preview of the battery and charging capabilities.
The power profile comes by way of noted leaker
Digital Chat Station
on the Weibo Chinese social network. The post, which has been translated from Chinese, claims the OnePlus 12 will sport a larger 5,400mAh battery, along with super-fast 100W wired charging and 50W wireless. That would mean the same wired speed as the
OnePlus 11
but a boost to wireless charging.
The source of the data appears to be the latest regulatory filings from OnePlus parent company Oppo. The C3 certification (below) includes the exact specs for the charger that will ship with the OnePlus 12. It appears to be the same charger as last year's phone, which tops out at 100W (11V, 9.1A) in markets with 240V power. However, in markets like the US with 110V, the phone will top out at 80W (11V, 7.3A). Oddly, the OnePlus 11 ditched wireless charging, but the leak claims that feature will return to the OnePlus 12. Not only will it charge wirelessly, it'll have OnePlus' enhanced AIRVOOC 50W charging system. That's faster than the wireless charging on a lot of phones.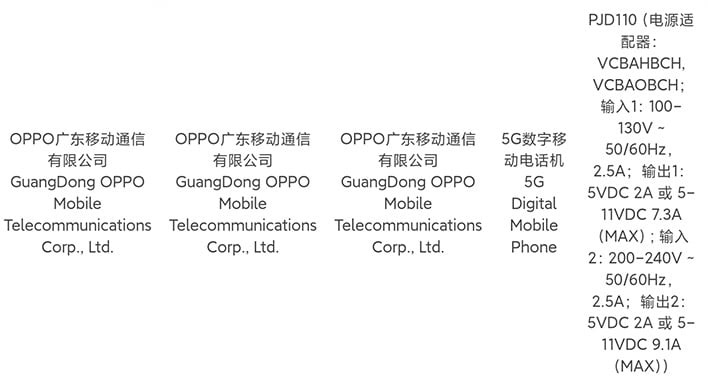 The OnePlus 12 will also last a bit longer on a charge thanks to the beefier battery. Most high-end phones have topped out at 5,000mAh of battery capacity for the last few years, but OnePlus has a reputation for aggressively advancing hardware. A few hundred milliampere-hours extra won't get you an extra day of usage, but it could be the difference between making it to the charger after a heavy day of use and running out of juice.
This leak comes amid speculation about the phone's camera. OnePlus and Sony have announced that the OnePlus 12 will have Sony's
new Lytia sensor
, which uses stacked pixels to capture more light while reducing sensor size. We don't know the resolution of this sensor, but we won't have to wonder for long. OnePlus is expected to reveal the OnePlus 12 before year's end.