NVIDIA RTX 4000 SFF GPU Seen Beating A 3060 Using 60% Less Power
A Japanese tech site recently published a review of the NVIDIA RTX 4000 SFF Ada graphics card. The NVIDIA RTX 4000 SFF is a pleasingly compact and low-power card, which doesn't even need an auxiliary power connector (due to its 70W TDP). However, this doesn't mean that the RTX 4000 SFF graphics card has no teeth. The consumer-focused review tested this workstation GPU against several GeForce series cards and found that it could dominate the popular
RTX 3060
(170W), and perform close to
RTX 3060 Ti territory
.
NVIDIA's RTX 4000 SFF Ada is the smallest current gen workstation card from the green team. In addition to not requiring any supplemental power, it can fit in some of the smallest systems with available PCIe slots, as it ships with both full height and half-height brackets. The cooler is a single fan (35mm) blower style design, which is a favored choice of workstation designs.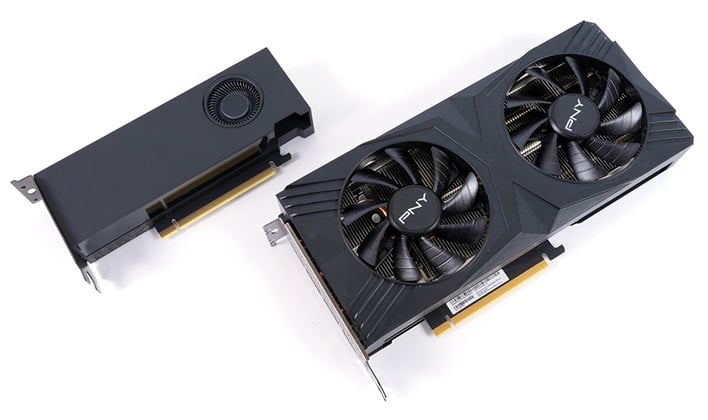 In the images, you can see this 322g (11.3 oz.)
Ada Lovelace
architecture card is equipped with a quartet of mini DP connectors, but an adaptor is supplied for one full sized DP connector (v1.4).
Getting down to the tech specs, the RTX 4000 SFF Ada boasts: 6,144 CUDA cores, GPU base / boost clocks of 720MHz / 1,560MHz, and a bountiful 20GB of 14Gbps GDDR6 VRAM. If we had to compare it with a GeForce RTX 40 series, it's CUDA core count sits between an
RTX 4070
and an
RTX 4070 Ti
, but somewhat closer to the former.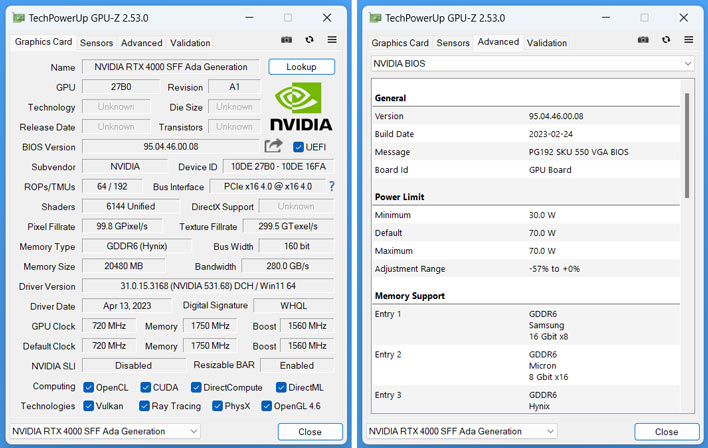 The reviewers of the NVIDIA RTX 4000 SFF Ada at
Jisakuhibi
, tested this compact workstation card against the GeForce RTX 4070, RTX 3070, RTX 3060 Ti, RTX 3060 (12GB) and RTX 3050. They pushed the graphics cards through a range of synthetic benchmarks from UL, a handful of games, and checked the usual things like power, temperatures and noise. According to
WCCF Tech's
calculations, the workstation card didn't just beat the RTX 3060, it offered 90-95% of the performance of the GeForce RTX 3060 Ti. We've included some sample charts here, but you can find many more at the source.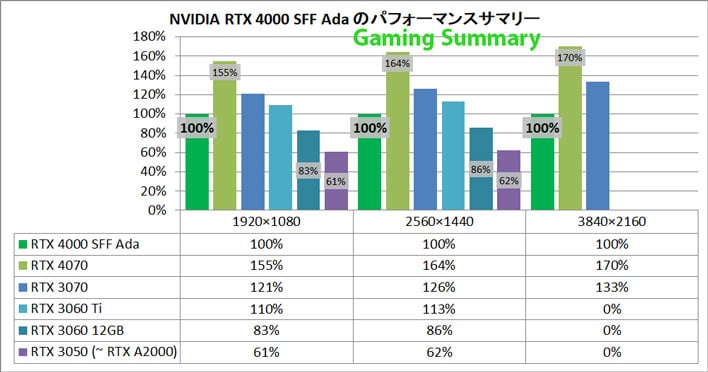 In the review summary, the team highlighted that the NVIDIA RTX 4000 SFF GPU offered great gaming performance while chewing through less than 70W. Moreover, its support for DLSS 3, hardware encoding of the next-generation AV1 codec, professional application certification, and compact dimensions. Sadly, there is a negative, or an elephant in the room, which is the pricing of the workstation solution. The RTX 4000 SFF has an MSRP of $1,250 - the kind of money which could net you a
GeForce RTX 4080
.
Image Source: Jisakuhibi