NVIDIA GeForce RTX 4070 Ti Smokes Radeon And Arc In European Retailer Sales
In the short time it's been on the market, there is evidence to suggest NVIDIA's
GeForce RTX 4070 Ti
is proving popular among gamers. That evidence comes by way of sales data from a major retailer in Germany. Looking at the site's sales figures for the third week of January, the GeForce RTX 4070 Ti is outselling all AMD Radeon RX 7000 series and Intel Arc A-series desktop GPUs combined.
Granted, the sales data of a single retailer for a single week is a minuscule snapshot of a much broader market. Even so, it's an interesting look at the initial surge in demand for NVIDIA's latest Ada Lovelace GPU, and also its least expensive one until the
non-Ti model
and other lower tier SKUs emerge. By extension, the GeForce RTX 4070 Ti is also the cheapest upgrade path to gaming with
DLSS 3
, the latest version of NVIDIA's upscaling technology.
Here's a breakdown of the GPU sales in question...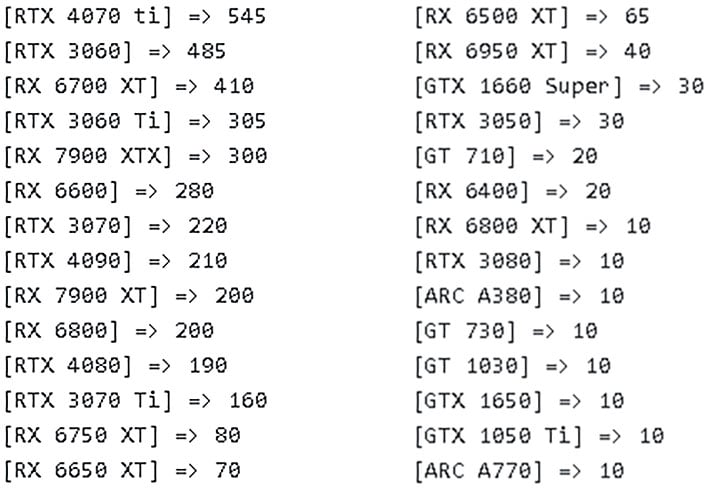 Source: MindFactory via @TechEpiphany
The sales figures come from German retailer MindFactory, which @TechEpiphany corralled (as they often do) and
posted to Twitter
. Looking it over, we can see that the GeForce RTX 4070 Ti accounted for 545 graphics card sales at MindFactory last week.
In comparison, AMD's
Radeon RX 7900 XTX
accounted for 300 and the Radeon RX 7900 XT added another 200 units to the pile, while Intel's
Arc A770
and A380 sold 10 units each. Add all those together you get 520 units, which is 25 units shy of the GeForce RTX 4070 Ti alone.
If comparing all of the latest-generation GPUs from NVIDIA and AMD, the GeForce RTX 4090, GeForce RTX 4080, and GeForce RTX 4070 Ti combined for 945 units, while the Radeon RX 7900 XTX and Radeon RX 7900 XT totaled 500 units. That means NVIDIA's newest GPUs are outselling AMD's by nearly a 2-to-1 ratio, albeit with more cards to choose from (three versus two).
It will be interesting to see if this trend holds up over time and outside of a single retailer. The trouble is, most retailers don't share this kind of data, and neither does AMD or NVIDIA. That said, Steam's monthly hardware and software surveys, while not perfect and different in scope (they show market share data as opposed to recent sales data), can be a decent gauge for what's trending among gamers. And in that regard, the GeForce GTX 1650 is still
holding strong
as the most-used GPU by Steam gamers, followed by the GeForce GTX 1060.