Noctua Demos Dual Fan CPU Air Cooler Chilling Out A 700W 56-Core Intel Xeon Processor
Noctua has demonstrated one of its dual fan tower form factor coolers capably soothing a 56-core
Intel Xeon W9-3495X
as it chews through more than 700W of power. The Austrian firm has one of the best reputations in air cooling CPUs, but this chilling feat will raise eyebrows among the PC enthusiast and liquid cooling communities.
Would you say 700W on air cooling is impossible? Here's our NH-U14S DX-4677 cooling the Intel Xeon w9-3495X at a continuous load of more than 700W! @intel @ASUS @Seasonic @SKhynix pic.twitter.com/35HCtIxL30

— Noctua (@Noctua_at) April 11, 2023
In the demo, embedded above, we see the open-bench setup with the Noctua cooler fitted to the Intel Xeon. The camera then pans a screen into view, showing the CPU has been under a >700W load for a sustained period. Meanwhile, the CPU temperature stays under 100 degrees Celsius thanks to the NH-U14S DX-4677.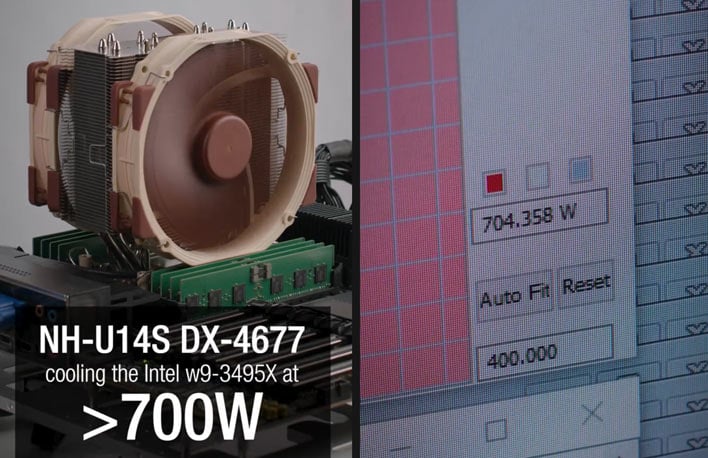 Readers are probably familiar with the
Noctua NH-U14S
, which is the latest iteration of the firm's classic U-series single tower CPU cooler, with 'S' denoting its slim radiator design. It features a 140mm PWM fan and can cool any contemporary consumer processor with ease (capable of cooling CPUs up to 200W). However, Noctua makes special editions of the NH-U14S for Threadripper and Xeon workstation processors, and the NH-U14S DX-4677 caters to the Intel Xeon W9-3495X and its brethren.
Standard for the NH-U14S are its large aluminum finned tower, threaded with six thick nickel plated heatpipes, and compatibility with large 140mm fans. Some of the customizations
Noctua
made to accommodate the thermals of Intel's demanding Xeons include a larger custom designed contact surface to mate with LGA4677 processors, the use of twin PWM controlled NF-A15 140mm fans, specialized mounts, and compatibility with the Xeon's carrier frame design.
Considering its capabilities, the NH-U14S DX-4677 is only 20% weightier than the standard model, and according to the specs its 24,6 dB(A) max noise makes it every bit as quiet as the standard model.

Noctua has yet to dip a toe into AiO or CLC cooling, and it doesn't look like it will anytime soon. Other than
air coolers
, the only other type it designs are passive coolers.