Noctua's Fan Delay And CPU Cooler Roadmap Update Is A Fantastic Lesson On Transparency
Noctua has started 2023 by addressing the no-show of its next-gen 140mm fans. In a tweeted update on the situation, it admitted that there has been "an unexpected production level issue," which will cause a "significant delay" to the availability of these highly anticipated cooling components. Thus, the previously penciled in launch date for next-gen 140mm fans arriving by the end of 2022 has been pushed back to Q4 2023 in the latest roadmap—a year or so late.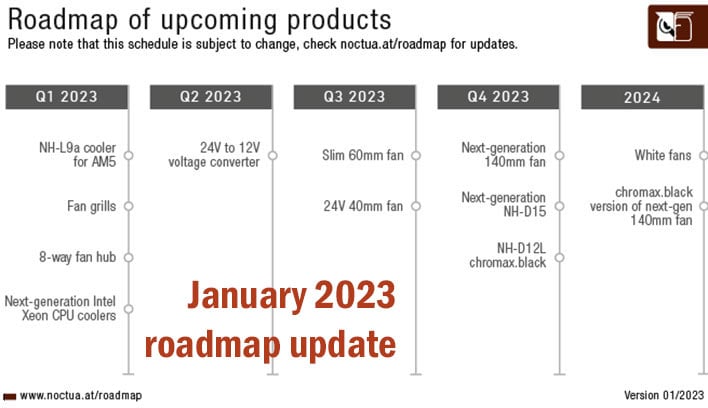 It isn't very new or unexpected that Noctua has delayed, or even significantly delayed, one of its sought-after
cooling products
. The firm may frustrate impatient PC enthusiast and DIYers sometimes, but it maintains a great degree of transparency in its product development and production ramp processes, with regular updates to its public product roadmap. However, the tweet addressing the 140mm fan delay neglects to mention that the NH-D15 CPU cooler and white fans have also been kicked down the road. Drats!
The tweet specifically addressing the issue of the next-gen 140mm fans provides some insight about what had gone wrong, and what warrants the lengthy delay that is now expected. According to the social media blurb, the new fans hit a production issue which may have impacted their durability. Now it is necessary to investigate the error, fix it, and re-run accelerated lifetime tests—all of which take several months to complete. Noctua says that only after this additional lengthy set of processes can it be certain that the new 140mm fans will have the same durability and longevity its customers expect.
Last but not least,
Noctua assures
that the next-gen 140mm fans delay decision hasn't been made lightly and that it will never consider diverging from its strict quality and verification processes to rush a product to market.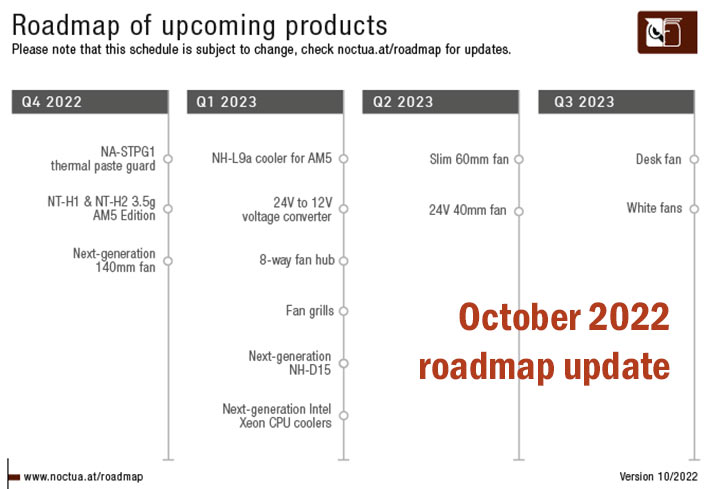 Noctua Also Delays NH-D15 CPU Cooler And White Fans
The Austrian PC cooling specialist's roadmap adjustments has previously caused severe gnashing of teeth among PC enthusiasts due to several delays to its next-gen NH-D15
CPU cooler
. In the last roadmap update, which was shared first in
October 2022
, the NH-D15 was penciled in for a Q1 2023 launch alongside the NH-L9a cooler for AM5 systems. Sadly, the NH-D15 CPU cooler has yet been pushed back - this time to Q4 2023. This date change comes without explanation.
We also note that the Noctua's white fans have been kicked down the road, from Q3 2023 to sometime in 2024.