Noctua Details Its Whisper Quiet Dual Fan Air Cooler For The ASUS GeForce RTX 4080
Noctua is continuing its collaboration with ASUS on another custom-cooled graphics card, the
GeForce RTX 4080
, with claims that it offers a huge reduction in noise without sacrificing temperatures. This is the third graphics card the two have teamed up on, following the release of Noctua Edition GeForce RTX 3080 and 3070 SKUs.
If this sounds familiar it's because ASUS and
Noctua
announced the continued collaboration at the Consumer Electronics Show (CES) this past January. Now two months later Noctua is sharing additional details about its latest co-engineered cooler, which it says has been "redesigned from the ground up to achieve maximum thermal efficiency."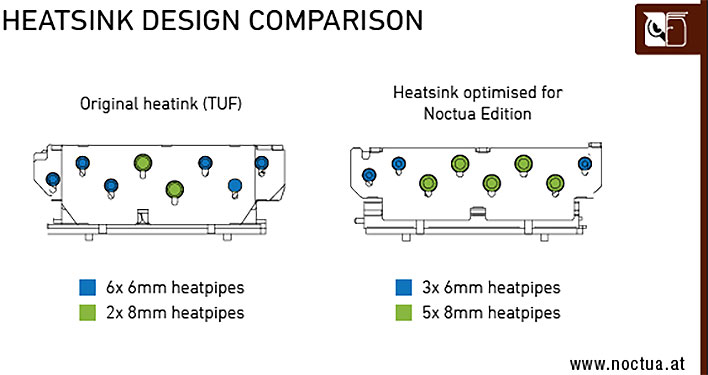 In doing so, Noctua says its dual-fan cooler significantly improves upon the thermals and acoustics of the stock three-fan cooler that ASUS uses on its original TUF Gaming GeForce RTX 4080 graphics card. It achieves this in part by adding more heatpipes to the mix (five instead of two) and switching to a "more elaborate, tailored heatsink" with the additional benefit of vapor chamber cooling.
"By adding a vapor chamber and using its superior heat-spreading capabilities to transfer the thermal energy to five instead of two 8mm heatpipes (plus three instead of six 6mm ones), the Noctua Edition provides significantly better cooling performance than the original TUF Gaming GeForce RTX 4080," Noctua states. "This, in return, enables it to operate with slower fan speeds and, combined with the class-leading efficiency of the NF-A12x25 fans, to run quieter than any other air-cooled card in its class.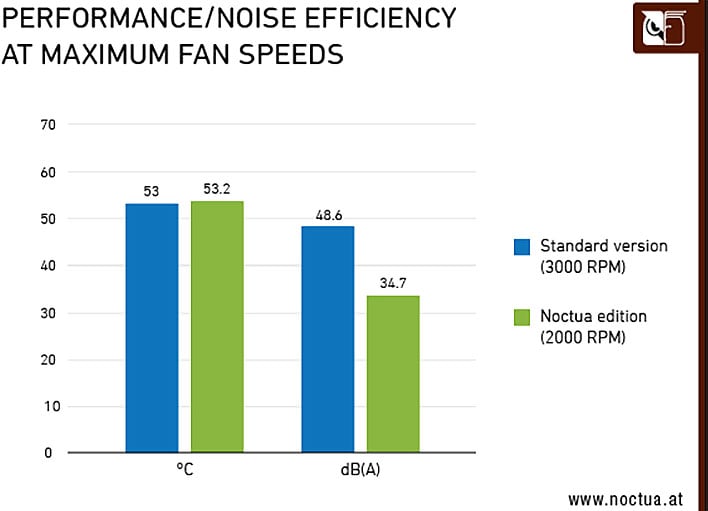 We have not tested this ourselves, but according to Noctua the performance-to-noise ratio is much improved over the stock TUF Gaming cooler. At maximum fan speeds, Noctua's cooler spins at 2,000 RPMs to achieve 34.7 decibels, while the stock cooler spins at 3,000 RPMs and produces 48.6 decibels. The quieter operation comes at a scant 0.2C temperature bump, as outlined in the graph above.
According to the American Academy of Audiology, 30 decibels is equivalent to a whisper while 40 decibels is the noise level of a quiet library. At 50 decibels, you're looking at the same noise output as a moderate rainfall, to give those measurements some context.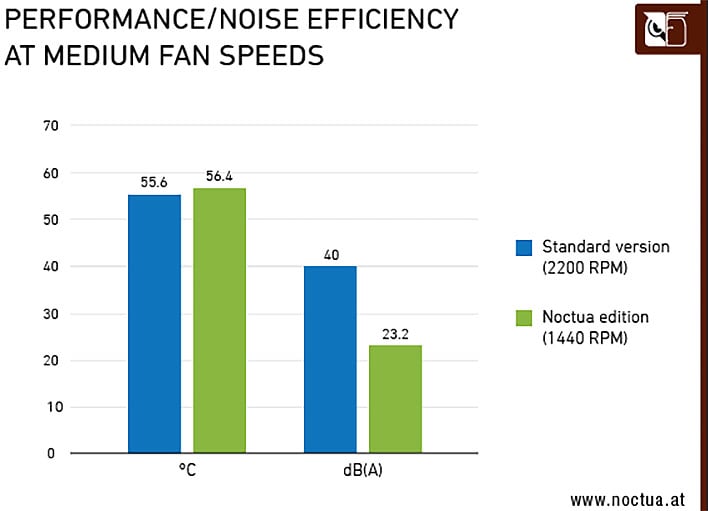 At medium fan speeds (70 percent PWM), Noctua claims its cooler drops to 23.2 decibels versus 40 decibels for the stock TUF Gaming cooler, while only running fractionally hotter (+0.8C). For reference, 20 decibels falls in into the "faint" range of the noise scale and is equivalent to leaves rustling.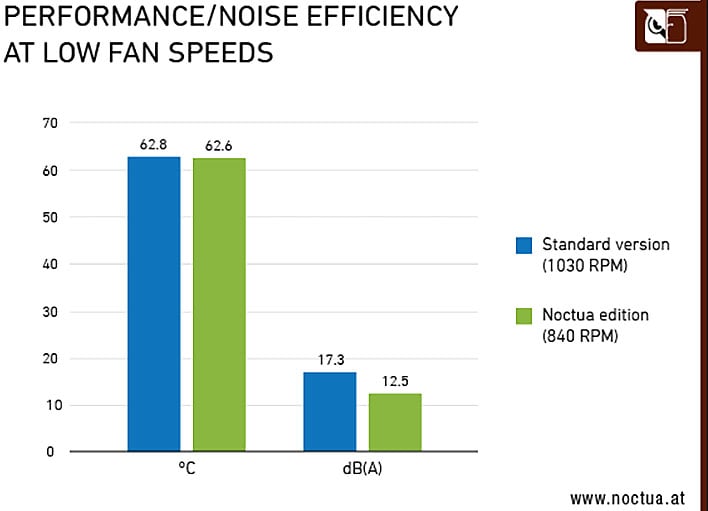 At the lowest fan speed, both coolers are supremely quiet, but Noctua's takes the edge at 12.5 decibels versus 17.3 decibels, according to Noctua. And this time around, Noctua shows an ever-so-slight cooling advantage with 0.2C lower temps.
"Like the previous Noctua Edition cards, the GeForce RTX 4080 model features a dual BIOS that enables customers to switch between a performance profile that provides the lowest GPU temperatures and a quiet profile that allows slightly higher temperatures in order to achieve the best possible acoustics. Catering to the demands of Noctua's customers, the quiet profile is set as the default," Noctua explains in a
blog post
.
Users can also set custom fan curves and/or undervolt using the ASUS GPU Tweak III utility for even quieter operation and/or lower temps, or a combination of both. Additionally, the two fans on Noctua's cooler stop spinning entirely whenever temps are below 50C.
Listings should show up soon as review embargoes on the card lifted today.