Intel May Add To Meteor Lake-H CPU Model Confusion With Both 28W And 45W SKUS
With its "Alder Lake" 12th-generation Core CPUs, Intel
introduced the concept
of the "P-series" processors. These 28W chips sit between the ultra-low-voltage "U" CPUs and the full-power mobile "H" units. Naturally, we'd expect its upcoming Meteor Lake CPUs to continue with this sort of segmentation, but it looks like things may have become a bit more confusing even as the product stack gets trimmed.
According to regular (and reasonably-reliable) leaker 金猪升级包—better known in the English-speaking world as "
Golden Pig Upgrade Pack
"—Intel isn't going to have SKUs marked with a "P" in the next generation. Instead, the first-gen Core Ultra CPUs will supposedly be split like this: Core Ultra 5 and Ultra 7 CPUs will be limited to a 28W TDP, so if you want the full-power 45W Meteor Lake experience, you'll have to get a Core Ultra 9. Despite this, all of them will apparently be branded with "H" designations.

If true, this is a really interesting decision because there really isn't that much room to make cuts to
the Meteor Lake design
we've seen for creating lower-end CPUs. With just six P-cores and eight-plus-two E-cores, the difference in specifications between a Core Ultra 9 and a Core Ultra 5 probably won't be that different. Instead, it looks like Intel has elected to differentiate them based on power limit. That certainly could impact performance, to be sure.
There are shades of Cannon Lake in this launch, for Intel. While Meteor Lake processors will assuredly be much more available than
the ill-fated Core i3-8121U
, it seems like the breadth of the market that these CPUs will cover has been shrinking further and further since we first heard about them. Intel's elected to ship a series of
refreshed Raptor Lake silicon
for its desktop platform, and even for lower-end mobile parts.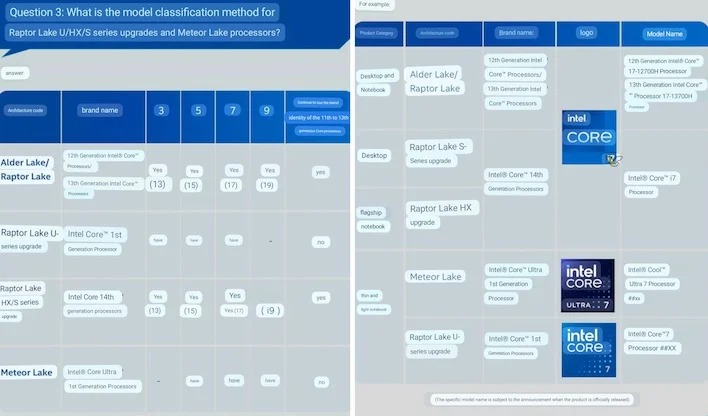 In case you're unaware, the "non-Ultra" 1st Generation Core family that will appear as Core 3, Core 5, and Core 7 CPUs alongside Meteor Lake are
also based on refreshed
Raptor Lake-U silicon. In that sense, it seems like we're only likely to see Meteor Lake in 28W and 45W forms as part of the relatively-small Core Ultra family, which will find its way into premium laptops and
small-form-factor or AIO desktops
.
We're eager to see the truth for ourselves, but we've still got another month to wait; Intel's planning to officially launch its Meteor Lake CPUs on December 14th. Expect more leaks as we get closer to the day.