Intel Non-Ultra Core 7 150U Laptop CPU Confusingly Breaks Cover
If you're a regular reader of
HotHardware
, then you are assuredly aware that Intel's next-generation Meteor Lake processors are coming, along with a massive
overhaul of the company's branding
. The new chiplet-based CPUs will reset Intel's generation counter and be known as the first-generation "
Core Ultra
" processors, dropping the "i".
We've already seen numerous leaks of Meteor Lake CPUs. The Core Ultra 5 135H,
Core Ultra 7 155H
, Core Ultra 9 185H are all pretty familiar to us at this point. However, today we've got a leak of a processor called "Intel Core 7 150U". It's not a "Core i7," and it's not a "Core Ultra," so what the heck is that thing?
The answer is actually already known, and we reported on it months ago, back in June. You see, a week after Intel announced its new branding initiative, Intel's Chinese division
posted a breakdown
on social media that explained exactly what all of the new names mean. If you don't remember and don't have the time to go back and re-read that post, we'll spoil it for you: it's reheated Raptor Lake silicon.
As enthusiasts, we tend to focus on the desktop side of things, but the 13th-generation Core i CPUs included
a full rundown of processors
from the desktop-class HX series all the way down to the 15W-and-under U-series. Judging by the specifications in the BAPco CrossMark result, we can say with complete confidence that this Core 7 150U is in fact a 15W Raptor Lake processor with a new name attached.
We don't know exactly which chip it is out of the current lineup because BAPco CrossMark doesn't report clock rates, and that's the only visible difference in the CPUs between the Core i5-1334U on up to the Core i7-1365U. (The Core i7s from that family have more potent graphics, but that's impossible to tell from most sources.)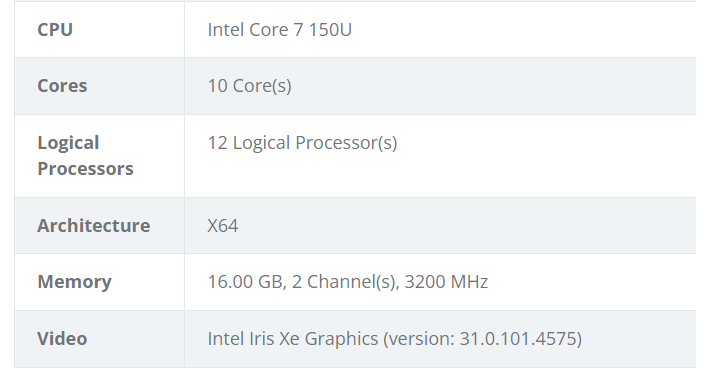 In case you need extra convincing, the CrossMark result reports that the video adapter attached to the Core 7 150U is "Intel Iris Xe Graphics." That's also the name of the graphics built into the current-generation parts, which are based on the Xe-LP architecture, and not the Xe-LPG (or "Alchemist") architecture that
comes with Meteor Lake
. It also sports DDR4-3200 memory, which isn't going to work on Meteor Lake silicon.
If we were to speculate on the reasons for the rebadge, the most likely answer is that Intel simply has scads of this silicon sitting around and elects to use it for low-power and entry-level devices. It's likely that, as a
first-generation disaggregated product
, Meteor Lake is pretty limited in its applications. It may not be suitable, whether in performance, power consumption, or simple cost-effectiveness, for the kinds of devices that would get a 15W SoC.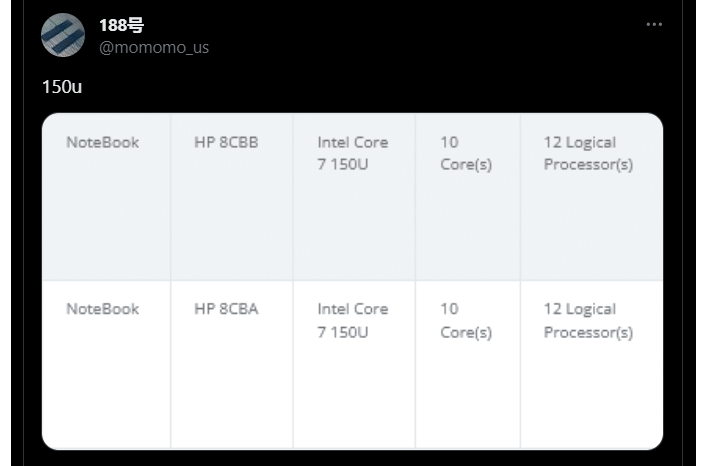 This leak was spotted by 188号, better known as
@momomo_us on Txitter
, who actually posted links to a whole bunch of BAPco CrossMark results for unreleased Intel processors. Those include all of the aforementioned Meteor Lake chips—the Core Ultra 5, Ultra 7,
and Ultra 9 parts
, as well as the Core i7-14700HX and another 13th-gen rebrand. Intel has promised to debut its Meteor Lake CPUs on December 14th, so maybe we'll see how this all pans out then.