Meta Unveils Slim Quest 3, Gives Quest 2 A Speed Boost And Price Cut
Mark Zuckerberg got a jump on
Apple's Reality Pro
mixed reality headset, which is almost definitely going to be announced at
WWDC next week
, by officially introducing the Meta Quest 3. Not that the Quest 3 was a big secret. However, we now have juicy details about the overall design, including retooled controllers, as well as pricing and a release window. Zuckerberg and the gang also revealed some changes headed to the current-generation Quest 2 VR headset.
The
Quest 3
will ship this fall starting at $499.99 for the base SKU with 128GB of built-in storage. There will also be a second SKU with more storage, though Meta didn't say what capacity or how much it will cost. Our best guess is 256GB for $599.99, but don't quote us on that—it's purely speculation on our part.
We'll find out for sure during Meta Connect on September 27, 2023, with Meta promising "lots more to share" at the event. That also means we're likely looking at October or November for retail availability (unless Meta releases the headset during Meta Connect).
Meta is pitching the Quest 3 as its most powerful headset to date. We'll have to wait a few weeks for more concrete details, but in the meantime, the company says the Quest 3 is poised to be the first headset to rock a next-generation Snapdragon chipset that it collaborated on with Qualcomm.
"That next-gen Snapdragon chipset delivers more than twice the graphical performance as the previous generation Snapdragon GPU in Quest 2—meaning you'll get smoother performance and incredibly crisp details in immersive games," Meta says.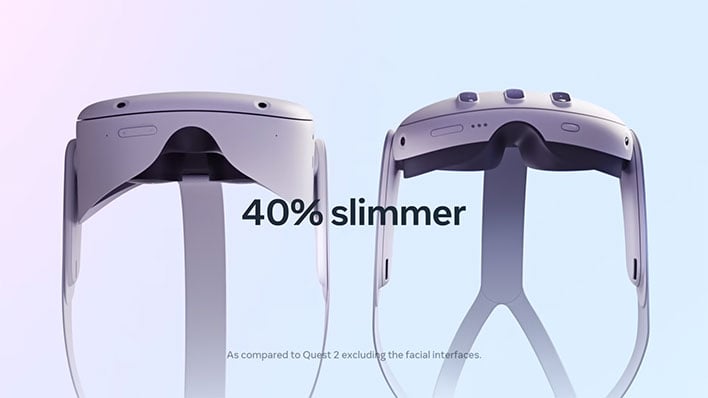 In addition to being faster than the Quest 2, the next-gen headset will feature a higher resolution and a 40 percent slimmer optic profile, which is a measurement of the front headgear without the foam padding factored into the equation. It also boasts full-color pass-through, machine learning, and spatial understanding to facilitate mixed reality experiences.
Meta redesigned the controllers, too, which feature Tru Touch haptics.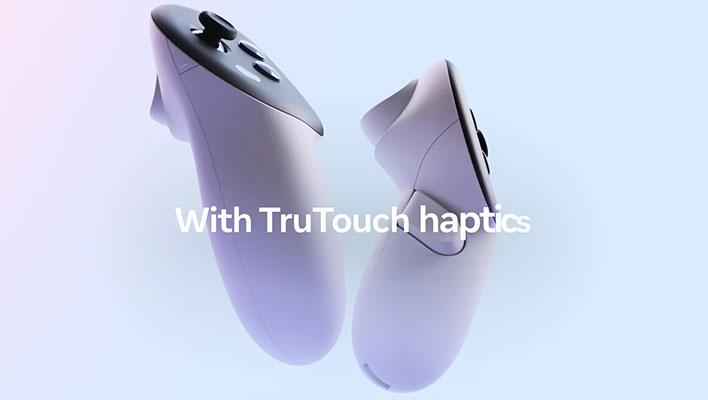 "Thanks to our advances in tracking technology, we've dropped the outer tracking rings so the controllers feel like a more natural extension of your hands and take up less space. We also included TruTouch haptics that first debuted in Touch Pro to help you feel the action like never before," Meta says.
Meta notes that the Quest 3 will support hand tracking out of the box so that users can explore without controllers via Direct Touch. We'll have to wait and see how well it works, though being able to use your hands to interact with objects is certainly promising.
Quest 2 Is Getting Faster And Cheaper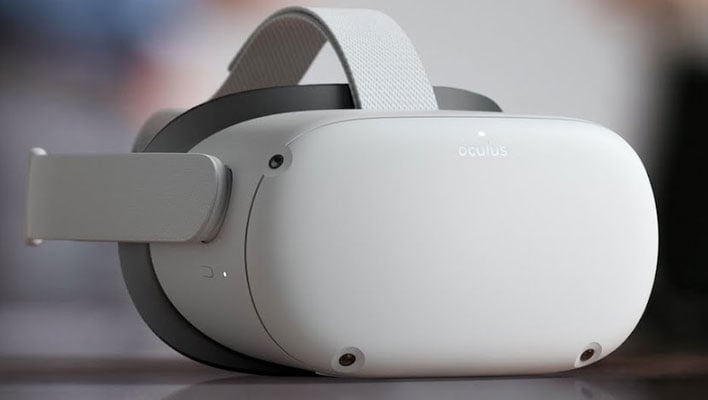 Interestingly, Meta is slashing the price of the Quest 2 and serving up a software update that promises faster performance. Starting on June 4, the Quest 2 will cost $299.99 for the 128GB model and $349.99 for the 256GB SKU. Those represent $100 and $80 price cuts versus the current MSRPs.
Of course, calling this a 'price cut' is somewhat dubious. Meta
jacked up the price
of the Quest 2 last July from its original MSRP, increasing the 128GB by $100 to $399.99 and the 256GB to $499.99. More recently, Meta reduced the 256GB to $429.99.
Regardless, it's nice to see the still-capable Quest 2 become more affordable. Additionally, Meta says an upcoming software update will supercharge CPU performance by up to 26 percent in the Quest 2 and Quest Pro, along with the GPU seeing up to a 19 percent speed increase of the Quest 2 and 11 percent for the Quest Pro.
"As developers take advantage of these changes, you can expect smoother gameplay, a more responsive UI, and richer content on both headsets. And we're enabling Dynamic Resolution Scaling for both Quest 2 and Quest Pro, so games and apps can take advantage of increased pixel density without dropping frames," Meta says.
Good stuff all around. For anyone interested, you can offer up your
email to Meta
for updates on the
Quest 3
as it gets closer to release.