Run macOS? Heads-Up On This Dimwitted Shlayer Fake Adobe Flash Malware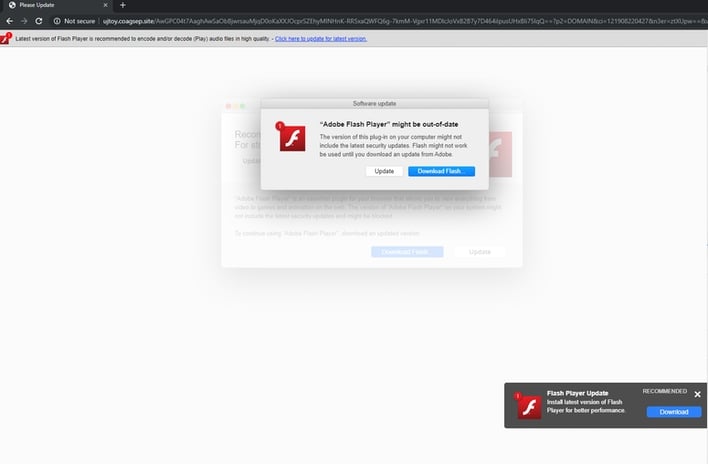 Anyone whoever required proof that malware didn't have to be sophisticated to be prolific should look at the macOS malware known as Shlayer. The malware found its way onto the victim computers by tricking them into installing a fake Adobe Flash update. The malware lures the users to install the fake Flash Player update by promising pirated videos, which are also said to be fake.
Despite the simple attack method, Shlayer continues to be so common that it's the number one threat encountered by macOS users of Kaspersky antivirus software. The malware first surfaced in February 2018. Since that debut, about 32,000 variants have been collected by researchers at Kaspersky, along with 143 separate domains that have been used to control infected machines.
Kaspersky says that this particular malware accounts for 30 percent of all malicious detections generated by its Mac antivirus products. Mac users in the United States should be on the lookout as 31 percent of the attacks from Shlayer are in the States. Europe doesn't get a pass either with 14 percent of Shlayer attacks occurring in Germany. Ten percent of Shlayer attacks are in France and the UK for Mac users.
According to Securelist, the proliferation of Shlayer shows the macOS platform is a good source of revenue for cyber criminals. The publication also notes that in most cases, it was advertising landing pages that bought Mac users to the next stage of the distribution chain, luring them to install the fake Flash Player update.
In other Mac news, Valve recently announced the entire Half-Life catalog was free for Mac and PC users for the next couple of months. This was offered so players could play the franchise ahead of the release of Half-Life: Alyx.